Kit for Hosting Providers
Join the world standard of industry leaders — upsell automatic website malware removal and vulnerability fix in your offering. Earn more, take website security issues burden off your tech support shoulders and keep your customer loyalty at the same time.

Get all the opportunities that Virusdie Website Antivirus gives you right on your tail. With that complex solution you will can take website malware removal and cleanup burden off your shoulders as best you can and upsell your offering to your Customers on your Shared hosting. Virusdie Kit for Hosting Providers contains stand-alone solution Virusdie.Server in a nocleanup mode and File Cleanup API perfectly combined with each other. It lets you provide automatic and accurate web-malware removal: Find and remove trojans, shells, redirects, spambots etc. in PHP, JS, HTML, IMAGES and system files on servers and websites. Just integrate the solution into your billing and hosting panel. Start to earn more with Virusdie Kit.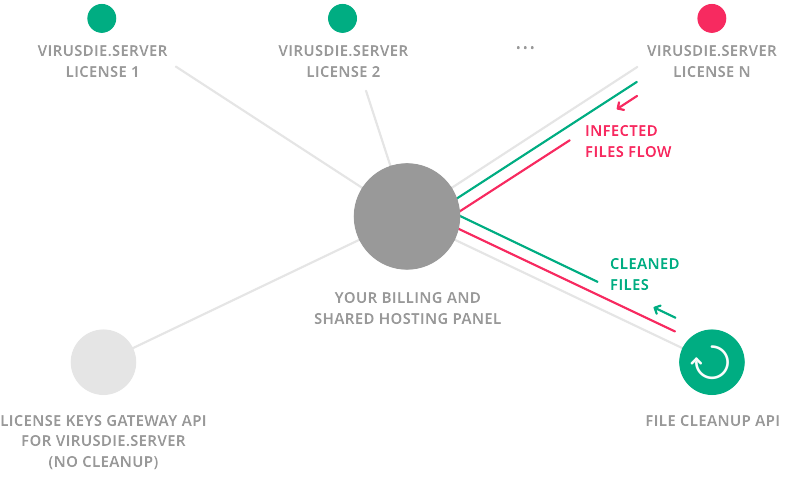 For simple scaling of services on your tail, for convenience, for easy and quick integration, you could generate and manager endpoint license keys yourselves automatically using Virusdie.Server License Key Gateway.
To get possible plans and ways of collaboration send us a request at partners@virusdie.com.
Get a Quote Virusdie.Server File Cleanup API
We recommend: If you are using popular billing and server control panel platforms or resell such products, then you may use readymade solutions. Using readymade solutions you may uspsell your offering with no brainy and easily protect your customers' servers and websites from malware. Virusdie technology, bundled with control panels and Comprehensive Software from the world's best vendors is here to solve your tasks. This solutions are based on Virusdie.Server and File Cleanup API technologies and provides high-accuracy malware detection and automatic cleanup.
Expert Cyber Security Response Center. Complete site cleanup guarantee.

Our security experts allows us provide guaranteed complete website cleanup for our end Consumers depending on the plan. If your are a Hosting Provider, Comprehensive software vendor or a Managed Service Providers — you may use this source to provide complete website cleanup guarantee to your end Customers and earn on it. If there's ever an issue our auto removal tools can't fix, we will repair it manually. With no additional fees. When incurable malware is detected and a cleanup request has been initiated by your customer or by you, our security experts will start the remediation process within 24 hours. Even if malware is not detected by automatic tools you may initiate a cleanup request whenever you want if you see your website is compromised. We recommend you use it with Virusdie.Server software both. We need FTP access, SSH access to your consumer's server to provide expert complete security.

Explore Expert Security Center
Imunify360 for cPanel, Plesk and DirectAdmin

Powered by Virusdie, Imunify360 is a next-generation security solution built by CloudLinux for Linux VPS, Dedicated, and Shared servers. It uses herd immunity and the six-layer approach to provide total protection against attacks.

Explore Imunify360
Module for ISPmanager

Add ISPmanager as an option panel for VPS or Dedicated servers and all your customers will have to do to clean-up and protect websites on their server is purchase & install Virusdie module directly from ISPmanager.

Learn more about module for ISPmanager
Want to become a partner?
We working with hosting providers, registrars, web development agencies and other companies to bring security benefits of Virusdie to all of their customers. We have control panel plugins and an API that makes the integration easy. To become a partner, just send us a request at partners@virusdie.com.
The Virusdie partner program is only for businesses that offer some sort of domain or website services to their customers (such as hosting companies or web development agencies). If you are looking to use Virusdie for your own website, please sign up using sidebar right or click "Log In" on top.