Website Antivirus
Virusdie Website Antivirus not just simply find and remove infected files on your website or put them in quarantine. It removes malicious code (redirects, trojans, backdoors, shell scripts and other malicious code) from files (PHP, JS, HTML and system files) in seconds automatically and with high accuracy. Your website continues to run stable after automatic cleanup.
Continuous Scans for Malware and Automatic Website Malware Removal.
Accurate anti-malware database - site continues to run stable after cleanup.
Malware removal takes seconds, not hours! Pre-cleanup file backups.
Don't waste your server's traffic. No extreme server CPU load.
Compatible with PHP-websites and frameworks like WordPress, Drupal, Joomla, DLE etc.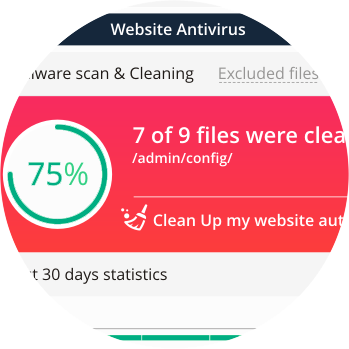 Malware scan & cleaning panel.
This is a main panel of Website Antivirus. Malware and blacklisted status, scan date and time, reports and timeline shows here. Big block on top is red when infected files are detected and it's white when no infections detected on website. This block is yellow when there is some sync problem with your website.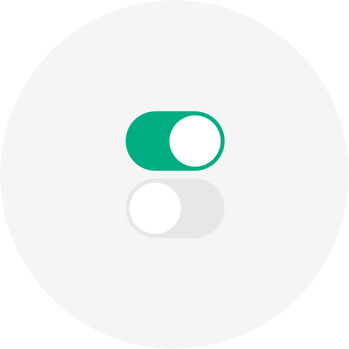 Automatic website cleanup.
Turn on the switcher to Clean up your website automatically. It's green when automatic cleaning is On.
Virusdie detects Suspicious and Infected files on your website. If it is a Suspicion — Virusdie can't cleans up it automatically. When Infected file is detected on your website — Virusdie cleans up it automatically (delete all file or removes malicious code fragments from file) or marks it as Incurable.
Complete automatic Site cleanup Guarantee.
We do our best to provide the best results for automatic website cleanup, but 100% fullness of malware detection and 100% accuracy of automatic malware removal is not realistic, and not guaranteed. If any incurable files detected on your website our auto removal can't fix — analyse it manually using built-in File Editor of use Incurable File Analysis option. If Virusdie Antivirus can't find some sorts of malware or other infections on your websites and you are not an expert in website security — use worry-free plan. A complete website cleanup guarantee is already included in worry-free plan.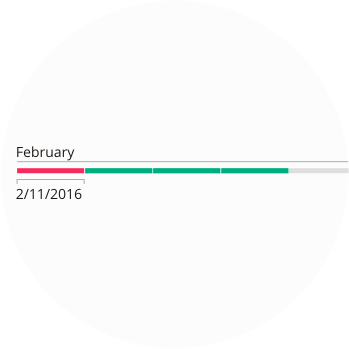 Timeline diagram.
Check out malware on your website was detected with easy to catch timeline. Red blocks means that your website was infected that day. Green blocks means that no infected files were found on your website that day. Yellow block & your website was not synchronized to Virusdie this day.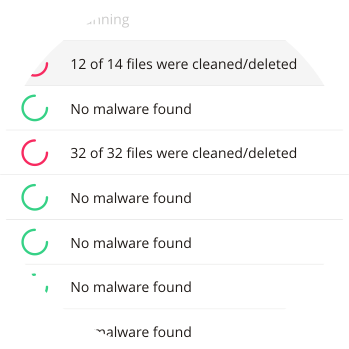 Malware scan & removal reports.
You can check out malware scan and malware removal reports over the last 30 days. You got it in a simple form on the bottom of Website Antivirus panel. Just click on any report to view details.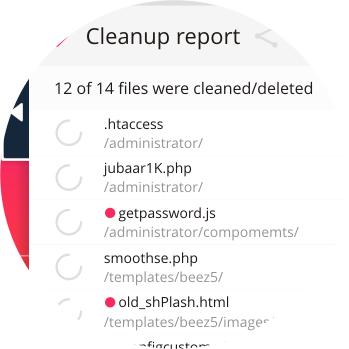 Detailed malware scan & removal reports.
Check out malware scan or removal report. Here is all files were detected as Infected and Suspicious by Virusdie Website Antivirus. You can easily view malicious code in files by clicking on a file block. Add to and remove files from exclueded files list to ignore it when antivirus scanning.
To provide best website security we have a website firewall perfectly built-in into our service. It protects your website from threats and attacks in a real time. Learn more about website firewall performance and features.