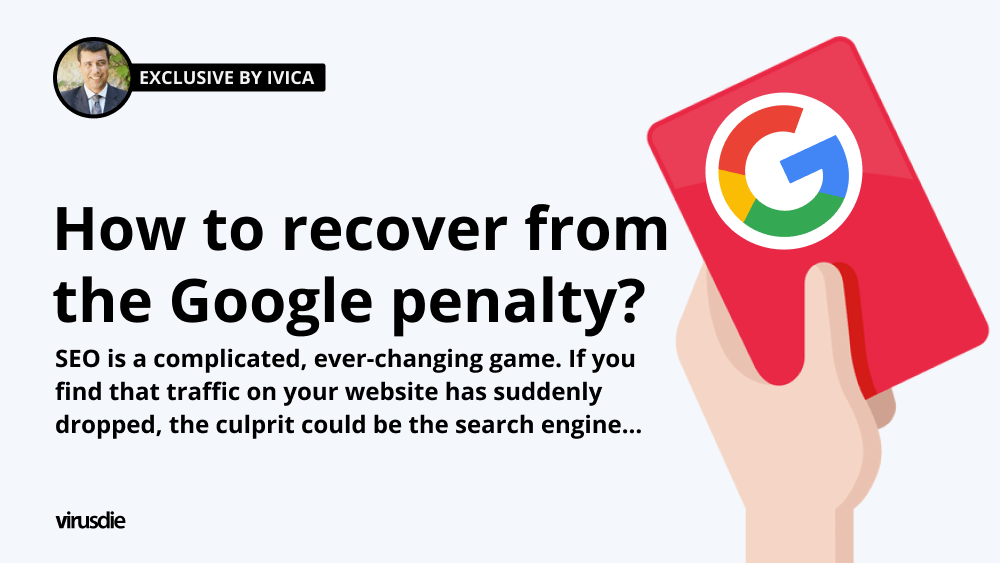 Exclusive by Ivica | How to recover from the Google penalty?
SEO is a complicated, ever-changing game. If you find that traffic on your website has suddenly dropped, the culprit could be the search engine. This problem should be addressed as soon as possible, as a decline in search engine rankings can result not only in potential customers leaving, but also in lost sales.
Fortunately, there is truth to the matter. You can file a complaint and affect the penalties, but it is important to know how to recognize if your website has been penalized and how to check the result. Our article gives you some tips on how to accomplish that.
What Is a Google Penalty
It is a penalty imposed by Google on websites that do not adhere to the guidelines provided for the website. Google's algorithm can automatically impose penalties or an auditor can manually impose them.
Some penalties that may not have existed before are caused by an update to Google's algorithm.
If Google gives you a penalty, it's like a red card in football. You are out of play for some time. That's a big problem that can kill your online business, but luckily there's a solution.
The penalties that Google imposes are designed to prevent certain SEO tactics and violations of its policies. Sometimes they hit a website that has made an accidental error or a website that has done absolutely nothing wrong. It is necessary to correct a Google error.
Why does Google penalize websites most often?
Often, Google penalties are triggered by:
– Masking ​spyware
– Keyword piling up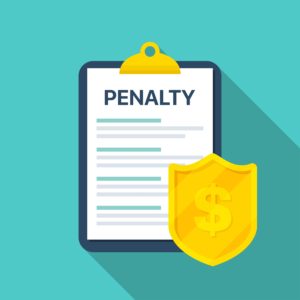 – Hidden links
– Duplicate content
– Irrelevant keywords
– Poor redirection
– Data issues
– Irrelevant links
Google is a sophisticated search engine that can spot these little tricks. In order to be sure your site will not be penalized by Google, you need to acknowledge its existence and respect it. You cannot fool Google into thinking that you have a small website that has no business on the Internet.
Google penalties fall into two categories: algorithm-based and manual. Algorithm-based penalties are triggered by changes in the algorithm. Penalties imposed by hands are those done by humans at Google to enforce quality standards. The Search Console will let you know whether you have received such a penalty.
Manual actions can be found under Security and Manual Actions. If there is a green check mark that says "No problem detected", it's clear that no problem was found.
Google repeatedly emphasizes that high-quality; useful content takes precedence in search engine results.
All businesses should be aware of what can trigger a Google penalty. If you fail to follow the rules, you will receive a penalty. But even if you are not trying to cheat the algorithm, you can still get a penalty. Therefore, it is good to know what can trigger a penalty.
How long it takes to recover website from Google's penalty?
There is no easy way to fix Google penalties. It can take up to six months to remove algorithm-based penalties. Manual penalties can take about 10 to 30 days. You must correct any errors and request reconsideration from Google. After you submit it, Google will review your request and make an assessment of whether your website is back in compliance.
How to recover?
Business may lose revenue and traffic due to Google penalties. That's why finding and solving problems quickly is important. There are many penalties that are caused by poor SEO techniques, and others may be due to Google errors and must be addressed personally. Making changes to your website or hiring a professional search engine optimization company will often fix the issue if your website has been penalized for content errors.
When you have been penalized, you need to determine what the problem is. You should first ensure that a penalty exists. Then look at your history in Google Webmaster Tools to determine when the penalty occurred. Increase Your Competitive Index – if you're not ranking in the top three spots on Google, your chances of being found in Google's search results are slim.
You can determine if you are affected by the changes by visiting Google Analytics and comparing your traffic to the known algorithm changes. It is likely that your Google penalty has been caused by a drop in traffic following an algorithm change.
To learn more, go to Google Analytics Dashboard and click on the Capture All Traffic Sources/Media option. Select Google / bio here. From here, you can learn how many visitors your website has received from Google Search. Then click on the option 'reporting period' in the upper right corner and select an earlier period. Compare the dates when traffic is decreasing to the dates when the traffic decreases with the dates of the update of Google Algorithm.
Once you learn which update on the website caused a penalty, you should try to figure out how this happened and solve the problem. If, for example, you are penalized by Panda, that may be because your content quality is poor. When you are penalized by the Penguin update, it is usually because of your SEO strategy that uses links. If your website was penalized by the Hummingbird update, it may have had to do with its layout.
Run SEO analysis
SEO analysis is an important aspect of your marketing strategy, but it's also helpful in identifying traffic drops and determining the causes. Having your website penalized by Google frequently can be a sign that information on technical SEO is incorrect, which can be affecting the ranking on SERPs.
Analyzing technical SEO can be challenging, but you should pay attention on three important things: Back-end hosting and indexing, front-end issues like content and metadata, and external links.
Some common mistakes include: poorly written keywords, keyword stuffing, faulty sitemaps, slow load times, and popups that are distracting.
If you improve your SEO but your website still doesn't perform well, then it's probably because the content on your site is problematic. You must resolve this error within a short time if you don't want to receive a penalty.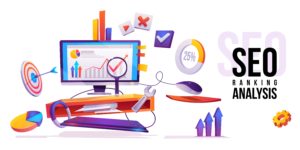 Your content needs to be reviewed regularly. By doing so, you can determine if your Google penalty is related to content issues.
With SEMRush, it is possible to see the overall performance of a website and find options to update content and important keywords.
Another option is to look for duplicate content. If your site allows user-generated content, take extra care to ensure that there is no contain duplicate or near-duplicate content.
When gathering content for your website, look at it in many different ways. Check articles for outdated information, metadata, images, and word count. Depending on which tool you use, you may find content that can be updated on your site.
Make sure to address the most important issues first to avoid penalties from Google, and then create a plan and strategy for updating content on a regular basis.
Building links to your website is important, but not all links are good. It is important that you build backlinks that are "good" and "clean". Bad links can be detected by Google's algorithms which are designed to punish sites which are suspected of manipulating its SERPs.
Link management is hard. For your convenience, there are many tools available. Firstly, you must find negative or poorly performing backlinks. When you find them, you can try removing them. Remember that removing bad links will not help your ranking if they aren't related to you. Some of these "weird" links will be ignored by Google if they don't relate to you.
Conclusion
Google penalties are a big problem for webmasters who rely on traffic to make money. Fortunately, you can check how, when, and why your sites are being penalized (malware/viruses can be part of what's penalizing your website). Google's guidelines are always best practices, but you should know that there are dozens of ways to boost your rankings without breaking the rules.
Following reading this article, we hope that you have a more clear understanding of how to recover from a penalty and future issues.
Always remember safety. Do not hesitate at all costs, and Virusdie tools are at your disposal.
———
Article by Ivica Delic
founder of FreelancersTools,
exclusively for Virusdie.
Join our private Facebook group to get help from other security experts, and share your own web security experiences and expertise. Group members receive exclusive news and offers. They can also communicate directly with the Virusdie team. Join us on Facebook.