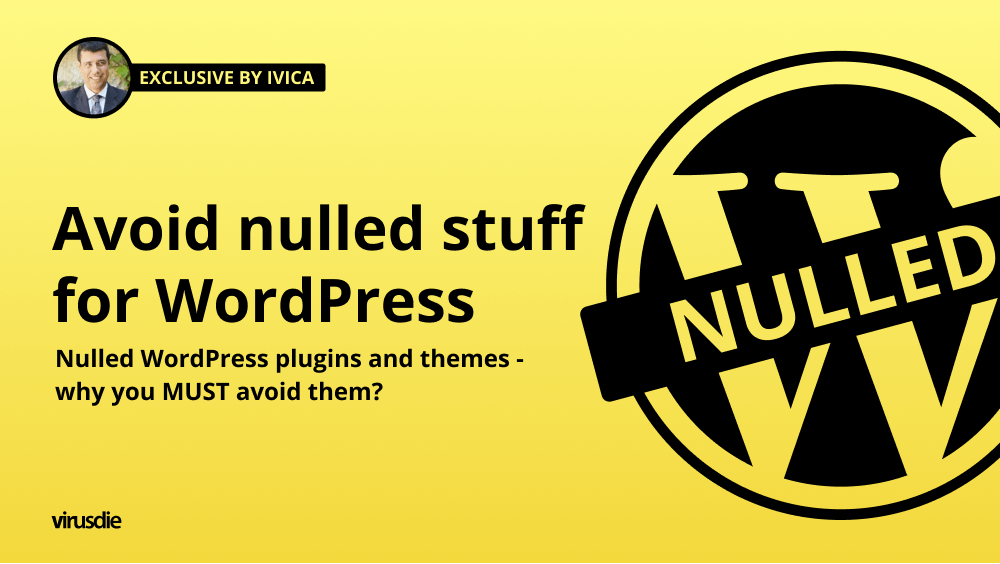 Exclusive | Nulled WordPress plugins and themes – why you MUST avoid them?
What are nulled WordPress themes and plugins? Nulled WordPress themes and plugins are pirated paid WordPress themes and plugins that are unethically distributed on the Internet. People who redistribute overwritten elements claim that WordPress and all derivative works (like plugins and themes) under the GPL license and copying and redistributing them is perfectly fine. That claim is on the line. Not only do good WordPress companies lose money, but it also compromises the security and integrity of all the websites using rewritten WordPress themes and plugins. Yes, these rewritten themes and plugins are often the reason for hacking attacks on your websites.
Regardless of the pandemic situation the whole world is living in and the lure of "free" and "cheaper" – think long term. Because the wrong choice could cost you much more than if you take the right path.
With over 40% of all websites worldwide running on the WordPress platform, WordPress has become a favorite among developers and users, as well as hackers. One of the ways is through themes and plugins.
A nulled plugin or theme are those that are stolen from developers and made by counterfeiters. You can download them legally and for free from many sources, but…
WordPress themes and plugins are written by hundreds of programmers around the world, some of whom are professional programmers and others are students or learned the programming language for fun.
All these people contribute to the free plugin repository (https://wordpress.org/plugins/) in the hope that someone somewhere will find their work useful. Don't forget that, and don't forget to appreciate the work of others.
Why are WordPress plugins and themes nulled?
Since WordPress itself and all WordPress products are distributed under the GPL license, some people think that sharing them is fair game. While that may be true, this practice poses a number of risks to website security.
The GPL (General Public License) is a free and copyright-free license for software and many other types of works.
The licenses of most programs aim to take away your freedom to redistribute and modify them. In contrast, the GPL General Public License guarantees you the freedom to redistribute and modify free programs – to make the program free for all its users.
This General Public License applies to most Free Software Foundation programs and any other program whose author agrees to use it. (Some other Free Software Foundation programs are covered by the GPL General Public Library License.) You can apply it to your own programs.
When we talk about free programs, we're talking about freedom, not price. Under the GPL, you may distribute copies of free software, for which you may charge a fee, obtain copies of the program's source code, modify it, or incorporate parts of it in new free software; and be confident that you can.
To safeguard your rights, restrictions have been put in place that do not allow anyone to deny or require a waiver of these rights. These restrictions impose certain obligations on you when you distribute or modify copies of the program.
For example, if you distribute copies of such a program, whether free or not, you must grant the recipients all the rights that you yourself have. They must also obtain, or have the ability to obtain, the source code. And you need to let them know about the conditions so that they have a full understanding of their rights.
The GPL protects your rights in two steps: 1. by copyrighting the program, and 2. by offering you this license, which allows you to legally copy, distribute, and/or modify the program.
Why you should NEVER use nulled WordPress themes and plugins?
1. security issues
Don't be tempted to use nulled plugins and themes. At first glance, they may seem like a good deal, but they are riddled with traps that can harm your blog or website and make it unsafe.
Choosing a theme from freely distributed source code is like putting junk food into your body. It's dangerous and unhealthy if you indulge in such harmful things. You might find devastating malware hidden in the plugin and stored all over the filenames of a popular theme.
2. no support from the developers
Using premium WordPress plugins and themes requires support and documentation, even for experienced WordPress users.
Developers of these products devote a significant amount of time to supporting and documenting their products.
They hire experts to answer your questions and produce new tutorials. Nulled themes or plugins do not come with support or documentation.
3. privacy issues
Hackers can easily embed malicious code that can break your website or expose users to nasty viruses and malware infections. All businesses should stay away from such risky activities.
4. lack of new features and compatibility
If your WordPress template is not properly licensed, you will not receive automatic updates, which will keep your website out of date.
5. legal problems
If you download a nulled theme/plugin, you do not have authors' permissions for using them in your own projects.
You are putting both your files and your clients at risk. Data theft or security breaches could happen. Legal actions can be taken against you.
6. bad thing for your SEO
Nullified themes and plugins can redirect users to a malicious website with the same IP address. Normally, this shouldn't happen. However, search engines see each visitor as an anonymous proxy from which linked sites can thus use prohibited methods to gain "bulk" hits.
7. it discourages development
If you use pirated software, you're stealing money away from developers who have put their time into development and damaging their reputation in front of their employers – ultimately causing them to lose their jobs.
How to detect malicious code in nulled WordPress plugins and nulled WordPress themes?
Downloading your custom WordPress theme or plugin is such an important step! You must scan the file completely to make sure it's clean and won't cause any problems.
Virusdie can help you scan, clean and protect your websites with one click in seconds. Virusdie.com is a SaaS provider that offers cloud-based Virusdie website antivirus, Virusdie website firewall, vulnerability patch management, and some important built-in tools to automatically protect and clean your websites or investigate security issues. And most importantly, it is easy to use!
Great and legal free alternatives
A good way to speed up and simplify your website creation process is to buy a good premium theme (and plugins). But sometimes the cost of professional premium themes can be too high, especially for small businesses or for people who want to create a few personal websites.
Finding a new, cool and free theme for your WordPress blog – that's realistic. Neve Theme free, Astra Theme free, Elementor free, etc. are some of them. Elementor is a drag and drop page builder for WordPress. It makes creating beautiful and engaging pages easy. Same goes for Neve & Astra Theme.
Conclusion
You don't need a nulled WordPress theme or plugin. There are many other great (and free) alternatives. Even if the premium version of your product costs $500, you can still use available free versions to get started and enjoy the flexibility of choosing from multiple third-party themes and plugins.
———
Article by Ivica Delic
founder of FreelancersTools,
exclusively for Virusdie.
Join our private Facebook group to get help from other security experts, and share your own web security experiences and expertise. Group members receive exclusive news and offers. They can also communicate directly with the Virusdie team. Join us on Facebook.