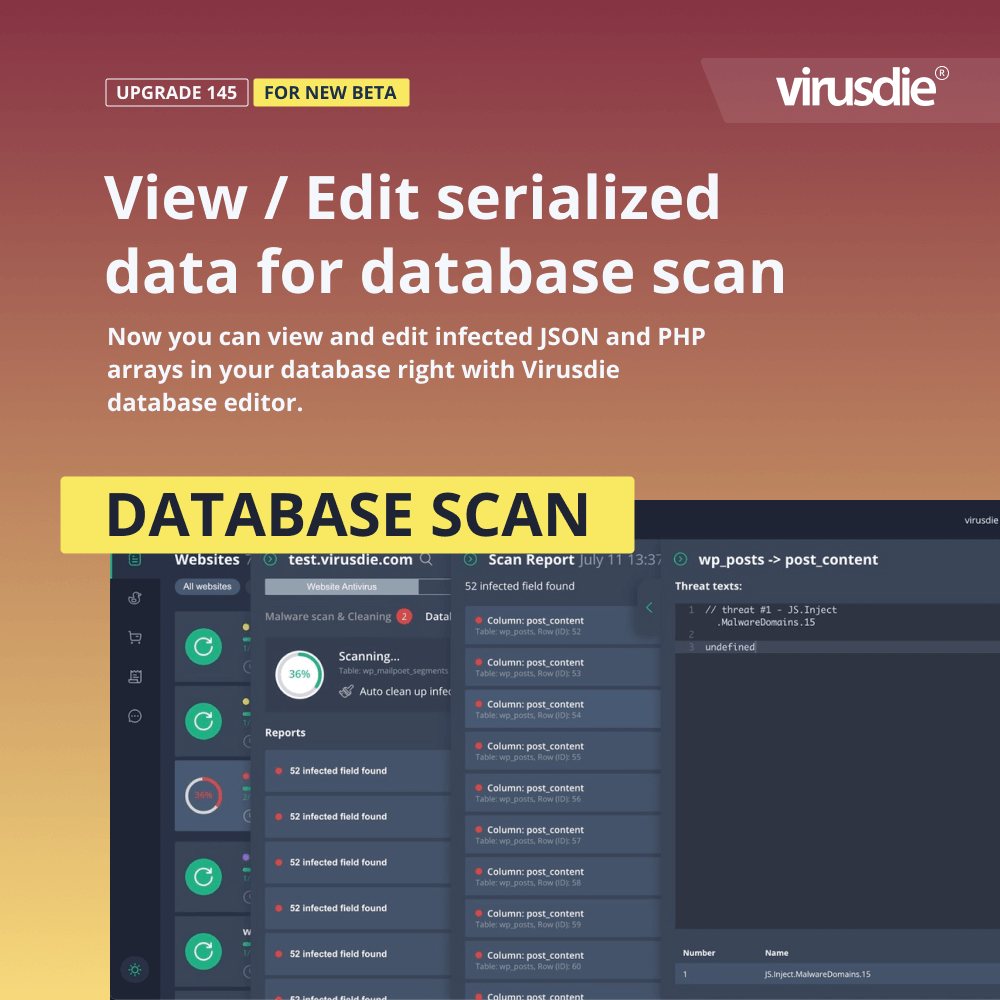 UPDATE 145 | View and edit infected serialized data (JSON, PHP arrays) in your database with Virusdie's magical database editor.
Hey pirates of Virusdie! We're working on new generation of Virusdie now available as pre-BETA for all of you right from your dashboard. And today we announcing the new features that helps you work better with Virusdie database scan, we released a week before. Did you know data in your website database may be not just a plain text. But it could be JSON or PHP arrays as well or other format. So today we announce an update for Database editor that recognises your website database data format automatically and let you view and edit infected data manually (if needed and if you do not want to use the world safest automatic cleanup)! That saves hours of your time you spend investigating security issues manually.
New features and improvements
For Database scan and cleanup engine
– the database scan report editor automatically modify its own view to let you find out and edit any data in any format in your website database!
For scan process UX
– Now you can view partial scan report details (website audit report details) even the scan process is not finished yet!
* all these available for new pre-beta Virusdie 2022 only! 🙂
Try Virusdie 2022 pre-beta now
How to try Virusdie 2022 pre-beta? It is simple — just click on big yellow button "TRY BETA" on top of your Virusdie dashboard! 🙂
——
Join our private Facebook group to get help from other security experts, and share your own web security experiences and expertise. Group members receive exclusive news and offers. They can also communicate directly with the Virusdie team. Join us on Facebook.