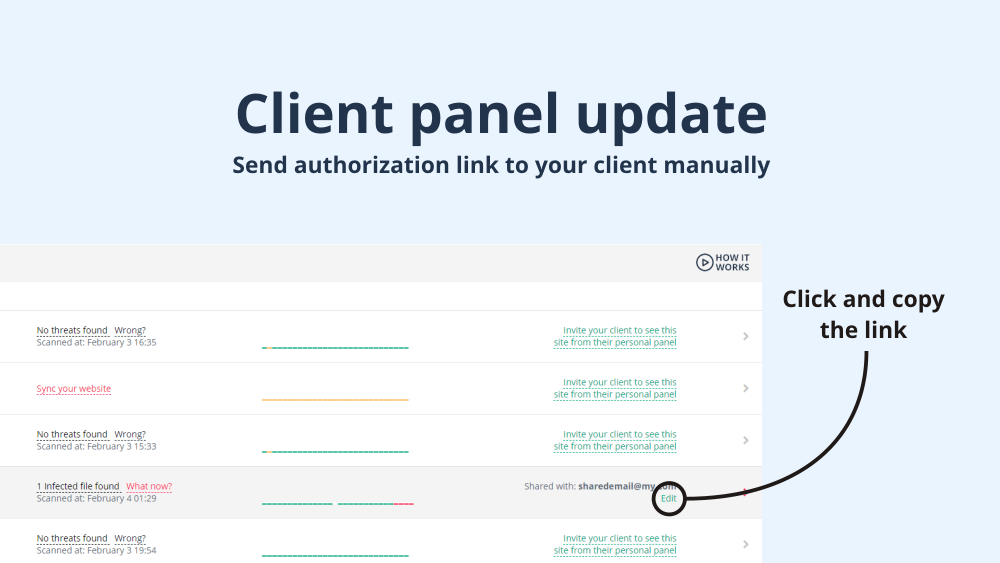 Weekly Update | Send client panel authorisation link to your client manually
Now you can send client panel authorisation link to your client manually, by email. Why it is so important? The thing is, when you are on White Label plan, Virusdie send invitations to client panels right from client' websites. That is to make white label approach absilutely clean and hide all mentioning of Virusdie from your client. And that may me the core of the problem for some cases, when Virusdie can't send email from your client' website to your client to invite your client into personal client panel.
And now you're able to send the link to your client by email. Just click on EDIT link next to the shared website in your Virusdie dashboard, then copy invitation link and send it to your client by email on your own. So that is a reserve approach to invite your client to client panel when automatic invitation process goes wrong for White Label plan.
BUGFIX PACK:
Blacklist monitoring
CRDF blacklist and Valkyrie (Comodo) blacklists are going to be out of Virusdie within next 5 days. That is just 'cos we feel too many false positives from those couple of data providers and that is too complex to un-blacklist websites from them, due to untransparent procedure for our customers. In addition, the presence of a sites in these two black lists does not affect anything at all.