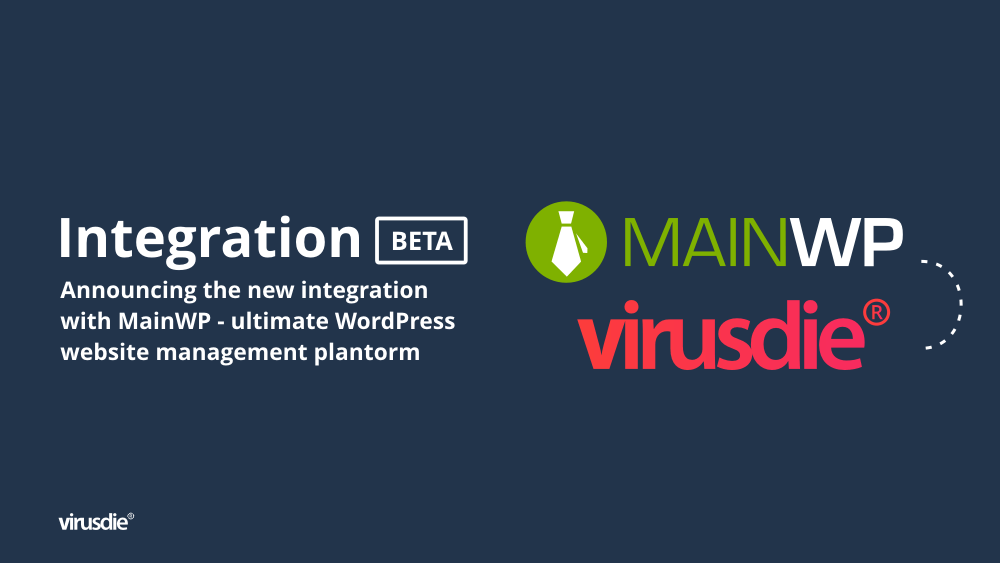 Introducing | MainWP integration with Virusdie. Beta.
Today is a great day for all web-professionals and admins who are with MainWP – just brilliant platform to control multiple WordPress sites in one place in a big way! Today Virusdie and MainWP team together are launching the exclusive integration (BETA). Now all MainWP PRO clients can scan, clean and protect all their websites from malware and vulnerabilities in one click!
What does it do?
MainWP + Virusdie integration let MainWP clients scan and clean all their websites for malware and threats, internally! And right in place – on MainWP dashboard! With the world's powerful website antivirus engine in the industry – Virusdie. And use other Virusdie tools. And yes, Virusdie is not an external scan – that is internal antivirus scan – a true and complete website scan!
What does it mean?
Now all MainWP clients can scan, clean and protect all their websites from malware and vulnerabilities in one click!
How to get started?
1. To start you need MainWP account.
2. If you're MainWP PRO user then you're already in the club 🙂 This means that Virusdie already scan all your websites by default and no actions needed right now. You'll get email notification if something found on your websites. Then, you can find all details about threat found and decide if you need to upgrade to Virusdie Premium plan for each very website.
3. If you're no MainWP PRO user yet, you can upgrade your MainWP to a PRO version first.
More
1. This is a beta-release, so, some bugs possible.
2. MainWP integration uses exclusive freemium billing model. This means that you can connect all your websites from your MainWP dashboard to Virusdie and scan them once a week for free. Then, if you need automatic cleanup, the website firewall, automatic patch management or other premium Virusdie tools, you can upgrade each website to premium plan separately. At regular Virusdie 1-site plan! And you do not need to buy a bulk Virusdie plan if you have less number of websites than covered by a bulk plan! This is a test of a new Virusdie billing approach as well we're looking for further Virusdie billing updates 🙂
3. Some issues with existing Virusdie accounts connection possible along beta.
4. This release focused mostly on new customers who are already with MainWP and who have no Virusdie account yet.
Further updates
After the beta test we'll improve all scenarios and GUI on MainWP side and fix all bugs discovered during this test.
—
Find more on MainWP website: https://mainwp.com/extension/virusdie/
Find more about Virusdie antivirus engine: Website Antivirus
Find more about Virusdie anti-malware database: Virusdie.BASE
Find more about Virusdie premium plans: Pricing
Join our private Facebook group to get help from other security experts, and share your own web security experiences and expertise. Group members receive exclusive news and offers. They can also communicate directly with the Virusdie team. Join us on Facebook.