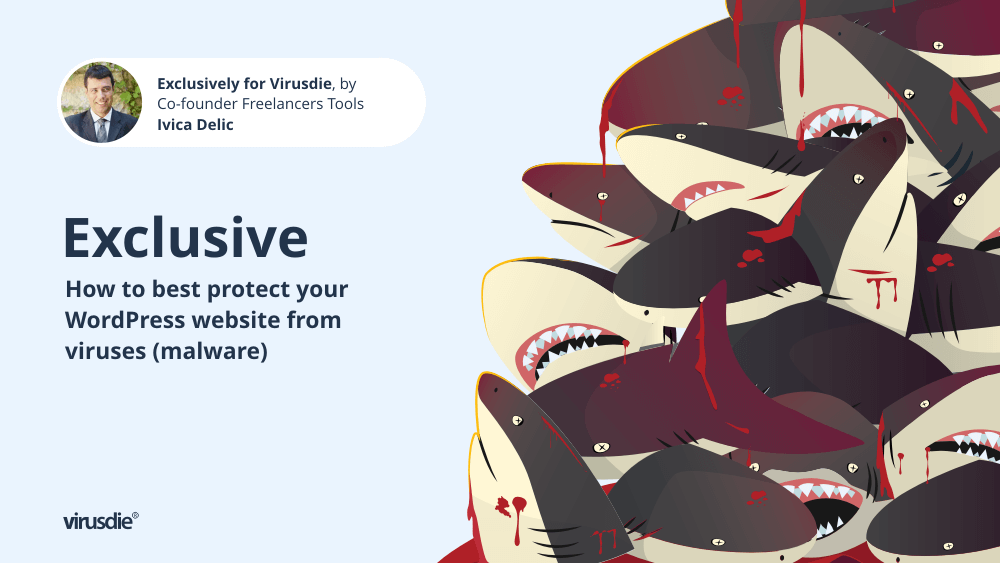 Research | How to best protect your WordPress website from viruses or malware
What is malware and what is viruses for websites? Why WordPress websites are under attack? Why it is better way to protect your website against hacks rather than spending time removing malware? And what practice are suits best if hack happened? What tools you may use to solve your issues and why?
What is a WordPress virus/malware (and how does it affect your site)?
Have you ever wondered what a WordPress virus or malware is, how it affects (or harm) your site, or what you can do if you suspect your site may be infected?
Malware is a generic term for a malicious program that aims to cause harm to a PC or network. Viruses are a specific type of malware that copies itself and infects other files or programs.
A virus copies its code into another program, typically a widely used program, so that the virus can spread to many computers. One of the most popular sources of this are sites and the Internet in general. This is because the sites you access on your computer or laptop can catch a virus if they are not properly protected. While most viruses are harmless, some can damage your computer and other files stored on it.
WordPress is an excellent and protective platform, but its popularity makes it a target for "black hat" hackers who want to infect sites with malware so they can run ads or make a quick buck by illegally selling credit card numbers. A WordPress virus can cost you a significant amount of time, resources, and money. It can damage a site by altering content, causing a privacy breach, or stealing passwords and other private information from your users.
The different types of WordPress malware
WordPress malware is a type of malicious code used to attack WordPress sites. There are different types of WordPress malware, and they can affect your site in different ways. Some malware is installed by hackers who have gained access to your site, while others are placed on your site by spammers who just want to make a quick buck. Either way, the end result is the same: your site has been compromised, and every visitor is a potential victim in the hands of hackers (since hackers can only install malware through a browser, they can damage your site without even knowing how to compromise a site).
The most popular types of WordPress malware:
#1 The Script Malware
This is malicious code that is added to the site without the owner's permission. This is usually done through a backdoor, such as a worm, that infects the site and then causes it to infect other sites.
#2 The plugin malware
It is the same as the script malware, but it is added to a plugin.
#3 The Theme Malware
This is malicious code that is added to a theme. A backdoor allows an attacker to access the infected WordPress site. Backdoors come in many forms, from malicious PHP code that an attacker injects into WordPress core files, to a malicious plugin that grants an attacker access, to a malicious theme that grants an attacker access.
Here's how to protect your site from possible future malware attacks:
Keep your computer, network, USB stick and other systems free of viruses/malware
First, secure your computer, network and other systems from infection.
Set up automatic and regular offsite backups of the site
Since sites are vulnerable to hackers, it is best to back up your site data regularly. This way, you can easily restore your site if something bad happens. There are quite a few tools that you can use to perform automatic backups.
Keep Your Site Updated (WordPress core, plugins, theme, PHP)

There is absolutely no excuse for your WordPress site to be neglected and stagnant. Update it at least every two weeks, as well as all plugins and the site's theme (but before any updates/changes to the site – back it up first).
Choose a suitable secured host that is properly configured

One of the most important steps you can take to protect your site is to secure your server. It's often overlooked that how you set up your server for the first time is important to the security of your WordPress site in the long run.
Check the folder and file permissions on your server
We all know WordPress is very secure out of the box, but sometimes something can slip through the cracks. One of the most common ways hackers get into our WordPress installation is by abusing the folders and file folder permission settings, such as uploading media files to your site and giving permissions to the wrong people.
Use SSL and HTTPS
When it comes to keeping your site secure, two of the best things you can do are make sure you use https:// to securely transfer your data between your server and your site, and then make sure the content, ads, and other data you receive also comes as https:// and is encrypted as well.
Use trusted sources for WordPress plugins and themes (not "nulled" ones)
Nulled plugins and theme markets are a haven for hackers trying to cripple your WordPress site. They are pre-compiled with backdoors and malicious code that compromise your site and allow attackers to gain access. Some of these Nulled Themes and plugins are not easy to detect; their source code is obfuscated and thus compressed and encrypted. A well-prepared hacker can break through these encryption methods and inject malicious code. If you use a Nulled Theme or Nulled Plugin, you are vulnerable to attack.
Use and Enforce Secure Passwords (logins for WordPress, cPanel, and the hosting's account)

Encrypt all personal information Create complex passwords for each account you control and install a password management program for each site. When creating a password for an account, make sure it contains a mix of capital letters, numbers, and symbols that is unique and strong.
Delete the WordPress "admin" account – make it hard for hackers

WordPress accounts are often targeted by hackers, so the first step to protecting your site is to remove the default "admin" account.
The "admin" account is very powerful as it gives the hacker complete access to your WordPress site. The default username is "admin", and for new WordPress sites, the username is always "admin". You should change the default username to something unique. To remove the admin account, you should first connect to your WordPress control panel. Install the high quality security tools.
Install the high-quality security tools
Of all the WordPress virus/malware prevention techniques discussed in this post, using a security tool is essential. When deciding which security tools to use, we highly recommend using Virusdie (to protect your site) and Avast (to protect your PC) as your primary antivirus solutions.
When used properly, these two products will protect your WordPress site from malware and viruses as described in this post.
Another important aspect of keeping your WordPress site secure is using Intrusion Detection Security system plugins for the security monitoring and alerting: Activitiy Log Winterlock or WP Activity Log.
Installing a Web Application Firewall (WAF)
WAF works similarly to a filter or firewall that blocks viruses, malware, and other harmful site behavior.
Using this type of application is the most effective way to keep hackers from manipulating your WordPress site with malicious bots. Whether you are running your own WordPress site or running one for your clients, you should consider installing this application or enabling this feature (in the security tools on your site) to protect your site and prevent it from being hacked.
WAF uses advanced malware detection to protect you from malicious sites and applications that could harm your site or, worse, infect your site with a WordPress virus.
Scan your WordPress site regularly

Although there are many tactics and tools that help with WP security, one of the most important things is to scan your site regularly. This will help you find security issues before an attack happens. Therefore, WordPress owners need to be proactive with their site security and scan their sites regularly.
Protect your WordPress login page (2 FA)

One of the most important things you can do is to use two-factor authentication (2 FA) on your login page. 2 Factor Authentication (2 FA) is an extra layer of security for your WordPress login that makes it harder for hackers to break into your site, so it's worth considering. A 2 FA login basically uses a second device to verify your identity when you log into your WordPress account. This is usually done by sending a special code to a 2 FA-enabled smartphone app or text message.
Secure connection to your server (sFTP)

Using a secure connection to upload or download files is a must. This is especially true if you are working with files that will be accessed by multiple people. The Secure Shell (SSH) protocol is a secure replacement for the insecure Telnet protocol. For this reason, sFTP is often used instead of FTP to upload and download files. sFTP is a secure version of the FTP protocol and uses two keys that are part of the SSH system to encrypt and decrypt data before and after transfer.
In conclusion – how to protect your WordPress site from viruses/malware
To protect your site from viruses and malware, you should not only apply the basic security measures but also implement additional WordPress security features as WordPress is one of the most popular platforms for site developers that attracts many hackers. Protecting your WordPress site from viruses/malware is the responsibility of the site owner. The best way to protect your site from viruses is to have a plan. Review what the risks and threats are, then mitigate them accordingly by deciding which tools and techniques are best for your site and budget, and test regularly to see if your security measures are working.
If the security threats are too high for you, consider implementing sophisticated security tools on your site, or you can outsource the protection of your site to a third-party providers, as the damage a virus can do can be devastating to your brand and cost thousands of dollars to fix.
—
Article by Ivica Delic
founder of FreelancersTools,
exclusively for Virusdie.
Join our private Facebook group to get help from other security experts, and share your own web security experiences and expertise. Group members receive exclusive news and offers. They can also communicate directly with the Virusdie team. Join us on Facebook.