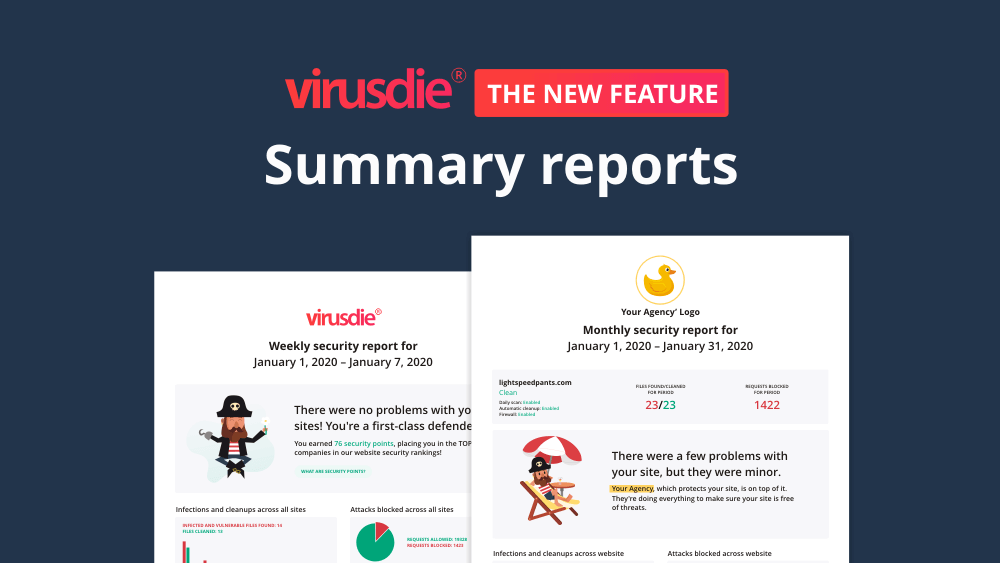 Announcing the new feature | Weekly and monthly summary PDF-reports
Introducing summary security repots feature – a feature that everyone has been waiting for! Weekly and monthly summary PDF-reports are automatically created for your entire account. You get it by email. They contain information about the number of site incidents for the most recent interval. The weekly reports are sent every Monday, and they contain only general statistical information and the number of incidents. A comprehensive monthly report is sent on the first day of each month, containing general information about incidents in your account and a separate, detailed report for each site.
WHY DO YOU NEED SUMMARY REPORTS?
It gives you a sense of calm. Asense of control over the situation.
– the thing is Virusdie do not annoying you with many reports about its activity. You get alerts only if something happens. So you may be quite nervous about does Virusdie works properly at the background and protect you the best way. So you have to spend your time logging in and find everything alright. That is not cool, right?
– now you get summary report with all the details each monday and each first day of month. As a PDF. Right on your email!
You can get more trust from your clients and reduce customer churn.
– you can show your clients a results of your hardwork by sending them montly professilal-looling PDF-reports for their websites;
– you can deliver more care to your clients using branded reports or white label reports with your Agency details and without Virusdie mentioning;
– we add some motivational blocks to each website (client) report in an accordance to what happened for the most recent interval with the website. For example: "There were a few problems with your site, but they were minor. Your Agency, which protects your site, is on top of it. They're doing everything to make sure your site is free of threats.". This way represents your agency as an advanced-security company;
Save your time preparing reports to your clients.
– all summary reports generates completely automatically at the background. You do not need to spend your time preparing reports!
– the all client reports preparing for a standard date interval (for a month) so you do need to choose something;
– and Virusdie can send reports to your clients automatically on their email if you have Agency plan or White label Agency plan and client panel for very client been activated;
Learn more about summary security repots