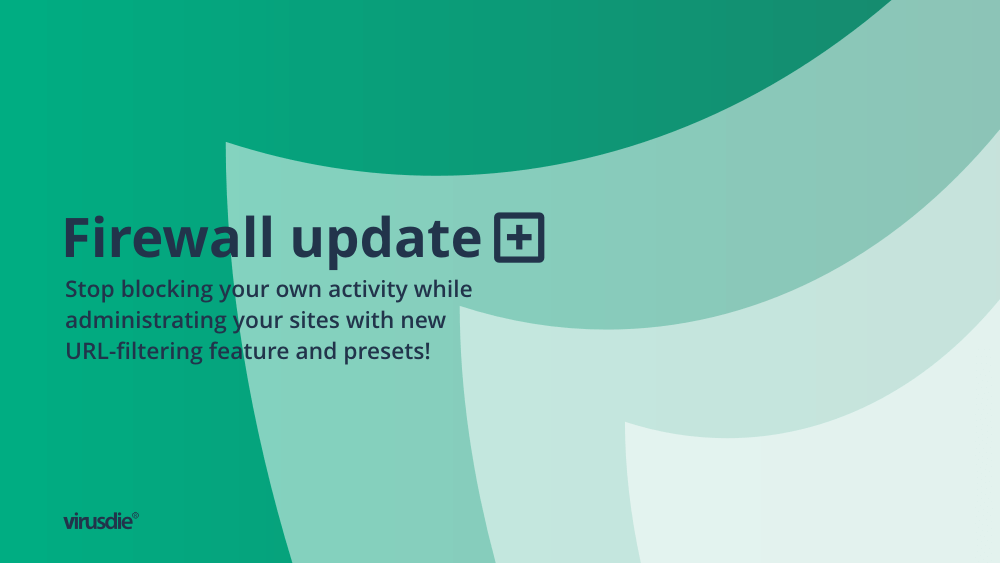 Firewall Update | Manage your sites with no annoying firewall alerts with new URL-filtering feature!
At last you can whitelist and blacklist URLs in Virusdie website firewall! And forget about in some cases Virusdie may block your own activity while administrating your sites! Introducing URL-filtering feature for Virusdie website firewall! That is already available! 🙂 The thing is, previoulsy Virusdie firewall supports IP-filtering (white list and black list) only. But our community and our team as well found that is not enough when your website runs some tricky plugins. Or you have some integration to transfer data from your website in and out. In some cases Virusdie may block that activity as a suspicious. And more that, it may blocks your own actions while you managing your own website using admin-panel. That is not cool! And today, after month of hardwork and big changes on our platform to support this new important feature with a huge value for you – URL-filtering now alive!
Just jump to any firewall section on your Virusdie dashboard and find new URL-whitelist and URL-blacklist toggles there! Right next to IP-white list and IP-black list links! And you can add any URL there to pass or lock it! And more that, we are adding presets in the background (you can't find it on your URLs lists, 'cos that is a massive presets for all firewall updates at the backgound in real time) for most popular plugins and recent issues for all popular CMSs! And please send us your samples we may add to URL-filtering by default to save your time! 🙂
Join our private Facebook group to get help from other security experts, and share your own web security experiences and expertise. Group members receive exclusive news and offers. They can also communicate directly with the Virusdie team. Join us on Facebook.