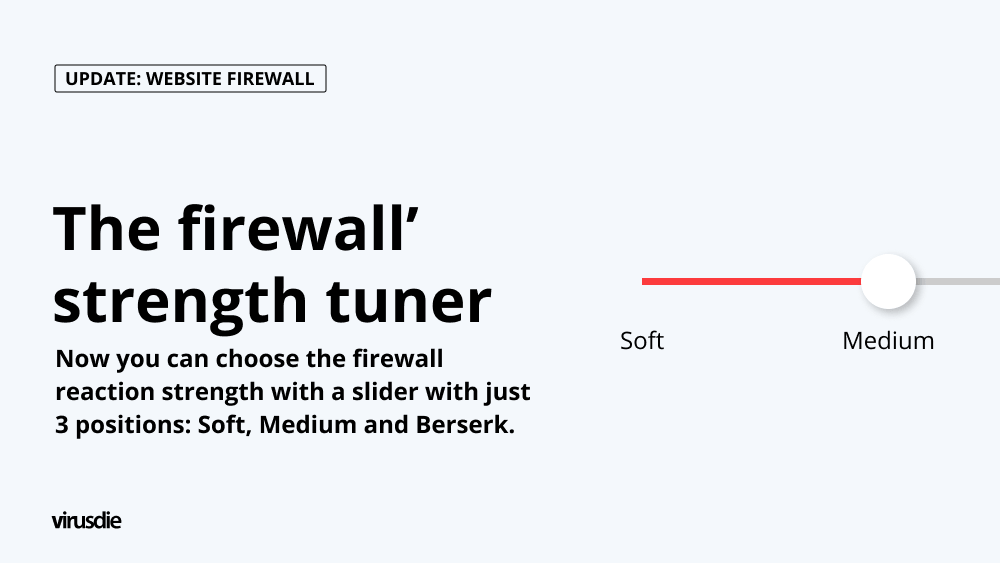 Firewall update | Choose WAF' reaction strength between Soft, Medium and Berserk, by simple tuner!
In an accordance to Virusdie roadmap today we announcing the website firewall reaction strength tuner! Now you can simply choose a website firewall reaction between 3 fixed presets to setup the one suits you best!
"Virusdie firewall is too sensitive!" – that is what we have been hearing by our clients many times. So that is the day we announcing the solution. Simple, but effective! And that is already available on your Virusdie' dashboard!
Soft, Medium or Berserk
Which one reaction strength to choose? That is simple. We use Berserk firewall reaction strength by default. And you can easily reduce the WAF's reaction strength level in a click, if you feel Berserk mode is too sensitive for your very website (due to many reasons, like special website structure, different additional or a specific plugins or forms, etc.).
Just navigate to Settings section for the website you need on your Virusdie dashboard and change the toggle position to Medium or Soft. Medium has twice weaker reaction strength than Berserk, in average. And Soft – twice weaker than Medium.
That is BETA
That is a beta-test of new feature. And that is available from Settings section only. We'll renew our Virusdie GUI further with the better scenario for this feature, implemented with Firewall section.
Learn more about Virusdie website firewall from Helpdesk: How Website Firewall works.
—
Join our private Facebook group to get help from other security experts, and share your own web security experiences and expertise. Group members receive exclusive news and offers. They can also communicate directly with the Virusdie team. Join us on Facebook.