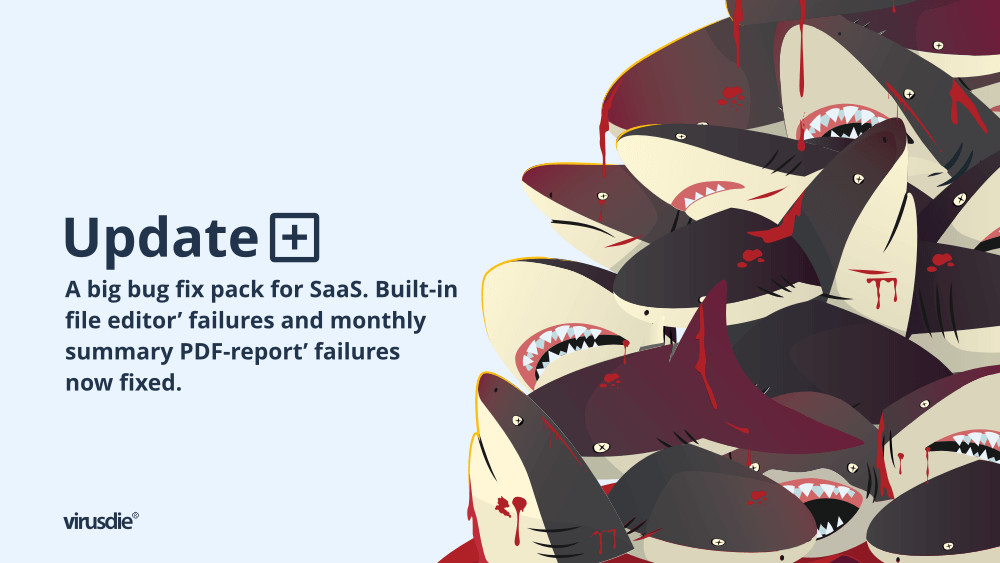 Weekly Update | A bugfix for SaaS PDF-reports and the file editor.
The recurrent bugfix pack for saas is here. We know that you are awaiting for SaaS new features, updates and SaaS bug fixes. These days, when all countries are getting out of COVID' lockdown smoothly, Virusdie team getting back to recurrent weekly sprint system. Yep, more than 80% of our pirate crew members back from remote and now works from our offices, again! 🙂
BUGFIX LIST:
1. File editor.
– A wrapper bug when file editor bottom navigation line may cover file content or threat name, for screen wide 1366px and less now fixed.
2. Monthly summary per-site PDF-reports.
– The problem when lot of equal files detected over the past month (due to automatic cleanup is off, or eg.) are presents on monthly per-site reports. Now we hide same files and show each file just one time for the report.
Join our private Facebook group to get help from other security experts, and share your own web security experiences and expertise. Group members receive exclusive news and offers. They can also communicate directly with the Virusdie team. Join us on Facebook.