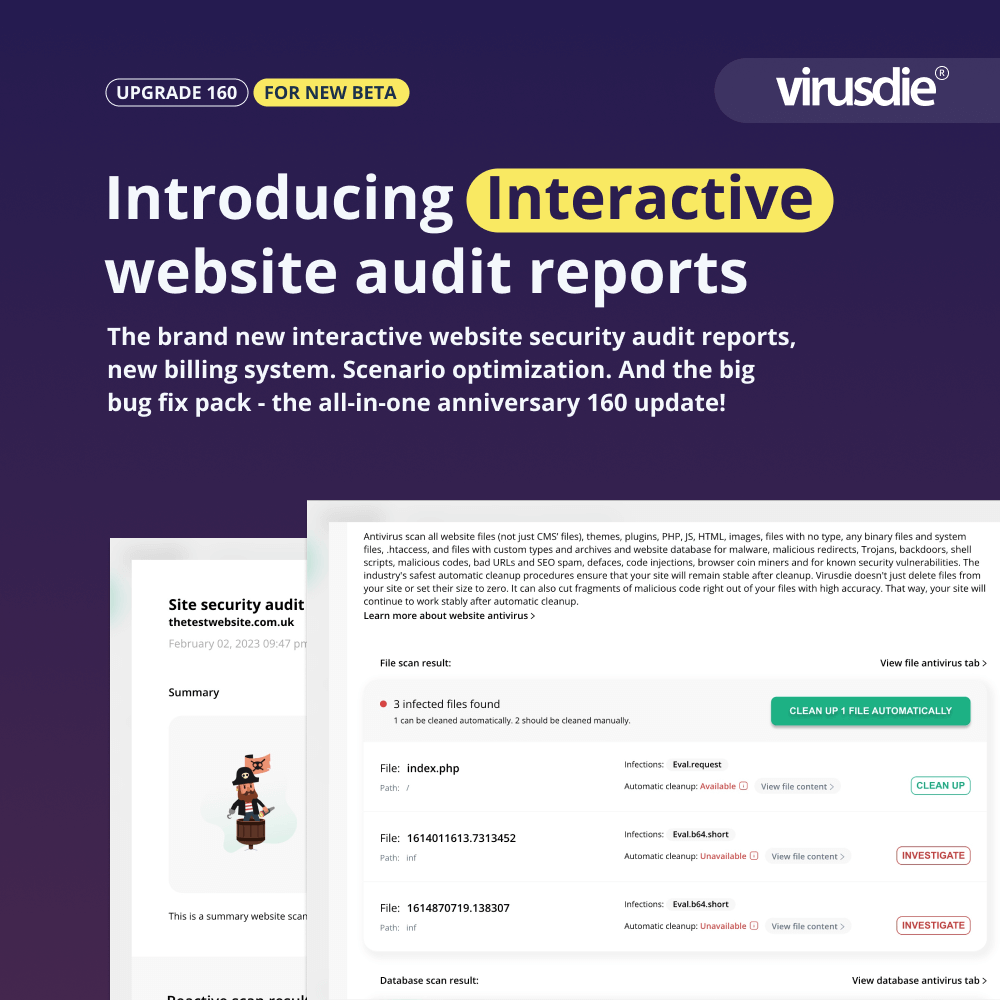 UPGRADE 160 | The brand new interactive website security audit reports, the new billing system and ton of bug fixes! For Virusdie 5th generation BETA.
Ahoy me hearties! Yep, this is a day we've been going for past 6 months! At last, the main scenario for the new generation of Virusdie (generation 5, BETA) completed! What we mean? We mean that today we announcing the last brick that reduce the time you spend on website security with Virusdie, significantly!
Today we announcing the new INTERACTIVE website security audit reports! These new updated approach for security reports helps you manage all security options from the only one report! So you can manage options like: cleanup/view details/get hints for the actions to take next/restore/enable virtual patches, for all website files, database and vulnerabilities in a bulk or separately (up to you) – right from one entire security audit report, and do not spend your time jumping between different tabs to view/manage/cleanup Files, Database or Vulnerabilities.
And more that, you can manage your website security level right from this one report as well! You can turn on/off scheduled scans, file and database cleanup, patch management and the website firewall there as well!
New features
– The brand new interactive website security audit reports. The previous version of website security audit reports been updated. And replaced with the new one – interactive reports. Now you can save your time and manage cleanup/restore and view details, and patch vulnerabilities and more – right from the audit report with one-click!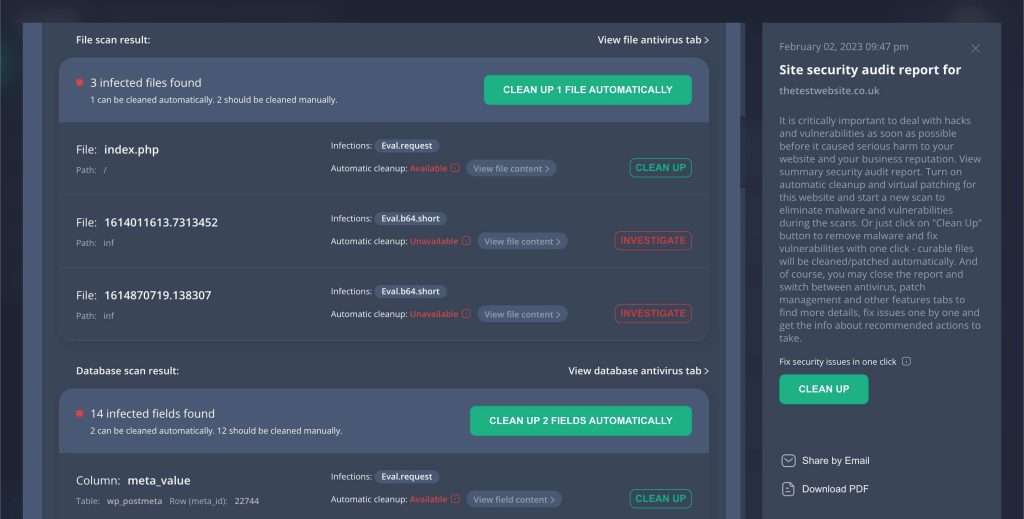 – The new billing system. Now you can manage your subscription, upgrade and downgrade your plans easier that ever before! The new billing system now available and let you catch all the details fast and straightforward. All your purchases, upcoming payments, payment method management, plan details and simple plan upgrade are there!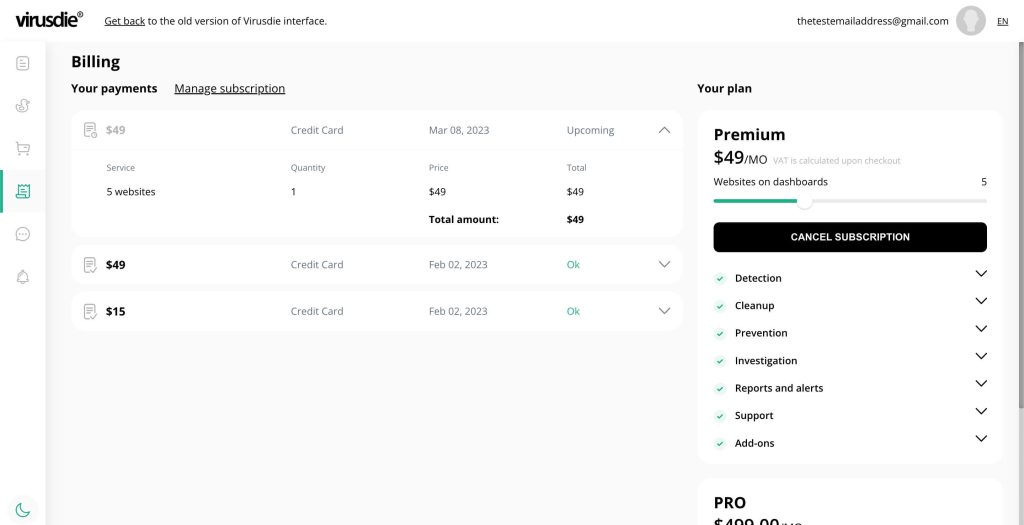 – Do not alert about vulnerabilities that already patched Now Virusdie do not annoying you with alerts about vulnerabilities on your website, if the virtual patch already activated for these vulnerabilities.
– Now you can run database scan and files scan separately Now database scan and file scan engines are splitted from each other. For more flexibility.
– Onboarding for 1-site -> 2 sites dashboard view migration, for B-users. That was the problem with onboarding for B-users (during AB-test) who use the specific 1-site dashboard for 1-site plan tiers. Now the problem with onboarding solved, and B-users are getting their correct onboarding messages when upgrade their plan for 1-site to higher plan tiers. In 3 languages!
– Onboarding for new customers. The onboarding for new customers who login the first time on their dashboard, now support 3 languages!
– The unsubscribe reason question. The unsubscribe/downgrade reason request added to the billing scenario.
BUG fix
– Database scan crashed due page refresh. The problem that crash the database scan due to the page reload – fixed;
– Free plan scheduled scan problem. The problem caused by incorrect session and incorrect scheduled scan task manager now fixed. Scheduled scans for websites on a Free plan now runs well on monthly basis.
– The HTTP-requests backend problems. The problem with incorrect http-requests for the backend that leads to incorrect UI behaviour, now fixed.
– Brazil-Portuguese UI proofreading. The user interface in Brazil-Portuguese language been proofreaded.
– File manager. The file removal via the file manager doesn't work – fixed.
– Firewall. The firewall in Detect Only mode block website visitors – fixed.
– Incorrect patch manager pitch. Incorrect sentences on modal when vulnerabilities found – fixed.
– Can't view backup for the files were deleted, not cleaned. Now you can view the backup even for deleted files (deleted automatically by Virsdie antivirus).
– Sync error even scan runs well. The problem when Virusdie show you the yellow sync error block even if the scan runs well – fixed.
– The backend modification for new reports and file manager. The backend been updated to support the format that helps you use the new website audit reports and deal with the built in file manager as well.
– The file manager mark files even files were cleaned. The built-in file manager mark files with red and violet dots even files or vulnerabilities were cleaned or pathed – Now fixed.
– Authorisation problem. The incorrect request initiates a redirect to dashboard with error, even you're not authorised yet – fixed.
Upcoming updates
– The new billing system for Brazil;
– User interface Quality assurance;
– Teamwork;
– Agency account features;
– The new support system.
* all these available for new pre-beta Virusdie 2022 only! 🙂
Try Virusdie 2022 pre-beta now
How to try Virusdie 2022 pre-beta? It is simple — just click on big yellow button "TRY BETA" on top of your Virusdie dashboard! 🙂
——
Join our private Facebook group to get help from other security experts, and share your own web security experiences and expertise. Group members receive exclusive news and offers. They can also communicate directly with the Virusdie team. Join us on Facebook.