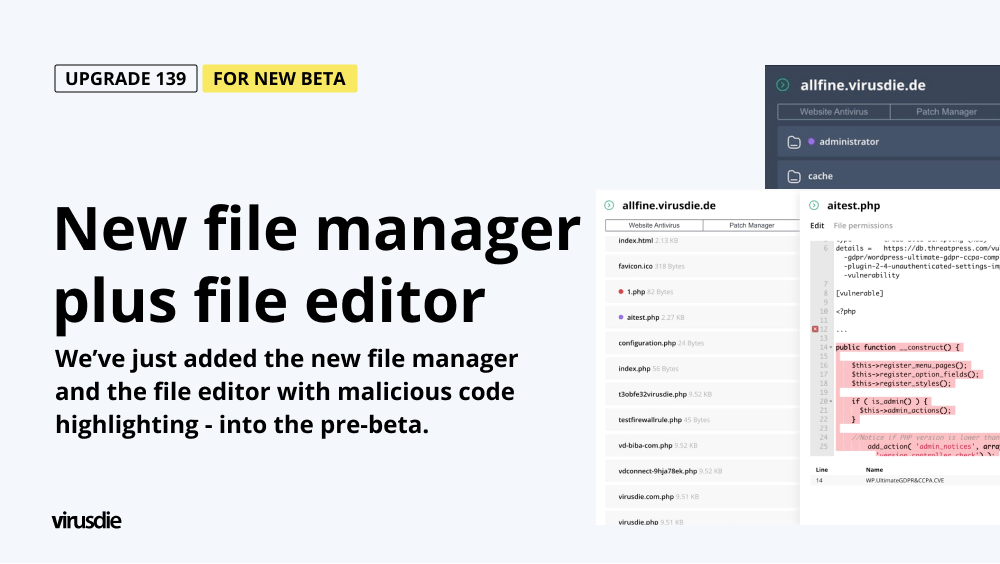 UPGRADE 139 | The new file manager and the file editor for new Virusdie pre-beta.
The first update for the new Virusdie 2022 pre-BETA. That is about new file manager to navigate files easily. And about new built-in file editor with malicious code highlighting that helps investigate issues on your own in seconds if you need more details or do now want to use automatic malware removal system.
New features for Virusdie 2022 pre-beta
– the new File Manager;
– the new File Editor;
Bug fix pack
– the weakspot that allows to add more than one site if you're on a free plan – fixed;
– the links on un-synced website yellow block follows to blank pages – fixed;
– disabled toggle "Send me notifications by email" on Settings tab – fixed;
– some times the website tab can't be open by a click on website block on website list – fixed;
– inactive map of country blocking firewall feature – fixed;
– now all new added websites are on top of website list – new option;
– now icons below website name are sorted the same way with Security level modal: Daily scan, Automatic cleanup, Active firewall, Virtual patching, Website insurance – new option;
What next?
– multi-language support backend update;
– Virusdie updates alert system / notification system;
– New website audit reports plus special view for 1-site and multisite account owners.
Try Virusdie 2022 pre-beta now
How to try Virusdie 2022 pre-beta? It is simple — just click on big yellow button "TRY BETA" on top of your Virusdie dashboard! 🙂
——
Join our private Facebook group to get help from other security experts, and share your own web security experiences and expertise. Group members receive exclusive news and offers. They can also communicate directly with the Virusdie team. Join us on Facebook.