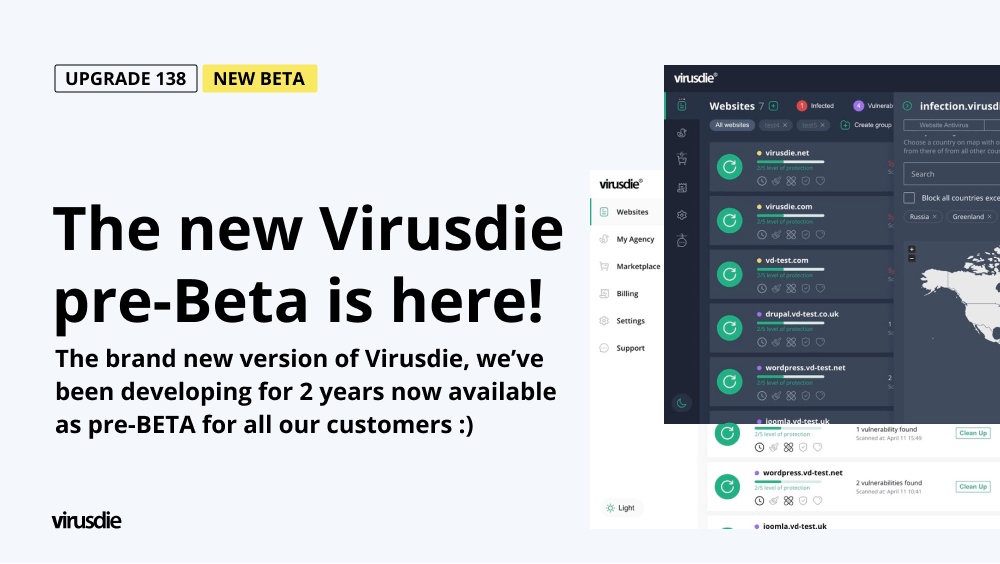 NEW VIRUSDIE | Announcing the open pre-beta launch of the new generation of Virusdie!
Dear lady-pirates and gentlemen-pirates! And here it is, this very moment we've been going to past 2+ years! Despite the COVID epidemic, lock down and its effects on all the processes. Despite all the sh*t happening now on our blue planet… we've been passing through with the new generation of Virusdie in our mind. That is the better way we think we may help make the life at least of a part of humanity better. And we've been working hard as you all know all these years, day-by-day to build the new Virusdie with all those things our clients asked for so many times. The new, much more powerful Virusdie for small and medium-size business web-application protection is here as open pre-beta! And if you have Virusdie account you can simply jump between old and new generation of Virusdie, using navigation on top-side of your dashboard! 🙂
Here is the roadmap we're going along with: Roadmap. Not all the sections of new user interface available right now. We'll add one by one in an accordance with upcoming updates, on weekly basis!
The next upcoming update next week is – the new File manager plus the new File editor with malicious code highlighting. Plus bugfix pack.
So what's new for the new Virusdie generation in a big way? Hoho! That is really cool question! And here is the part of the answer:
– lot of bugs and failures on pre-beta 🙂
– The new user interface that contains 100+ new features and became even easier to use than previous one version! That is really comprehensive task to make comprehensive things easy to use! And yep, you still don't need any manual to use Virusdie! 🙂
– Database scan and cleanup!
– Website firewall improvements: new country blocking, custom rules editor!
– Group and massive operation with your websites on your list to save your time (like one-click website settings sharing to a group of websites or to all your websites)!
– Exclusive one-site view (if you have just 1-site on your dashboard) and automatic switching to the list of sites view if you have at least 2 sites on our dashboard!
– The new one-click website audit and new scan/audit reports that replace the entire logic and basic scenario of Virusdie user interface!
– The new agency account management interface!
– Teamwork and website sharing between Virusdie dashboards! For all Virusdie customers!
– New and much more powerful branding for reports.
– The new thing – a security level 0-5!
– Website insurance.
– and much more!
An here is a video by Elijah – CEO at Virusdie. About this pre-beta launch: Play Video
——
Join our private Facebook group to get help from other security experts, and share your own web security experiences and expertise. Group members receive exclusive news and offers. They can also communicate directly with the Virusdie team. Join us on Facebook.