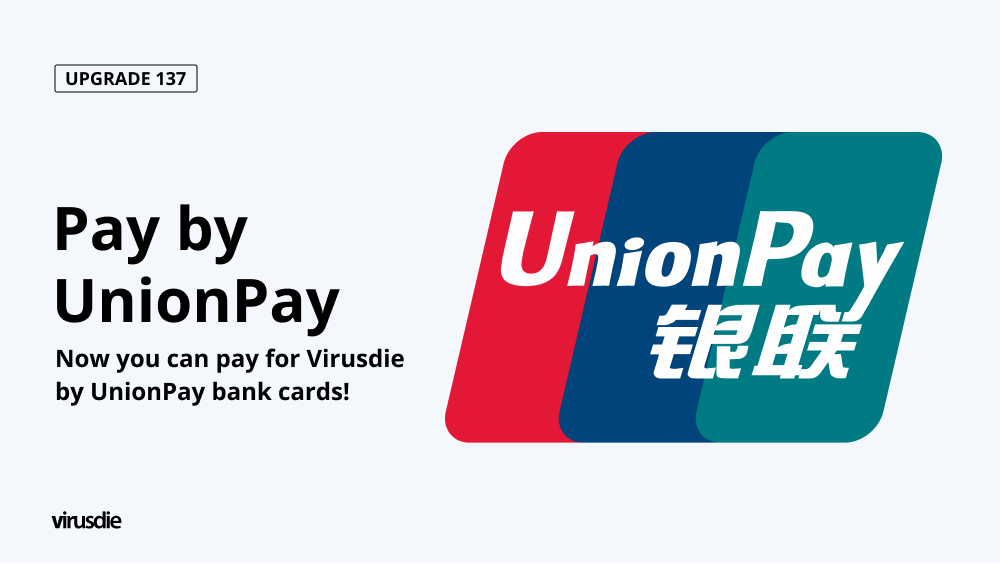 UPGRADE 137 | Now you can pay for Virusdie by UnionPay bank cards – a Chinese financial company that works in 180+ countries.
Dear customers.
We're so happy to announce that now you can pay for Virusdie by UnionPay bank cards! UnionPay is a Chinese financial services company that works in more than 180 countries. And now we support UnionPay cards for Virusdie subscriptions!
Why we do that?
That is simple. Virusdie's goal is to be a standard in website security. That means that Virusdie services must be available for everyone,- for every small and medium-size business. And that means that we must support, at least, all popular payment methods. And the UnionPay – is one of the World' largest. And it is even bigger than Visa in terms of yearly operations.
The UnionPay payment support allows use Virusdie to those customers who can't pay other bank cards, or just prefer UnionPay!
——
Join our private Facebook group to get help from other security experts, and share your own web security experiences and expertise. Group members receive exclusive news and offers. They can also communicate directly with the Virusdie team. Join us on Facebook.