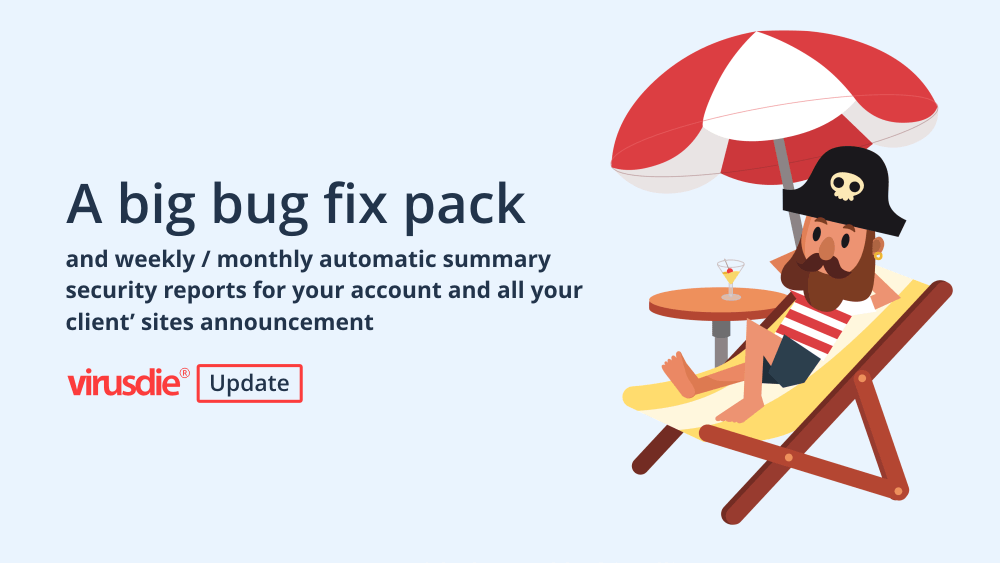 Weekly Update | Bug fix and upcoming automatic summary security reports announcement
This week we update and improve the antivirus software and the GUI by fixing a number of bugs, and more that, we're so excited to announce a new upcoming feature – weekly / monthly automatic summary security reports for your account and all your client' sites we're going to implement on stable within next 3 weeks from now!
THE NEW UPCOMING UPDATE:
Summary security reports for you and all your clients
We are going to announce within 2 weeks from now a complete automatic system that helps your save your time preparing monthly security reports for your clients and let you get weekly and monthly summary security reports right on your email or directly on your client' mailboxes (if the website is shared with your client on its personal panel). There are about to be two types of reports: the weekly/montly entire account summary report and the montly website summary report with all the details like the number detected and cleaned files, blacklist statuses, vulnerabilities, the number of blocked attacks by a website firewall, and the current website statuses. And all these reports will be automatically branded by your agency details, contacts and logo if you're on the plan with Agency account feature and even more that, without Virusdie mentioned if your're on a White Label plan!
BUGS WERE FIXED:
Reg-ex powered search tool
Content failed to load error – FIXED;
Blacklist monitoring feature
Failure to renew blacklist results by manual recheck by a button click on a results modal window – FIXED;
A website firewall
Failure to view the firewall section page content when the firewall disabled – FIXED;