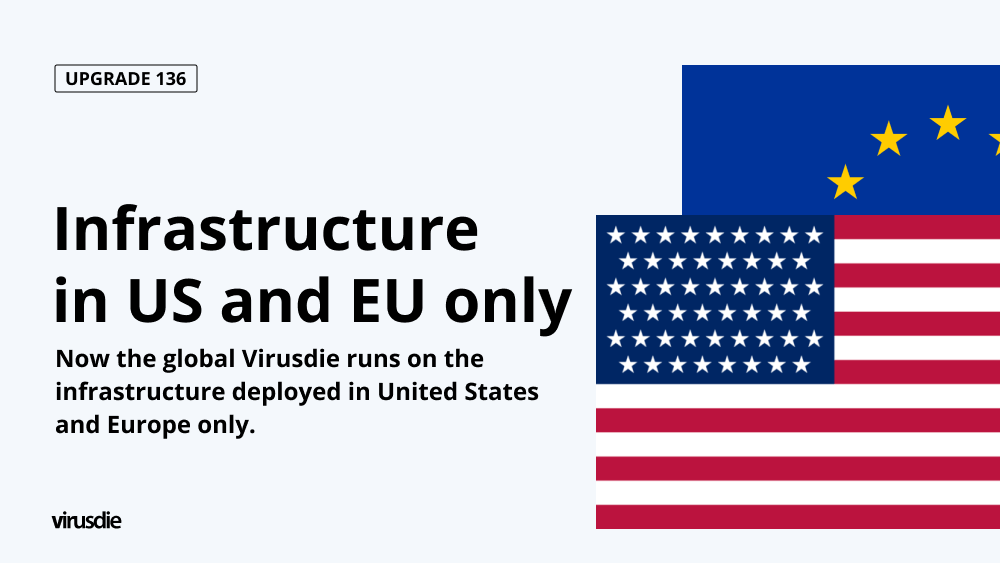 UPGRADE 136 | Virusdie infrastructure for the global market runs in United States and Europe.
Dear customers.
After the 3 month of reconfiguration the Virusdie' infrastructure we may say that now Virusdie global service runs nodes in US and Europe. The DNS update for CDN now completed. Why we did that? It is simple: Better stability. Better performance. Reduce political risks.
DETAILS:
– Now the core CDN nodes of global Virusdie – are in the United States.
– Now Virusdie global CDN do not use nodes on Russian federation territory.
– The global Virusdie service provider (with European jurisdiction) completely separated from some local markets with their own rules of the game (for such markets we have local solutions, separate divisions, companies and infrastructure).
– When you interact with Virusdie.com – you interact with European company (with GDPR and other cool things).
– Blacklist monitoring and external website scan (URL check) still powered by globally distributed nodes across web, to keep top notch performance (but that is our separate independent huge service with no interaction with any website data or user data).
What now?
1. Please check that new core nodes are allowed on your tail for HTTP/HTTPS requests: 51.81.107.180, 135.148.103.139.
2. We're going to update our Privacy Policy and Terms of Use within a week. To clarify all the details about new infrastructure for your calm. In short, now all your data may store and process in United States and Europe.
BUGFIX:
– Email delivery unstable (alerts, reports). FIXED.
VISA, MASTERCARD AND PAYPAL FOR RUSSIAN SUBSCRIBERS:
Visa and Mastercard announced temporarily stop for bank cards emitted by russian banks. That means, that after the March 10th, 2022 all customers who has such bank cards, can't renew their subscription or pay for a new one. If you have such subcription we recommend you jump on the local market solution, provided by local hosting provider or domain name registrar. For example: Try NIC.RU
We're keep looking on the situation and 'll try to find the way to let you use Virusdie, 'cos Virusdie been made as a service to help independent small and medium-sized business around the World to protect their websites. Nothing more, nothing less. We're going to add extra payment methods like Boleto (for Brazil) and UnionPay (for Asia and other countries) soon.
Also, if you face with any issues due to the DNS reconfiguration – you may always ask our support for the help. Just create a ticket via your dashboard.
——
Join our private Facebook group to get help from other security experts, and share your own web security experiences and expertise. Group members receive exclusive news and offers. They can also communicate directly with the Virusdie team. Join us on Facebook.