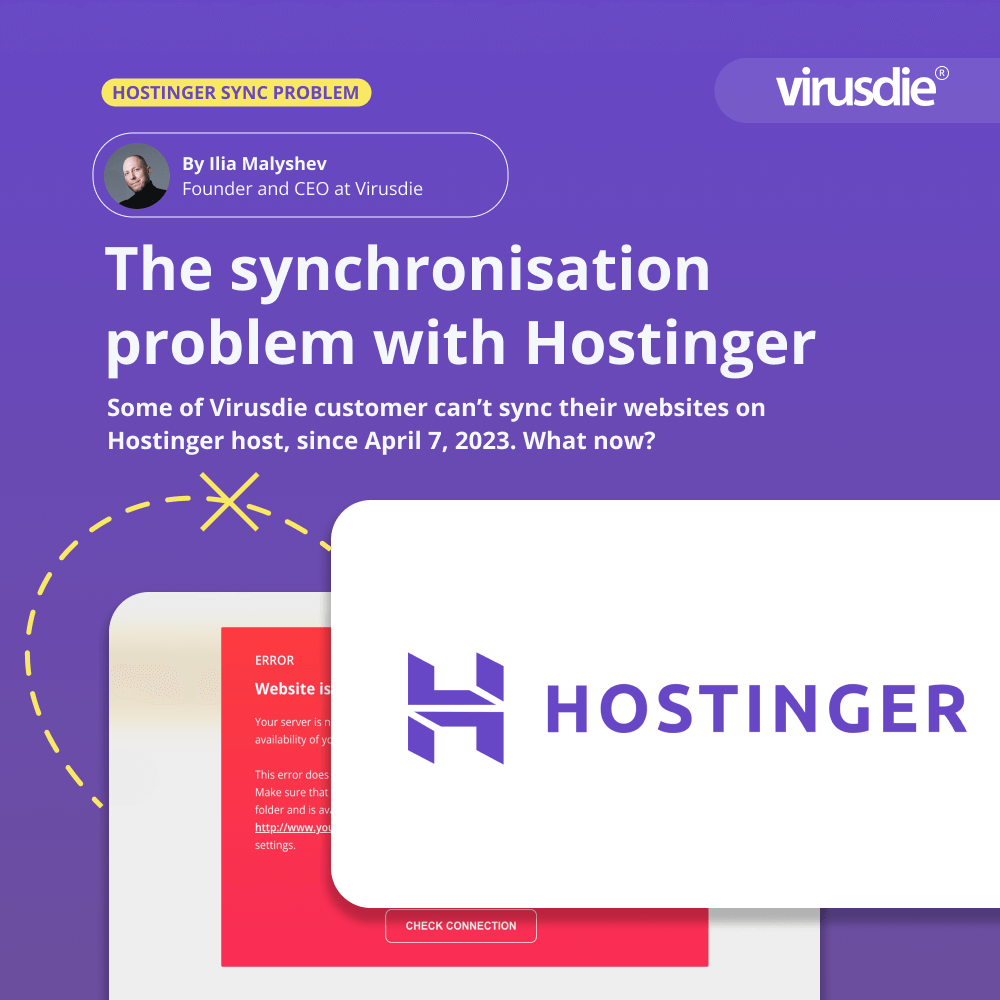 ALERT / ALERTA | The website synchronisation problem with Hostinger / O problema de sincronização do site com o Hostinger.
Hello dear pirate of Virusdie. The problem is, since April 7, 2023 we found, that some of our customers can't sync their websites with Virusdie dashboard. And that is about websites based on Hostinger web hosting.
—
Olá querido pirata do Virusdie. O problema é que, desde 7 de abril de 2023, descobrimos que alguns de nossos clientes não conseguem sincronizar seus sites com o painel do Virusdie. E isso é sobre sites baseados na hospedagem na web da Hostinger.
So if you found your websites can't sync with Virusdie and your websites are on Hostinger, please do few the steps here below:
1. Please contact your Hostinger support team, over your Hostinger dashboard (panel).
2. Please ask Hostinger support to whitelist Virusdie main node IP addresses: IP 51.81.107.180, 135.148.103.139.
3. Then, please jump in your Virusdie dashboard and try to run the website scan. That should works properly.
4*. If not – please contact Virusdie support https://virusdie.com/support/.
Thank you for using Virusdie!
—
Portanto, se você descobriu que seus sites não podem ser sincronizados com o Virusdie e seus sites estão no Hostinger, execute algumas das etapas abaixo:
1. Por favor, entre em contato com sua equipe de suporte Hostinger, através do seu painel Hostinger (painel).
2. Peça ao suporte da Hostinger para colocar na lista de permissões os endereços IP do nó principal do Virusdie: IP 51.81.107.180, 135.148.103.139.
3. Em seguida, acesse o painel do Virusdie e tente executar a verificação do site. Isso deve funcionar corretamente.
4*. Caso contrário, entre em contato com o suporte do Virusdie https://virusdie.com/support.
Obrigado por usar o Virusdie!
——
Join our private Facebook group to get help from other security experts, and share your own web security experiences and expertise. Group members receive exclusive news and offers. They can also communicate directly with the Virusdie team. Join us on Facebook.