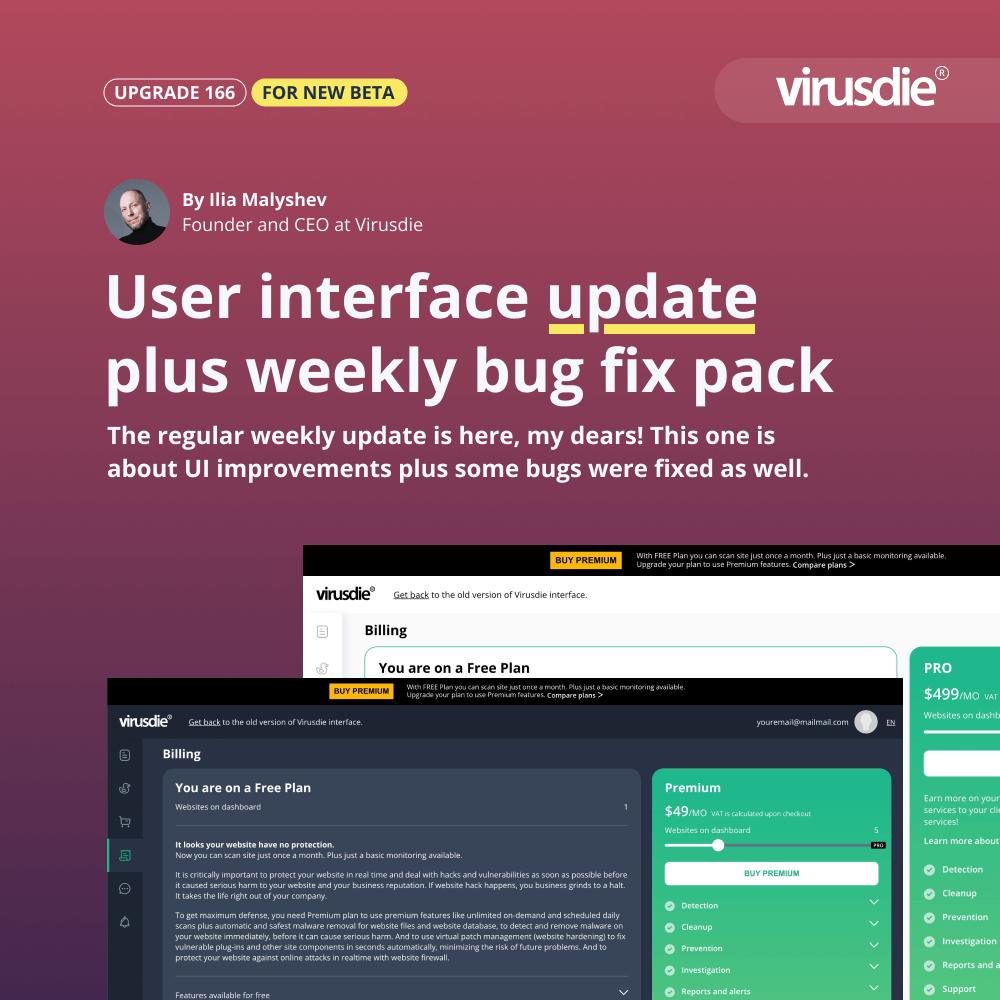 UPGRADE 166 | UI improvements plus weekly bug fix pack for better productivity.
Hey everyone!
This is the weekly Virusdie update. Weekly updates have their one goal – to make Virusdie better weeky-by-week. So you can get more calm and feel cool to use the service 🙂 This one update slightly merged to our recent billing system update. Plus some UI bugs were fixed as well.
Billing UI improvement
– now there is no separate block to buy Tools PRO on Billing page. Now Tools PRO plan available when you slide the website number slider to the right side. There is a mark "PRO" there 🙂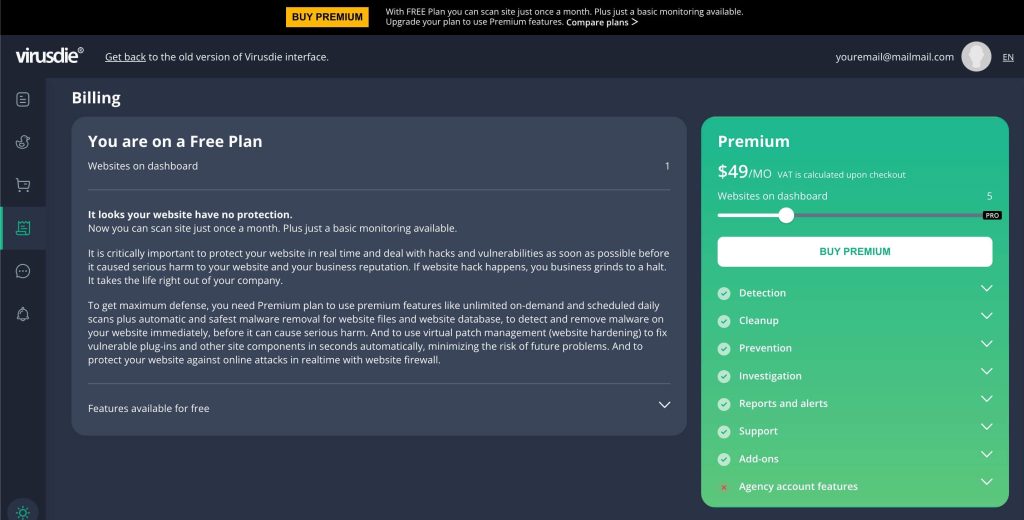 So you can slide the slider right.
And get more details about PRO plan tier and buy it! Yep, so easy.
Bugfix pack for this week
– the PDF-report generation failure – FIXED;
– the billing crash when you try to upgrade your plan (for some cases) – FIXED;
– the incorrect upcoming payment date on billing page – FIXED;
– incorrect currency/value for Brazil Reals and US dollar – FIXED;
– the special (not a generic error type) alert when you try to add the website the already on your dashboard – ADDED;
– buttons on reports if your are on a Free plan, should be aligned by horizontal line middle – FIXED;
– mobile response bugs (no hamburger menu for Billing section, horizontal scroll for website list due to markers) – FIXED.
I believe this update helps you save some time 🙂
Ilia Malyshev,
Founder and CEO at Virusdie.
—
Upcoming updates
– the new support system;
– weekly bugfix packs;
– UI improvements.
* all these available for new pre-beta Virusdie only! 🙂
Try Virusdie generation 5 pre-beta now
How to try Virusdie generation 5 pre-beta? It is simple — just click on big yellow button "TRY BETA" on top of your Virusdie dashboard! 🙂
——
Join our private Facebook group to get help from other security experts, and share your own web security experiences and expertise. Group members receive exclusive news and offers. They can also communicate directly with the Virusdie team. Join us on Facebook.