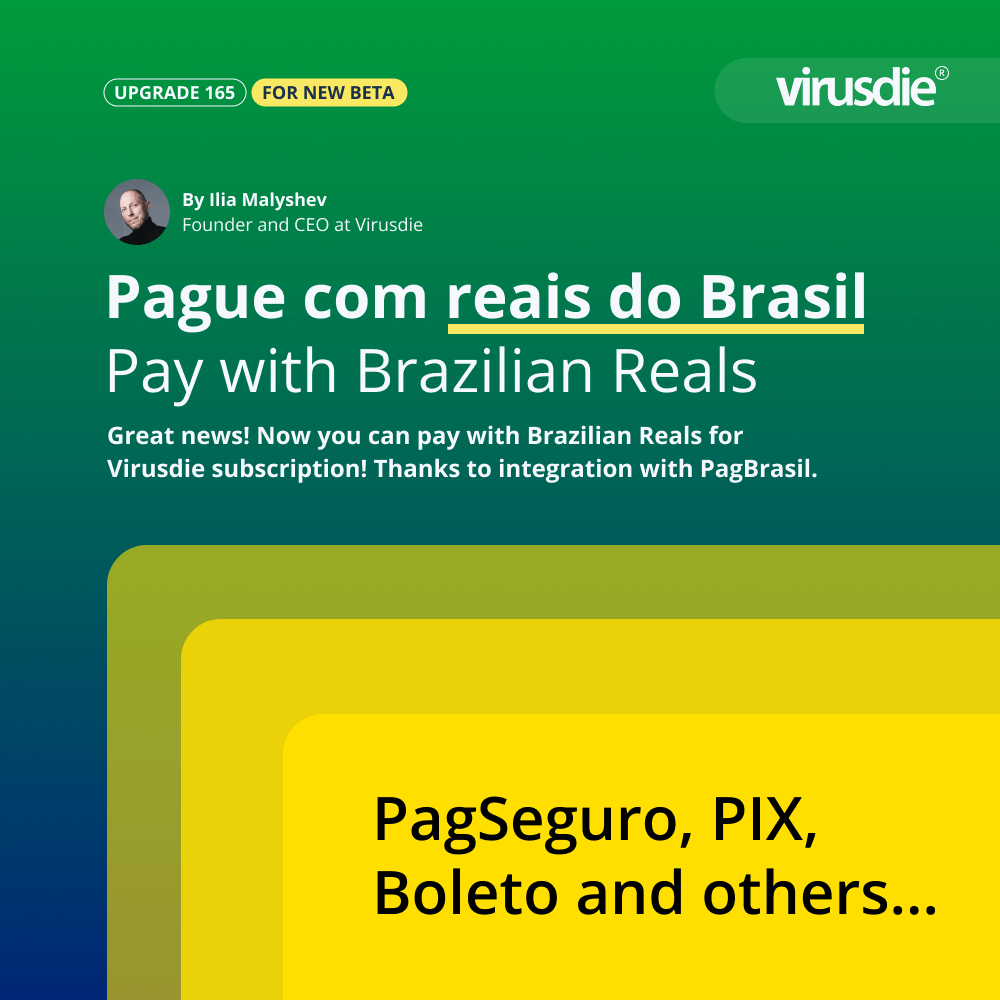 UPGRADE 165 | Pague com reais do Brasil – Boleto, PIX, PagSeguro, Cards! Means now you can pay for Virusdie subscription with Brazilian Reals!
Ola, amigos! Hey brave pirates of Virusdie community! What a great day Today! This is the day we start getting payments with Brazil Reals (Brasil reais)! Why that is important thing? It is simple. Previously, just USD (United States Dollar) was the only currency we receive payments. And that is not too convenient for our customers from Brazil, who have to convert their Reals into USD, so they lost some money on conversion. Due to conversion rates. More that, Brazil is one of our target markets so all our Brazilian customers want to pay with their convenient payment methods like: Boleto, PIX, etc. Available in Brazil only.
So, we're launching the A/B test for this new Brazililan Reals payments for 2 months from now. Payment in reals available for a half new customers only, whose registration country is Brazil. PS. If you need to pay in Brazil Reals right now and you can't find that currency on your Billing section – just ask our support to change your A/B-test status to get that option right now 🙂
The new billing in Brazil Reals
Just remember, payments in Brazil Reals available for a Half of Brazilian customers right now, due to A/B-test. Till the end of July 30th, 2023.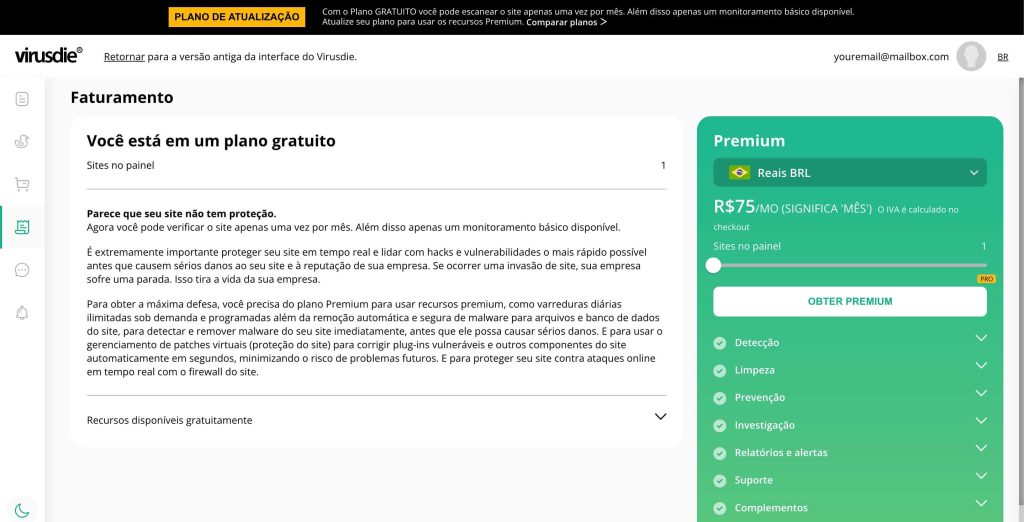 When you navigate to the Billing section you'll be able to choose the currency to pay with: US dollar or Brazil reals.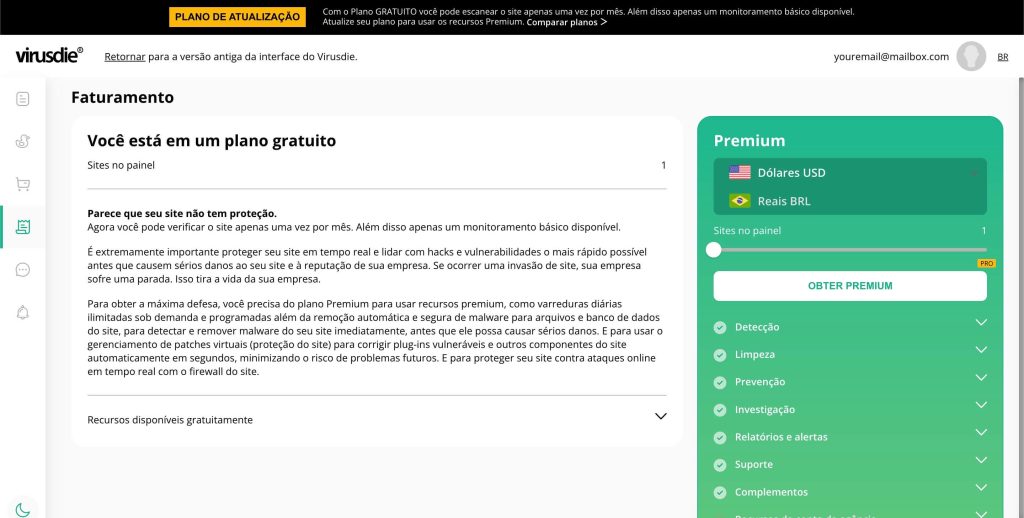 Once again, to whom this option available right now (till the end of July 30, 2023). To get this option you need:
– be marked as B-test user on Virusdie (we distribute customers automatically at the background so you can't change that);
– be registered from Brazil region;
– be on a Free plan tier.
Well, if you're not a part of B-test users, you'll get the standard billing page to pay with US dollar only.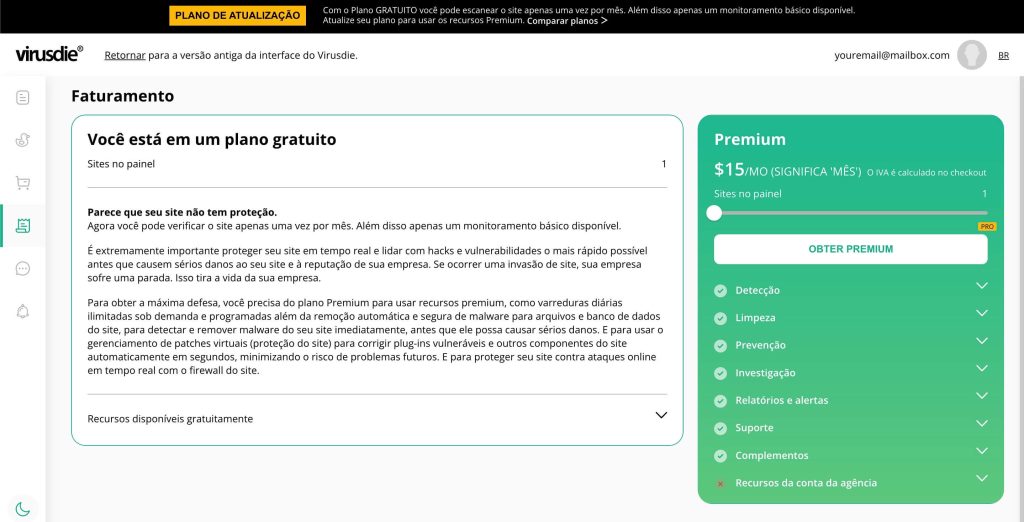 Bugfix pack for this week
– the firewall strength toggle doesn't work for some customers – FIXED;
– the problem to generate PDF-reports – FIXED;
– one-site dashboard misspelling, wrong statuses and bugs – FIXED;
– website security audit report misspelling – FIXED;
– incorrect data about the quantity of vulnerabilities found – FIXED;
– the bug that leads to zero number of B-customers (for A/B-test engine) – FIXED;
– the Facebook authorisation problem – FIXED;
I believe this update helps you save some money 🙂
Ilia Malyshev,
Founder and CEO at Virusdie.
—
Upcoming updates
– the new support system;
– weekly bugfix packs.
* all these available for new pre-beta Virusdie only! 🙂
Try Virusdie generation 5 pre-beta now
How to try Virusdie generation 5 pre-beta? It is simple — just click on big yellow button "TRY BETA" on top of your Virusdie dashboard! 🙂
——
Join our private Facebook group to get help from other security experts, and share your own web security experiences and expertise. Group members receive exclusive news and offers. They can also communicate directly with the Virusdie team. Join us on Facebook.