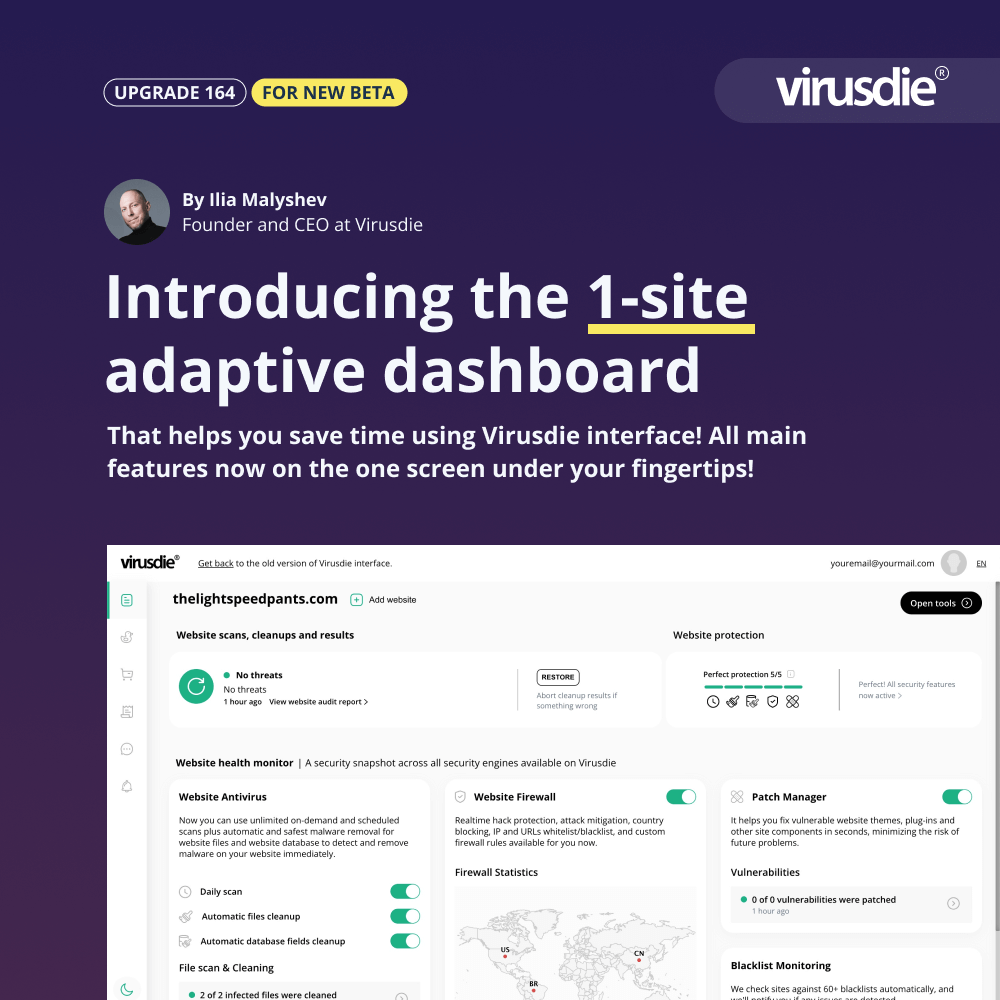 UPGRADE 164 | The new adaptive 1-site dashboard now available for all Virusdie customers who manage just one website!
Hello my brave pirates of Virusdie! Today we are going to save your time on how you interact with Virusdie from scratch and in long tern, if you manage just one website on Virusdie dashboard. We've been testing the special adaptive 1-site dashboard as A/B test for 6 months and today the new 1-site dashboard available by default to all Virusdie customers with ONE website on their panels! All the main tools and indicators now on your fingertips on the one single screen – so that saves your time dramatically when you manage just one website!
The new special dashboard for ONE website
Previously, that was the simple list of websites on dashboard. No matter you manage 1 on 1000 sites. And that is not too convenient to people, who manage just one website on Virusdie dashboard. So the idea was to rebuild the dashboard for those who manage just one website to make the security management process more native and easy from scratch.
And that is why the new adaptive 1-site dashboard released! So now if you manage just one site with Virusdie, on the single screen you can interact with website antivirus, firewall and the patch manager as well! And all the main toggles and even statuses are there to save your time. So you do not need to navigate to lower levels of menu and tools to find our more details about each thing you need! That is the same approach we use with Virusdie WordPress Plugin and that works.
Now the sidebar with the all tools is hidden behind the black button on top-right side, cos we believe now you do need to interact with that with a high frequency 🙂
So, in short, if you have just one website on Virusdie – you face with the adaptive dashboard that saves your time!
And what if you manage more than just one website?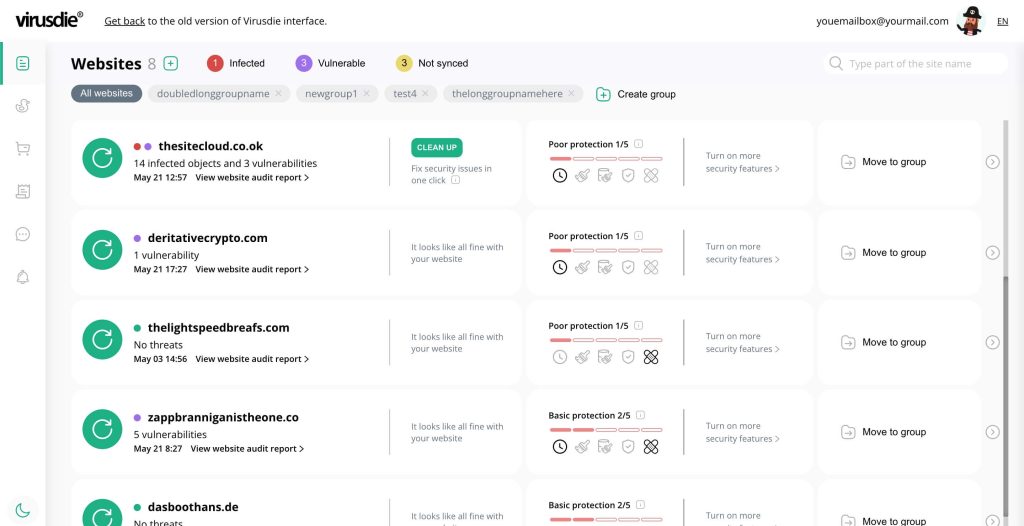 That is simple! The same time you add the second website on your dashboard Virusdie adopts to the multisite view automatically. So when you manage 2 and more sites, you interact with the list of websites – the standard Virusdie dashboard.
I believe you found that new update really suitable if you manage one website 🙂
Ilia Malyshev,
Found and CEO at Virusdie.
—
Upcoming updates
– Billing. The new billing system that helps you pay in Brazil Reals!
* all these available for new pre-beta Virusdie only! 🙂
Try Virusdie generation 5 pre-beta now
How to try Virusdie generation 5 pre-beta? It is simple — just click on big yellow button "TRY BETA" on top of your Virusdie dashboard! 🙂
——
Join our private Facebook group to get help from other security experts, and share your own web security experiences and expertise. Group members receive exclusive news and offers. They can also communicate directly with the Virusdie team. Join us on Facebook.