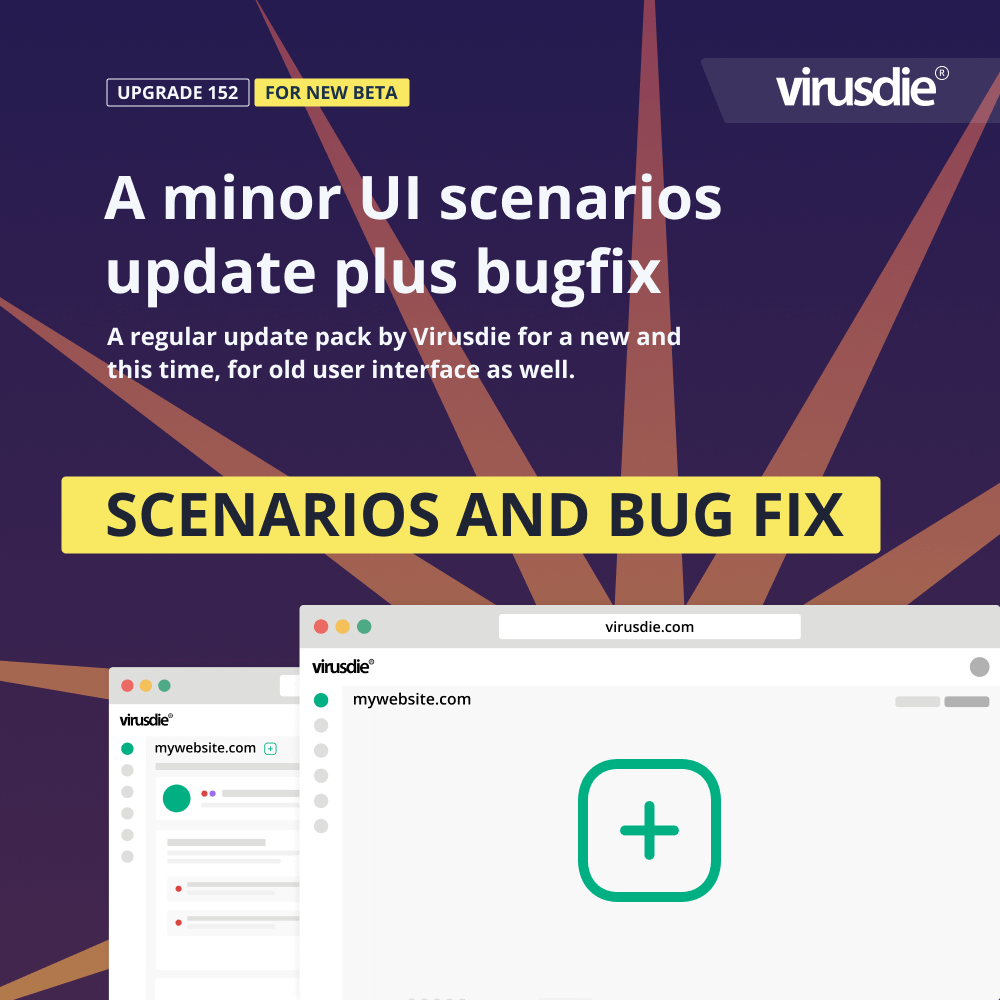 UPGRADE 152 | A minor User Interface scenarios update plus bug fix pack for Virusdie pre-beta 2022.
Here it is. A weekly update for Virusdie. Today this is a minor update for new user interface scenarios plus some bug fixes those annoying you so much when you try to catch the scan or a cleanup results in user interface.
Bug Fix
– Website add/removal. Now in new UI we show the hint when and why you can or can't add or remove website from your dashboard. All depends on the plan tier and on the fact if you already got any scan results or not (you always can remove not synced website if there are now any scan reports yet).
– File manager. Now we show the hint that you need to sync your website on a File Manager tab.
– Scan results old/new UI. That was huge bug we missed previously and thanks to our brave customers pointed us on it. The thing is there are incorrect results you get in new UI if you start the scan in old UI. And same way, you get incorrect results if you scan from new UI and view results in old UI. All that due to different data format. Now we fixed that quickly and not so robust. So now there are no results in new UI for old UI scans and there are no results in old UI for new UI scans. Be careful! That'll be all fine when we move to a new UI completely. Soon!
– other tiny improvements and updates.
Upcoming updates and bug fixes for 2022 Virusdie Beta
– The new billing (specified payment methods for Brazil, more cards and methods for international market);
– BUG. Email delivery problems (registration, password reset, one time pass delivery, etc.)
– Settings update (one-click settings share to all your websites);
– Reports update (report sharing, report download);
* all these available for new pre-beta Virusdie 2022 only! 🙂
Try Virusdie 2022 pre-beta now
How to try Virusdie 2022 pre-beta? It is simple — just click on big yellow button "TRY BETA" on top of your Virusdie dashboard! 🙂
——
Join our private Facebook group to get help from other security experts, and share your own web security experiences and expertise. Group members receive exclusive news and offers. They can also communicate directly with the Virusdie team. Join us on Facebook.