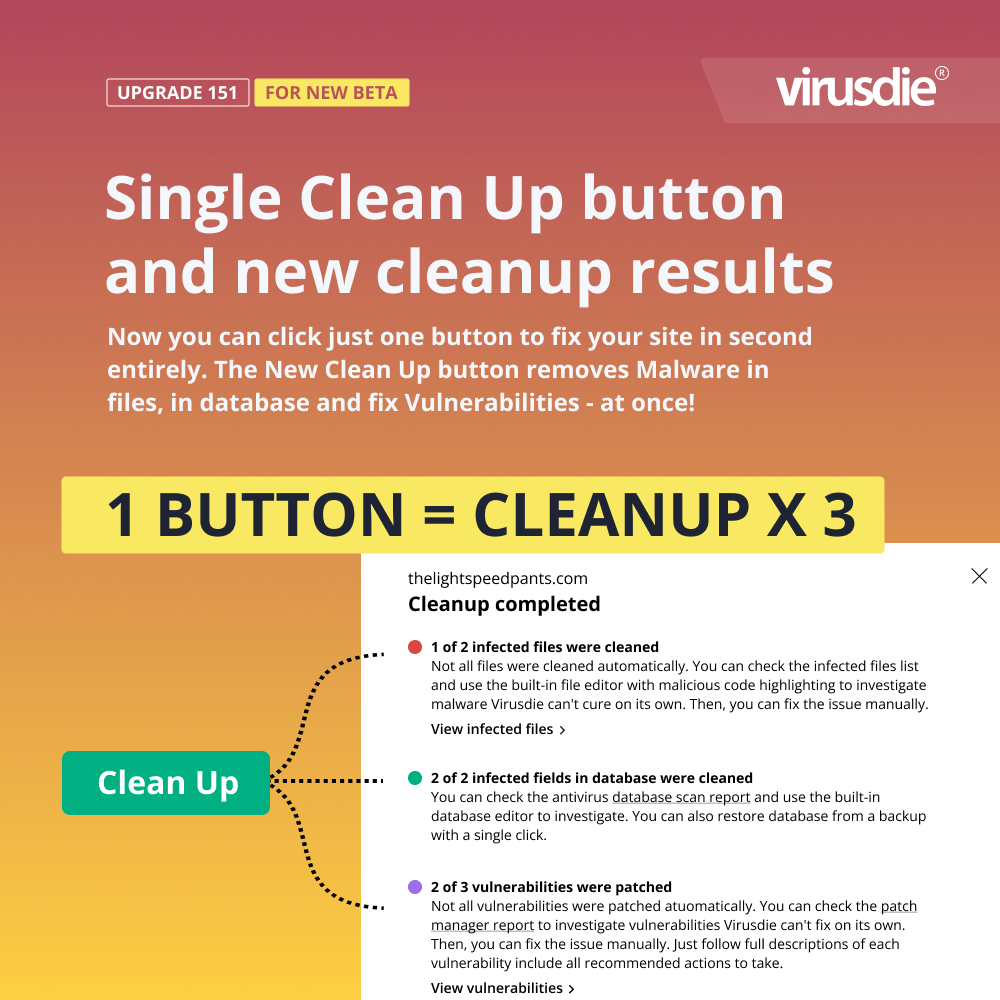 UPGRADE 151 | The new clean up button that cleans up infected files, infected database and patch vulnerabilities at once.
Good news everyone! The one more improvement that saves ton of your time is here! Previously, the entire website clean up was not available, cos you 'd have to fix vulnerabilities on your website separately, via patch manager tab. We think that is not so cool, cos all the things should be automated to save your time. Now the new clean up button available for new user interface. With that new clean up button you can remove malware from files and database plus fix vulnerabilities at once, in one click! Just click green Clean Up button after the scan and Virusdie 'll remove malware were found and make virtual patch for vulnerabilities were found. No more switching between different antivirus engines and patch manager tab – no more time wasting! And more that, you'll get the brand new simplified summary alert after cleanup to catch all the things Virusdie did with your website, in second!
New features and improvements
For website antivirus and patch manager
– Entire website cleanup button. Now you can just click green Clean Up button on your dashboard or on any website engine tab, and get complete website cleanup, including malware removal from files, website database plus get virtual patch management!
– Cleanup summary alert. Yes, you can always check a website audit report and catch what Virusdie did on your website during cleanup. And now to save your time we show you the simplified cleanup result alert to help you catch all the details in second and do not jump into summary audit report! There are details about file cleanup, database cleanup and virtual patch management as well!
Bug Fix
– Simplified UI for B-users with 1 website on dashboard. Now the dashboard for 1-site view for B-users (means A/B -test for new UI) available again with no bugs.
– other tiny improvements and updates.
Upcoming updates and bug fixes for 2022 Virusdie Beta
– BUG. Email delivery problems (registration, password reset, one time pass delivery, etc.)
– Settings update (one-click settings share to all your websites);
– Reports update (report sharing, report download);
– The new billing (specified payment methods for Brazil, more cards and methods for international market);
* all these available for new pre-beta Virusdie 2022 only! 🙂
Try Virusdie 2022 pre-beta now
How to try Virusdie 2022 pre-beta? It is simple — just click on big yellow button "TRY BETA" on top of your Virusdie dashboard! 🙂
——
Join our private Facebook group to get help from other security experts, and share your own web security experiences and expertise. Group members receive exclusive news and offers. They can also communicate directly with the Virusdie team. Join us on Facebook.