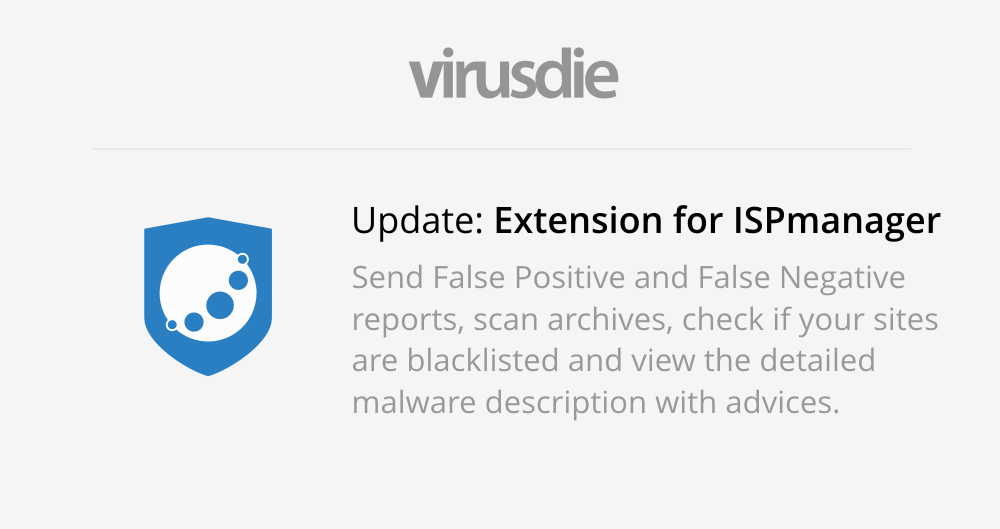 Update: Virusdie Extension for ISPmanager
It has been a long time since the last update of the Virusdie module for the popular ISPmanager 5 Lite server control panel. A lot of updates appeared during May 2018 and, finally, most of the innovations are already available to ISPsystem customers.
We will tell you what new features appeared in the module and what advantages they give to you. The module is available for order from a large number of hosting providers and also, you can independently connect it from your ISPmanager panel: Get module on ISPsystem.com.
Checking files in archives
Now the Virusdie module for ISPmanager can scan files located in different types of archives: ZIP, TAR, GZIP, etc. This is convenient, 'cos there is no longer any need for unpack files manually before scanning begins. However, scanning archives, which is logical, increases the duration of a general scan of your server or account on it.
A detailed description of the malware found
Finally, the long-awaited function of demonstrating the description of the detected viruses and suspicions in the files appeared. Previously, this functionality was available to virusde.com customers only. Now you can see not only the name of the verdict, but also the level of danger of the threat, understand if there is an infection or a suspicion. To see the availability of automatic cleanup for the file found, as well as an expanded description of this class of threats and recommendations for your further actions.
Sending messages about false positives and undetected threats to Virusdie experts
Despite the fact that Virusdie since its appearance tends to minimize false positives, now directly from the module interface you can easily send files for analysis to the expert service Virusdie if they are detected incorrectly or are not detected as a threat, but they are.
By the results of the False Positive analysis, exceptions can be created for your cases and, with subsequent scans, such false positives will not manifest themselves. Based on the results of the False Negative analysis, rules for detecting such a class of threats could be created and, if they arise, such threats will be detected and, probably, automatically removed.
Checking sites for presence in blacklists
All sites of the account are now checked for presence in Google blacklists and other providers of data about compromised and threatening web resources.
As before, the module (mean extension) is available in two versions – freemeum and paid (premium). The free version allows you to make checks, and paid – in addition to that, to clean files automatically if it is possible.
In all cases when this is not enough for you – you can contact virusdie.com by purchasing the Worry-free Annual Plan. So our experts will be happy to help you to solve the security problems with your website.