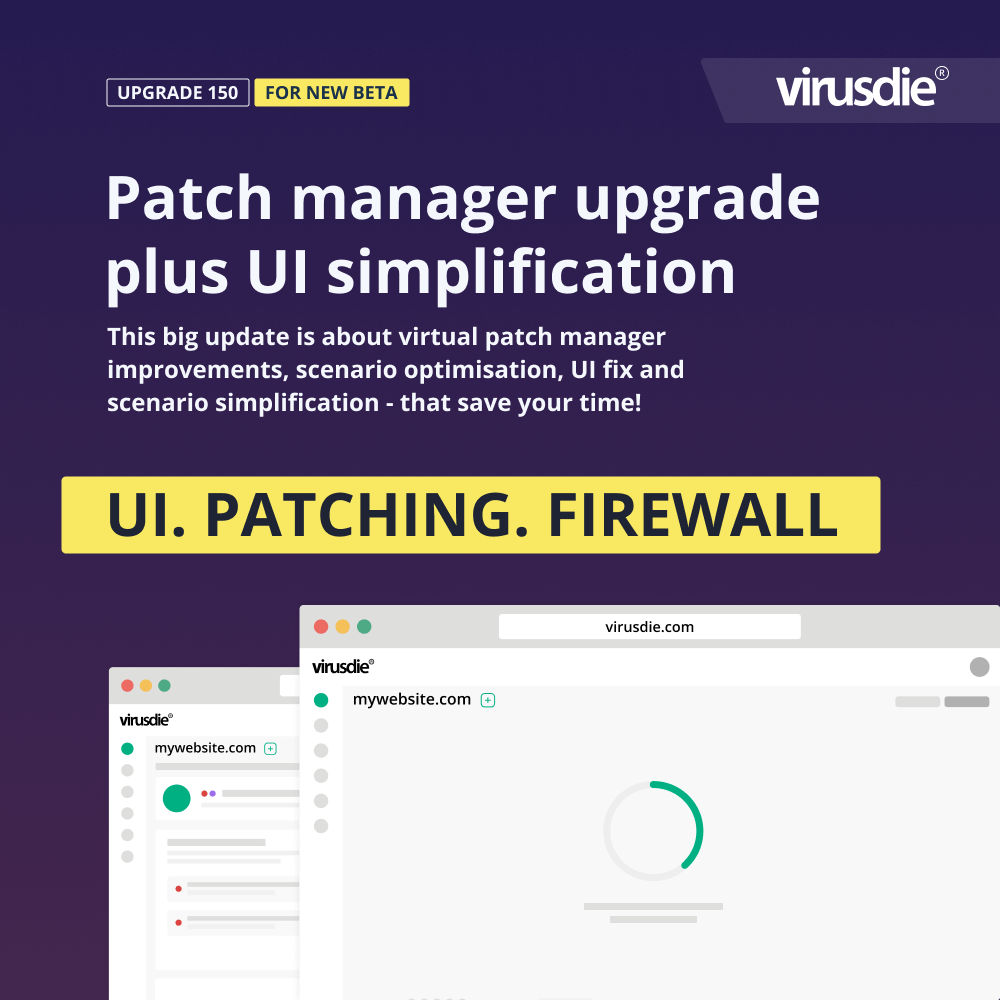 UPGRADE 150 | Virtual patching update. Firewall upgrade. User interface scenario simplification. Plus other improvements and bug fixes.
The big update for new Virusdie 2022 pre-beta is here! Ton of improvements and scenario simplifications for user interface to save your time even more! Firewall map, virtual patch management, scenarios and UI – all these things were improved and fixed!
New features and improvements
For website antivirus and patch manager
– Per-vulnerability fix. Now you can enable/disable virtual patch for each very vulnerability separately and do not use massive clean up button if needed.
– Patch management alerts. Now we alert you that we'll enable the website firewall, if you want to enable patch management but the website firewall not enabled yet. And alert you that we'll have to disable patch management entirely if you want to disable the website firewall. That is due to the fact virtual patch management is a part of the website firewall and can't work separately.
For user interface
– Simple view scan. Now, if there is only 1 website on your dashboard, we show you a simple scan process – a "donut scan".
– Hint after scan completed. As it works for old user interface, the new user interface now supports hints after the scan ended, plus recommended actions to take. That modals shows automatically when scan completed and let you navigate user interface in a straight forward manner.
– B-user (A/B-test) smooth onboarding. Now 50% of customers who use new UI 'll get smooth onboarding when the add second website on their dashboard. That helps you continue with new multisite dashboard simply (that is 'cos there is a simplified 1-site dashboard we testing now for a half of our users).
– other tiny improvements and updates.
Upcoming updates for 2022 Virusdie Beta
– Settings update (one-click settings share to all your websites);
– Reports update (report sharing, report download);
– The new billing (specified payment methods for Brazil, more cards and methods for international market);
* all these available for new pre-beta Virusdie 2022 only! 🙂
Try Virusdie 2022 pre-beta now
How to try Virusdie 2022 pre-beta? It is simple — just click on big yellow button "TRY BETA" on top of your Virusdie dashboard! 🙂
——
Join our private Facebook group to get help from other security experts, and share your own web security experiences and expertise. Group members receive exclusive news and offers. They can also communicate directly with the Virusdie team. Join us on Facebook.