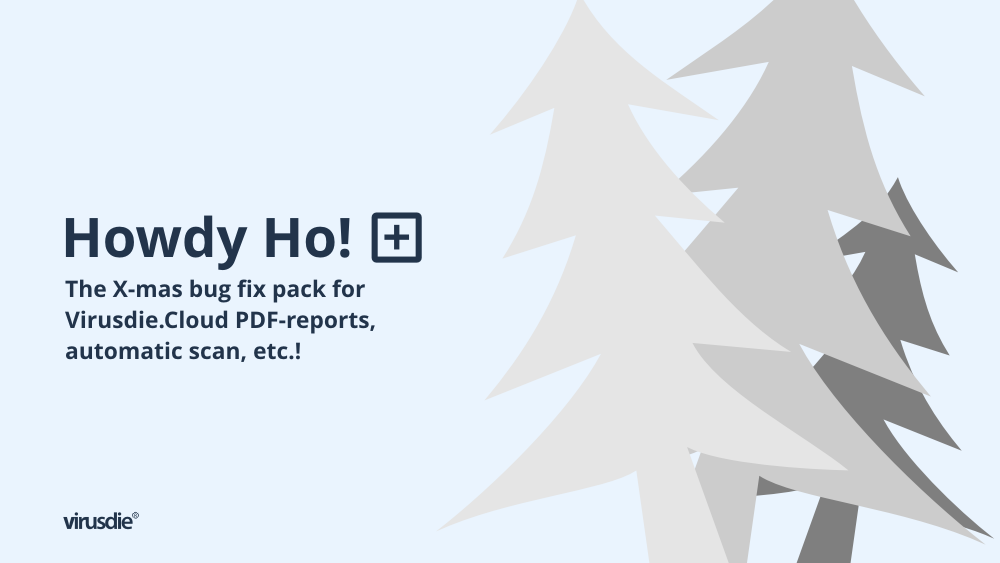 X-mas Update | Virusdie.Cloud scheduled scans and reports bug fix, and more.
X-mas bug fix pack for Virusdie.Cloud features with those you interact lot of time. And even tiny problems with that annoying you and may cause a depression 🙂 Scheduling scanning, PDR-reports, email-reports, security scoring and more.
BUGS FIXED:
1. Scheduled scans. For previusly downgraded account (if a subscription expired) that was a bug. That was impossible to run atomatic scheduling scanning after subscription renewal – FIXED;
2. 0-score summary reports. Weekly and monthly email and PDF-reports may contain 0-scores and place you on TOP of security expert agencies at the same time – FIXED;
3. Sync problem alerts. Sync errors could be caused by some issues on your web-server and that annoying you, cos next time scan runs well. So now Virusdie tries to start the scan not once, but 3-times before sending you an email with a sync error – FIXED;
4. Cleanup report sorting. There were some cases when incurable/not cleaned files are not on top of cleanup reports – FIXED;
5. Other X-things. Other X-mas improvements and X-mas backend updates.
Join our private Facebook group to get help from other security experts, and share your own web security experiences and expertise. Group members receive exclusive news and offers. They can also communicate directly with the Virusdie team. Join us on Facebook.