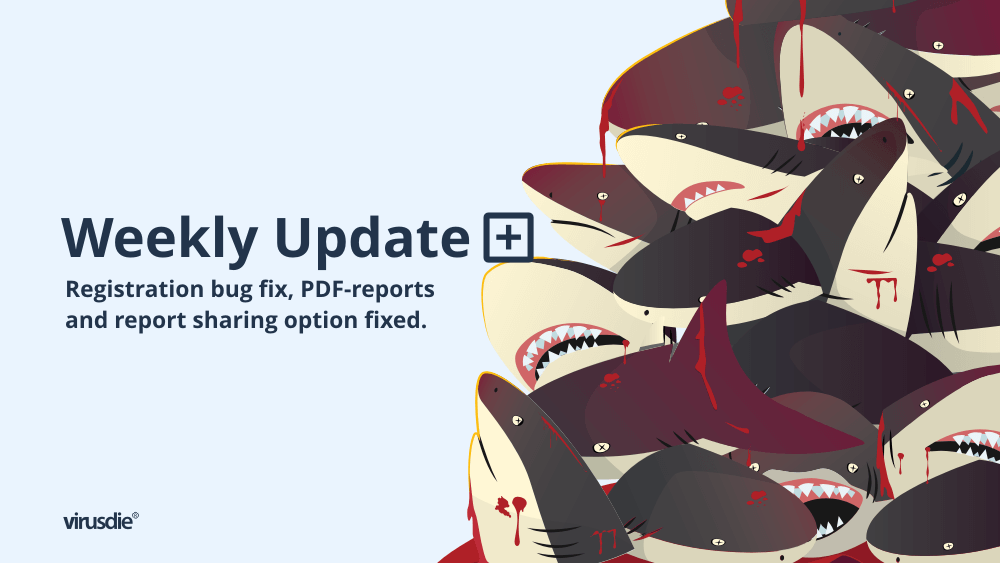 Weekly Update | Virusdie.Cloud bug fix for registration and report sharing
A weekly bug fix pack for Virusdie.Cloud features with those you interact with a high frequency. Registration via Facebook, email confirmation, PDF-reports and report sharing.
BUGS FIXED:
1. Registration by email without email confirmation request – FIXED;
2. Registration via Facebook failure if there is only phone number and no email linked with your Facebook account – FIXED;
3. Monthly PDF-reports correction (for some cases there are Client panels mentinoed there – the old archived feature) – FIXED;
4. Client panes (old archived feature) mentioning for some cases when you share per-site reports with your client – FIXED.
5. Clients (a left menu section) now hidden 'till the Marketplace beta-test launch.
6. Other things. Other improvements and backend updates.
Join our private Facebook group to get help from other security experts, and share your own web security experiences and expertise. Group members receive exclusive news and offers. They can also communicate directly with the Virusdie team. Join us on Facebook.