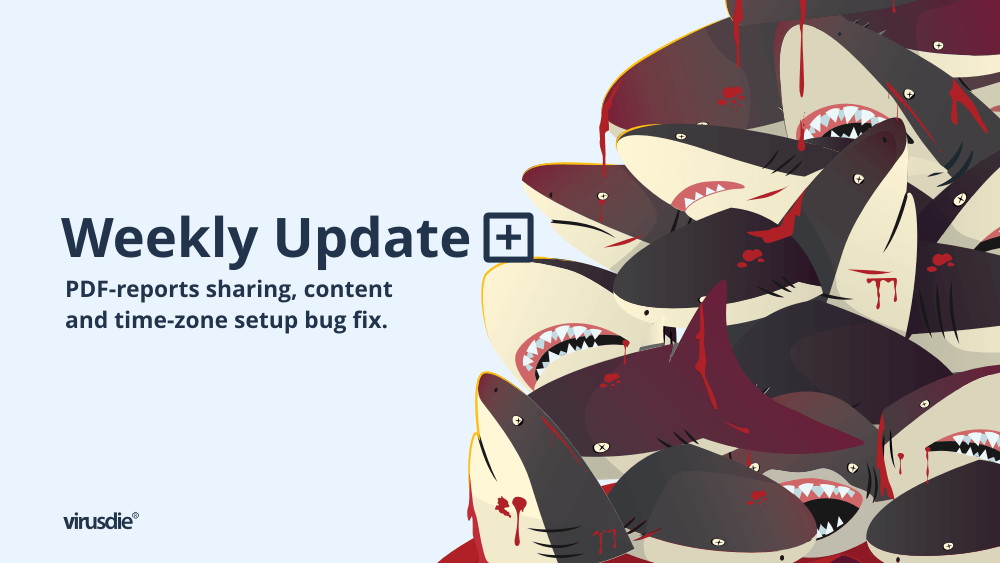 Weekly Update | Virusdie.Cloud bug fix for PDF reports and time-zone setup
A weekly bug fix pack for Virusdie.Cloud PDF-repots and time-zone setup on MyAccount dashboard features. PDF-reports end client sharing (monthly summary security reports), time zone management and others.
BUGS FIXED:
1. End client can't open a PDF monthly summary report, if there are lot of files listed – FIXED. Now it shows 100 first files and others just mentioned;
2. A hyperlink on Virusdie.com under the agency top logo on PDF report – REMOVED;
3. A possible scenario when you setup time-zone on your account settings and nothing happens with your time-zone on your Virusdie.Cloud dashboard – FIXED;
4. Other things. Other improvements and backend updates.
Join our private Facebook group to get help from other security experts, and share your own web security experiences and expertise. Group members receive exclusive news and offers. They can also communicate directly with the Virusdie team. Join us on Facebook.