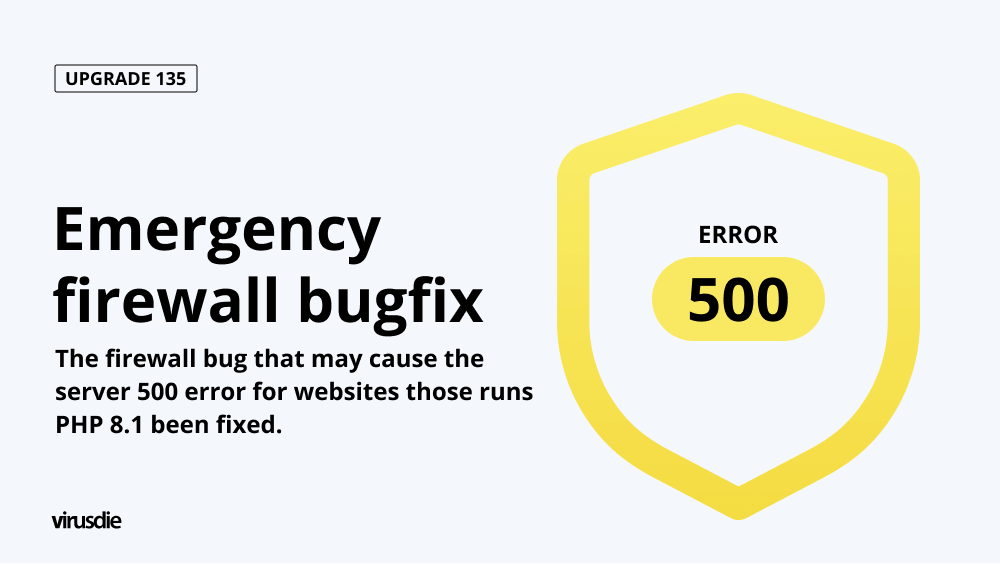 UPGRADE 135 | An emergency bugfix pack for Virusdie website firewall that may cause error 500 for some PHP 8.1 servers.
Dear customers. Due to Virusdie website firewall update on February 9th, 2022 there was a possible bug missed probably. Probably, that bug may cause a server error 500 on your websites for websites runs web-server PHP 8.1 with a combination of a specific set of other server-side software or plugins. So that may be possible not for all websites and not for all web-servers, but for web-servers runs PHP 8.1 and a number of installed additional software only.
WHAT NOW IF YOU FACED WITH ERROR 500?
If you face with an error 500 Yesterday,- you may turn off the website firewall to back website online immediately.
BUGFIX:
We made a patch and the rolling out process been initiated to fix all these possible issues in-place on your websites. Meanwhile, if you already faced with error 500 – your website firewall can't update automatically. Please follow the instructions here below:
1. The new version of the firewall endpoint now rolling out across the Virusdie network. That takes several hours. All updates in place for websites.
2. For some cases for those who runs php 8.1 plus a combination of other software – If you found your site been resolved with 500 error previously, please turn off then turn on website firewall to initiate its update.
You may always ask our support for the help – just create a ticket via your dashboard.
——
Join our private Facebook group to get help from other security experts, and share your own web security experiences and expertise. Group members receive exclusive news and offers. They can also communicate directly with the Virusdie team. Join us on Facebook.