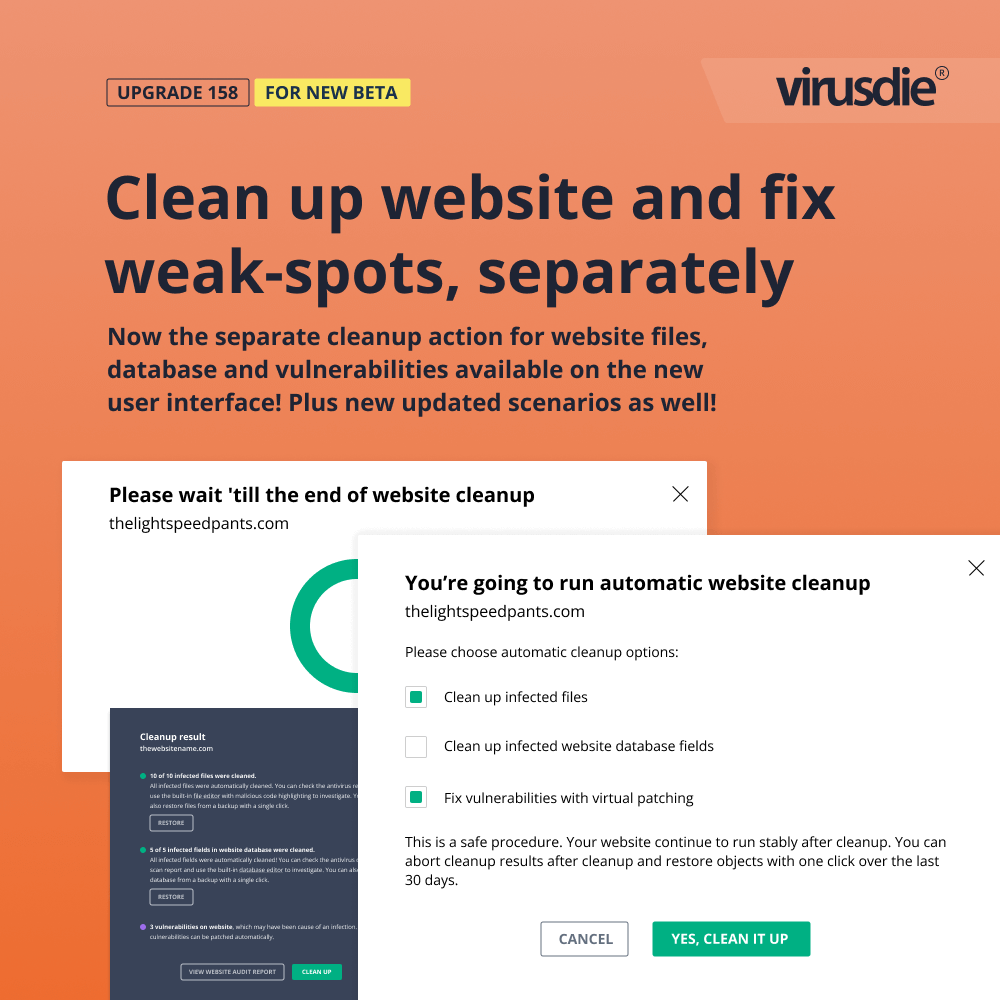 UPGRADE 158 | A separate website files and database cleanup plus separate vulnerability fix and one-click restore, now available for the new Virusdie GEN 5 BETA!
Hey brave pirates! Today we announcing the separate website cleanup feature plus separate restore and the brand new simplified and clear scenarios for that fot the new User Interface!
New features
– Separate cleanup and vulnerability fix Now you can choose what to cleanup with one button click. After pushing the button Clean Up! You can choose to clean files only, or files plus database, or fix vulnerabilities,… any combination possible now!
– Separate restoration. And of course, now you can restore with one click the things you very need – just cleaned files, or just database fields. Or turn off activated virtual patch for vulnerabilities on your website!
– New updated modals and letters We've just made letters and pitches on modal windows and the all entire onboarding simpler than previously!
– Logs Now we log all activity on dashboard. That is the one more step to the new concrete stability of the entire interface. And one step forward to the log of you actions you can investigate anytime you want and simply view the all actions happened with your websites!
BUG fix
– Too long paths. Now we crop file paths on dynamics to make the scan visualisation more comfortable for your eyes.
– More bugs Bugs with scan, patch management, modals, restore,.. all were fixed!
Upcoming updates
– The new alert management system;
– The new website audit reports (to let you manage all website security for almost 100% of cases, right from the single interactive audit report!) No more jumping into bottom layers of Virusdie user interface!
– The new billing;
* all these available for new pre-beta Virusdie 2022 only! 🙂
Try Virusdie 2022 pre-beta now
How to try Virusdie 2022 pre-beta? It is simple — just click on big yellow button "TRY BETA" on top of your Virusdie dashboard! 🙂
——
Join our private Facebook group to get help from other security experts, and share your own web security experiences and expertise. Group members receive exclusive news and offers. They can also communicate directly with the Virusdie team. Join us on Facebook.