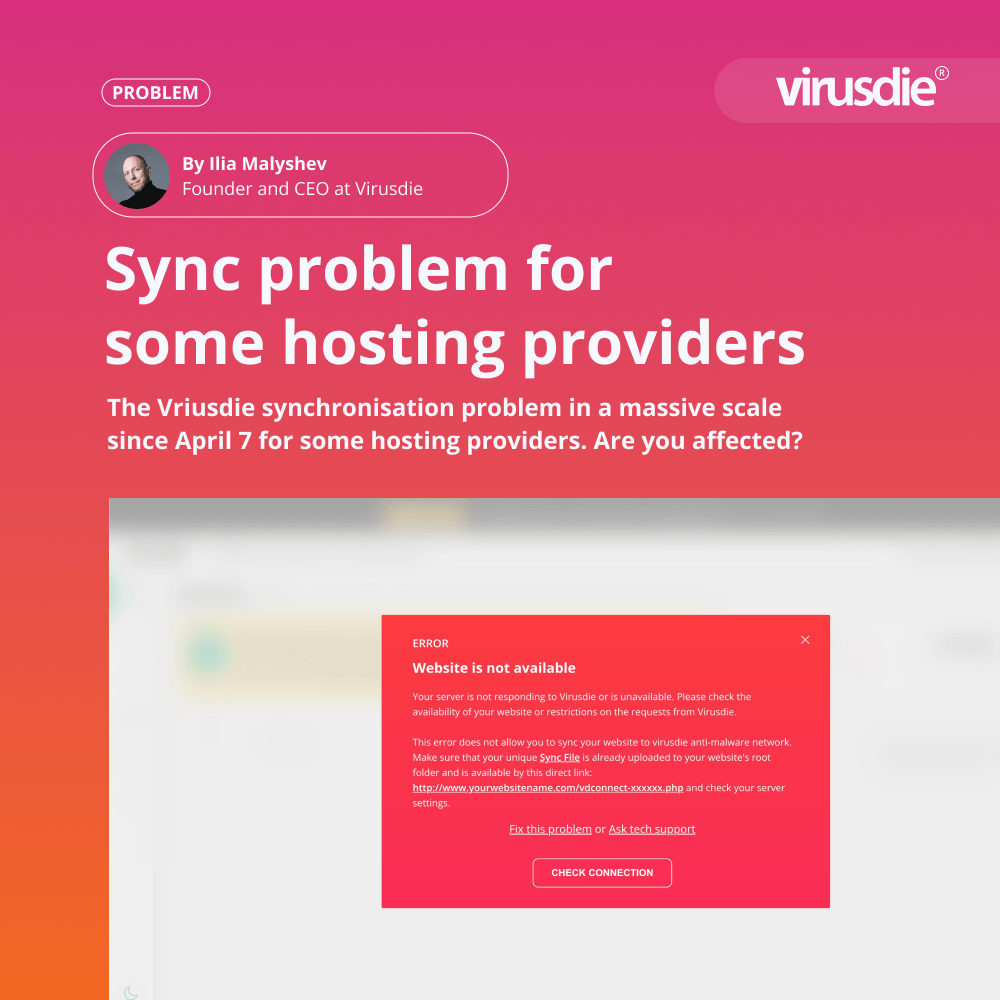 WARNING / AVISO | The Virusdie sync problem since April 7. Are you affected? / O problema de sincronização do Virusdie desde 7 de abril. Você foi afetado?
The Virusdie synchronisation problem in a massive scale since April 7 for some hosting providers. The thing is, since April 7, there is a sync problem (massive) for some customers. All depend on their hosting provider. And it looks that is about line/wire issue for some direction or some issue with routing for them. We trying to investigate that right now and we need your help with that to collect more details about that. Are you affected?
—
O problema de sincronização do Virusdie em grande escala desde 7 de abril para alguns provedores de hospedagem. O fato é que, desde 7 de abril, há um problema de sincronização (enorme) para alguns clientes. Todos dependem de seu provedor de hospedagem. E parece que se trata de um problema de linha/fio para alguma direção ou algum problema com o roteamento para eles. Estamos tentando investigar isso agora e precisamos da sua ajuda para coletar mais detalhes sobre isso. Você foi afetado?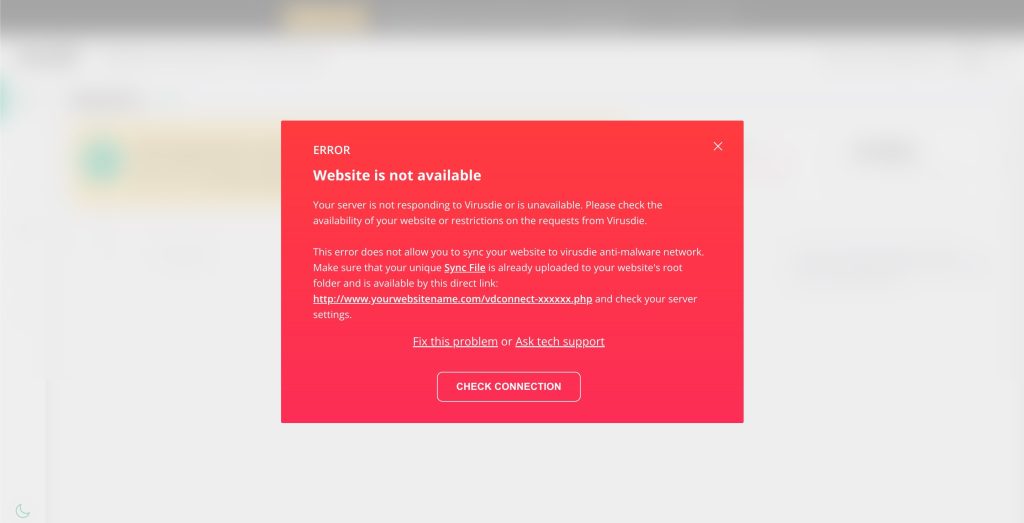 So how it looks like?
It looks as a sync error on your dashboard for some websites.
1. And if you click on the link "fix sync problem" you'll get an error red window with title: Website is not available".
2. And you may get error code 107 if you try to open your sync file by direct link.
2. And if you check your antivirus tab log, you'll find that the sync problem began April 7, 2023.
What now?
Did you face that issue? Please contact us by ticket system using this link https://virusdie.com/support.
—
Então, como parece?
Parece um erro de sincronização no seu painel para alguns sites.
1. E se você clicar no link "corrigir problema de sincronização", verá uma janela vermelha de erro com o título: O site não está disponível".
2. E você pode obter o código de erro 107 se tentar abrir seu arquivo de sincronização por link direto.
2. E se você verificar o registro da guia do antivírus, descobrirá que o problema de sincronização começou em 7 de abril de 2023.
E agora?
Você enfrentou esse problema? Entre em contato conosco pelo sistema de ticket usando este link https://virusdie.com/support.
——
Join our private Facebook group to get help from other security experts, and share your own web security experiences and expertise. Group members receive exclusive news and offers. They can also communicate directly with the Virusdie team. Join us on Facebook.