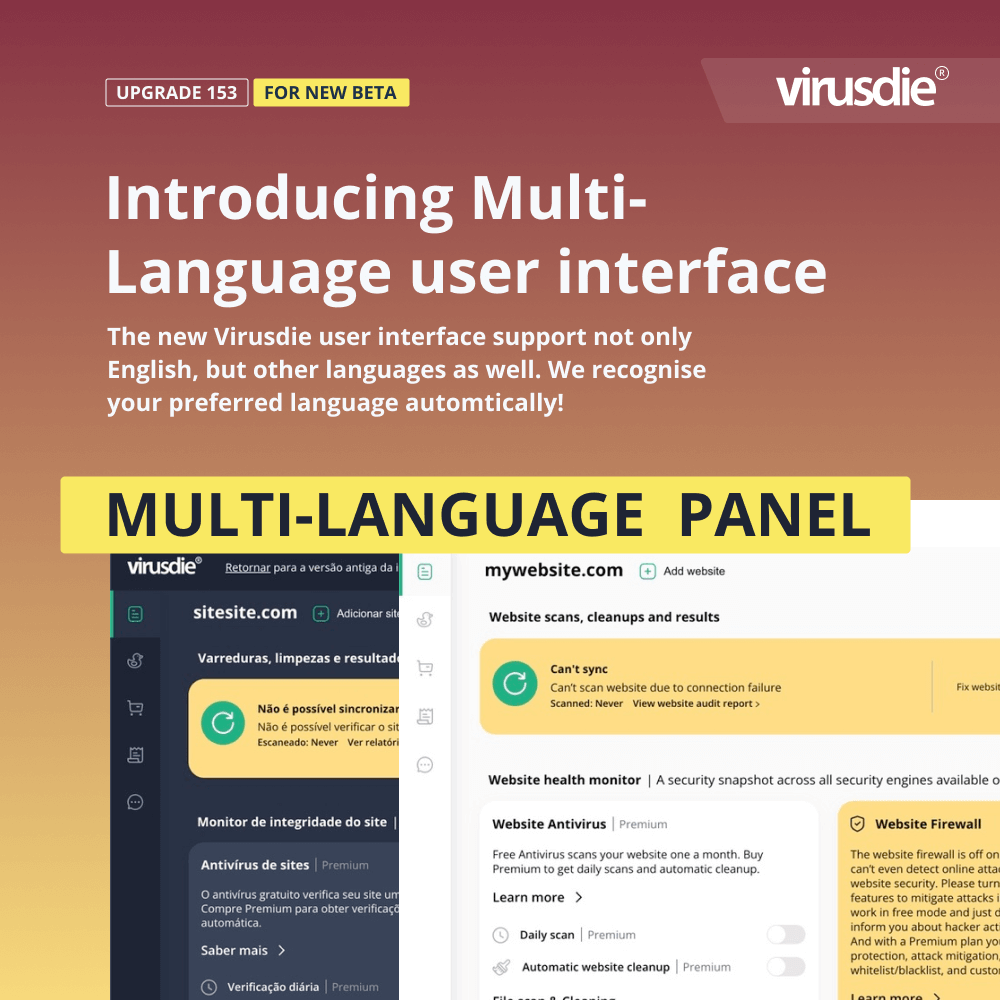 UPGRADE 153 | Introducing Multi-Language dashboard for the new generation of Virusdie. Now you get website security in your preferred language!
Hurray brave pirates of Virusdie! We're so excited to introduce the new feature that helps ton of you to get Virusdie website security not just in English, cos that is an internationally popular language. But also on other languages as well!
New features
– Language switcher. Choose your preferred language right on your Virusdie dashboard! Just click by a language short name on top-right side on your dashboard!
– Automatic language setup. If Virusdie has some data about the language your may prefer (like geoIP or preset language on the Virusdie landing page…) — we set the right language by default for you to save your time!
Upcoming updates and bug fixes for 2022 Virusdie Beta
– Reports and emails update (new report templates, new types of alerts and info mails, report sharing, report download);
– The new billing (specified payment methods for Brazil, more cards and methods for international market);
– BUG. Email delivery problems (registration, password reset, one time pass delivery, etc.)
– Settings update (one-click settings share to all your websites);
* all these available for new pre-beta Virusdie 2022 only! 🙂
Try Virusdie 2022 pre-beta now
How to try Virusdie 2022 pre-beta? It is simple — just click on big yellow button "TRY BETA" on top of your Virusdie dashboard! 🙂
——
Join our private Facebook group to get help from other security experts, and share your own web security experiences and expertise. Group members receive exclusive news and offers. They can also communicate directly with the Virusdie team. Join us on Facebook.