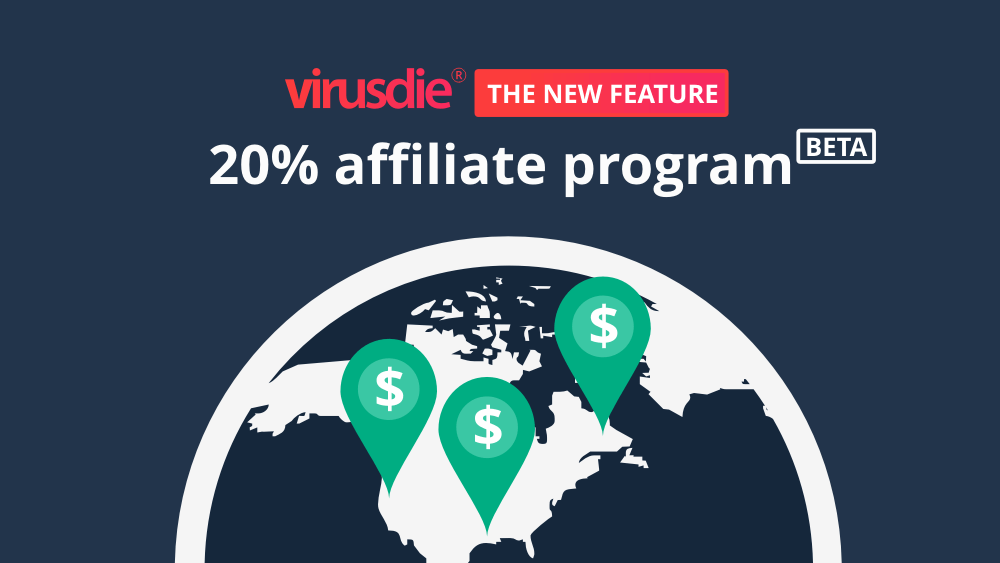 The new feature | Start earning real money in just 5 minutes with new Virusdie affiliate program!
Today is the day we renew our affiliate program and announcing the beta-technical launch! What is that? The idea is really simple – recommend Virusdie and earn a 20% commission on every payment made by a customer you referred! Just copy your unique partner link from the Referrals section of the menu to the left. Create an overview of the Virusdie service and place it on your website, personal homepage, blog, or social media. Include your partner link in the overview. Perfect!
Now, each person who signs up on Virusdie.com using your link will become one of your referrals! You'll receive a commission on each of their payments for as long as your referred customers continue to use Virusdie!
What differs Virusdie affiliate program? You'll really help people by recommending top-of-the-line software, not merely profiting from an affiliate program. Virusdie isn't just the most powerful website antivirus and automatic protection software in the world. As you know, Virusdie is a unique product within the market, combining the power of professional antivirus software with incredible ease of use. Each and every person who tries Virusdie notices this advantage and doesn't want to go back to using the software they used before. The people you recommend Virusdie to will be incredibly thankful to you for opening up a new world to them, where professional antivirus software saves them time from their very first interaction with it!
Why do we need to renew the affiliate program? 3 things. First of all – that is the part of our strategy wneh we do not just provide security software, but let you earn on it in different ways. Now it is really hard to you to sell security service to trained (skilled) client, right? But it is really easy to recommend Virusdie to such clients so they can use it on their own. The second thing – a payouts and generous commissions. Now we're going to provide real money payouts and rise up your comission as well! And the 3rd thing – we're going to help you make better promotion and help you with promo materials so you can sell more and earn more. That is a technical bata-prelaunch we need to start with to check all scenarios like payouts, contract sign up and others. And we're going to launch this new affiliate program as a stable within 2 weeks! Learn more about Virusdie affiliate program
Join our private Facebook group to get help from other security experts, and share your own web security experiences and expertise. Group members receive exclusive news and offers. They can also communicate directly with the Virusdie team. Join us on Facebook.