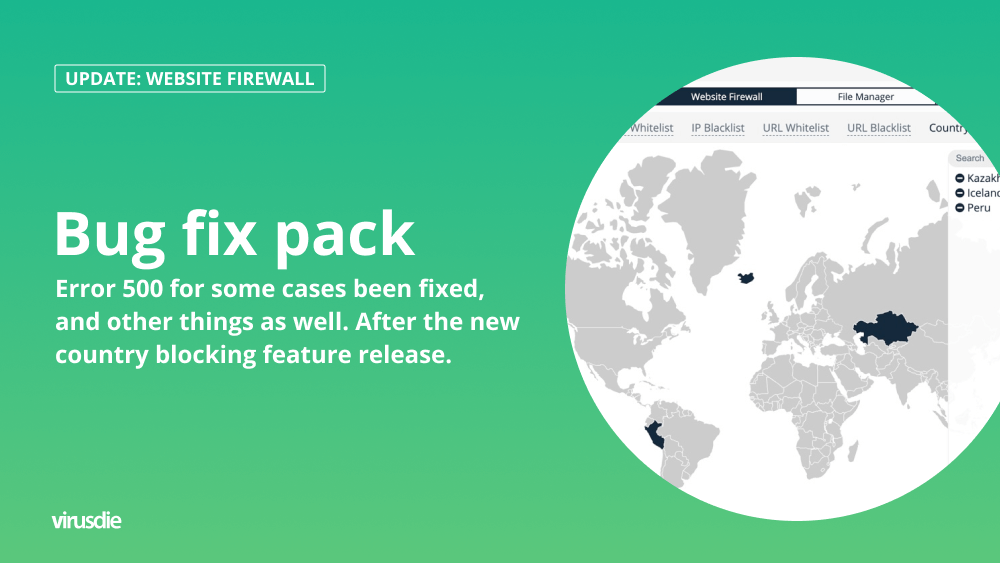 Firewall update | The bug fix pack for Virusdie WAF country blocking feature.
On the week of July 12th, the new Country blocking feature been announced. And that was a big deal for everyone 🙂 And you know that is a paradigm, that all new things, features and implementations just have their bugs, no matter how well they have been checked and tested. And the Virusdie country blocking feature was born with 500 error for some of you guys.
Now the 500 problem been fixed and all looks well. The same time, our team working now hard to fix other tiny bugs as we find them or you report about them. Mostly, in real time. Anyway, please report us about all the bugs if you faced with issues.
BTW
The all new Virusdie Website Firewall (WAF) generation 2, is going to be announced within a month. We'll do that with current version of user interface, despite we were planned to release that just with brand new Virusdie GUI, later this Fall.
Learn more about recently announced new country blocking feature from Helpdesk: How to block site visitors by country?.
More updates
Virusdie BASE and all verdicts now wrapped with the new design code landing pages, and that let you catch all the info about malware and threats even faster! Check that out: The new Virusdie BASE.
—
Join our private Facebook group to get help from other security experts, and share your own web security experiences and expertise. Group members receive exclusive news and offers. They can also communicate directly with the Virusdie team. Join us on Facebook.