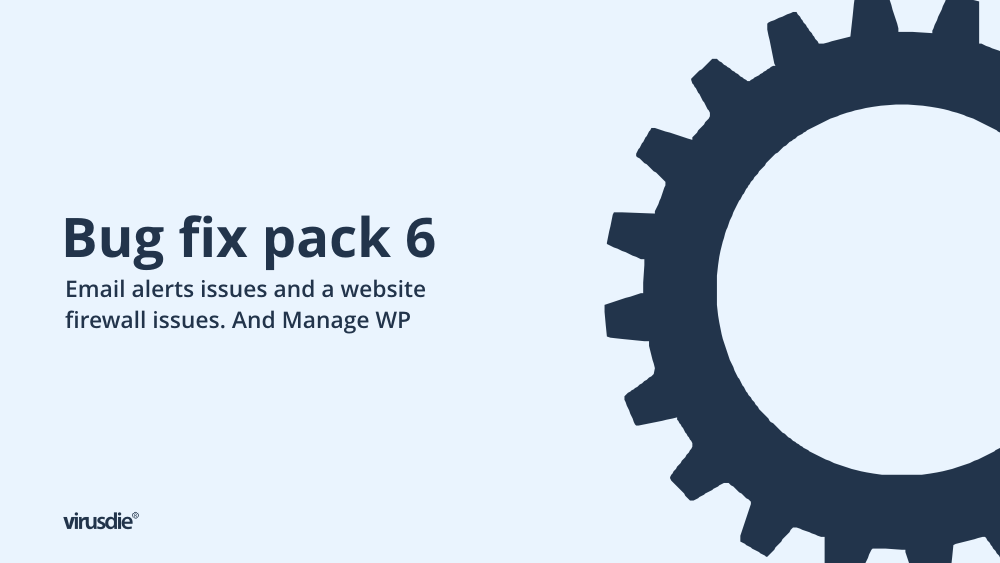 Weekly Update | Bug fix pack for website firewall and email alerts
Day by day we improve Virusdie performance and stability to deliver more value to you. More sense of calm and control over the situation. Again, a pack of improvements and bug fixes been released. About Manage WP connection and more.
A WEBSITE FIREWALL BUGFIX
There were some issues with a firewall past weeks and now, due to we have a new platform for a website firewall, we can easily fix it and add new algorythms easily.
Manage WP connection issues – FIXED. No more issues to connect Manage WP with your websites under Virusdie firewall protection. We've made a pack of centralized rules to whitelist Manage WP connections by default.
False incident firewall alerts – IMPROVED. An additional pack to ignore legal URLs requests and your own website legal activity been added to the website firewall by default. Now you can breath freely 🙂
AN EMAIL ALERTS BUGFIX
That was a problem past weeks to send you sync problems alerts about your website. We've found the core of the issue now.
Website sync problems email alerts – FIXED
Now each time your website can't get access to Virusdie to run the scan or update securtiy software, we'll send you an email alert about that. Immediately!
Join our private Facebook group to get help from other security experts, and share your own web security experiences and expertise. Group members receive exclusive news and offers. They can also communicate directly with the Virusdie team. Join us on Facebook.