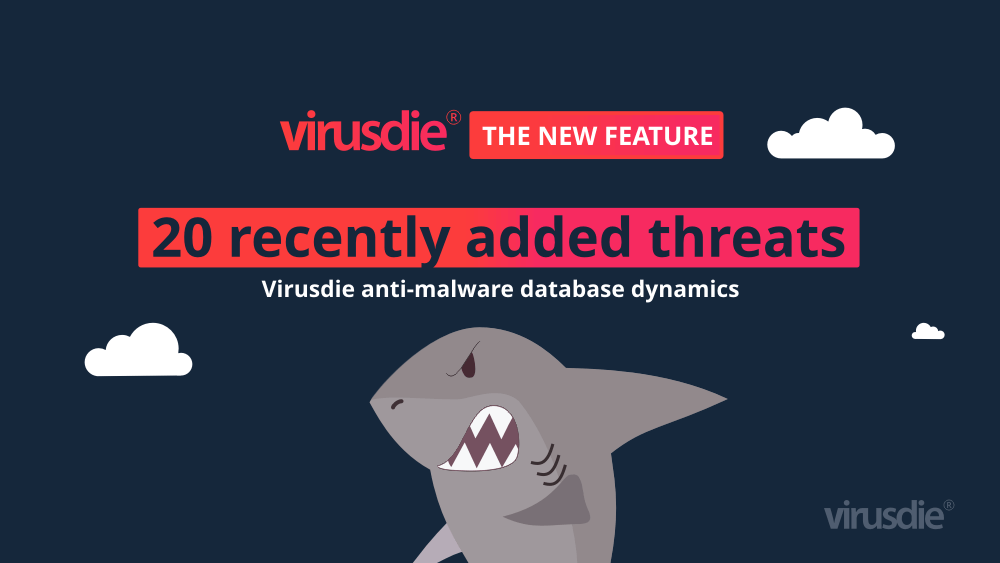 The New Feature | 20 recent threats added to Virusdie database
Did you know Virusdie features an incredibly extensive database and a stack of technologies to detect as many viruses and vulnerabilities as possible, including brand-new threats. And, its phenomenally low false positive rate (less than 0.0002%) gives you greater peace of mind than you've ever experienced with a website antivirus solution. And it keeps your websites stable after cleanup! No matter when you run your scans, you can always be certain that Virusdie is using the latest antivirus database. The antivirus database is automatically updated in the background permanently. That means you won't even have to think about doing anything manually to make sure you can eliminate as many viruses and vulnerabilities as possible.
Until recently, only separate pages with threat descriptions were available to you. Now you can view statistics of the latest added threats that Virusdie can find and eliminate automatically. And so you always know that you are using software whose team monitors its high performance for you. It always available from upper navigation panel on landing page. Here it is: 20 recent threats.
NEW CRITICAl VULNERABILITIES IN A NEWS LINE
To keep you always up do date about new critical vulnerabilities even before Virusdie find it on your website (due to the most popular automatic scan interval is a daily scan), now all new critical vulnerabilities highights available on our bottom news line on landing page.
OTHER UPDATES AND BUGFIX
1. Now you can click on round number of infected sites in your Websites menu section in your Virusdie panel. Then, all sites in your list will be filtered by INFECTED marker automatically.
2. Apple' Macbooks new touchpad extremely fast 2-finger scoll – FIXED;
Join our private Facebook group to get help from other security experts, and share your own web security experiences and expertise. Group members receive exclusive news and offers. They can also communicate directly with the Virusdie team! Join us on Facebook.