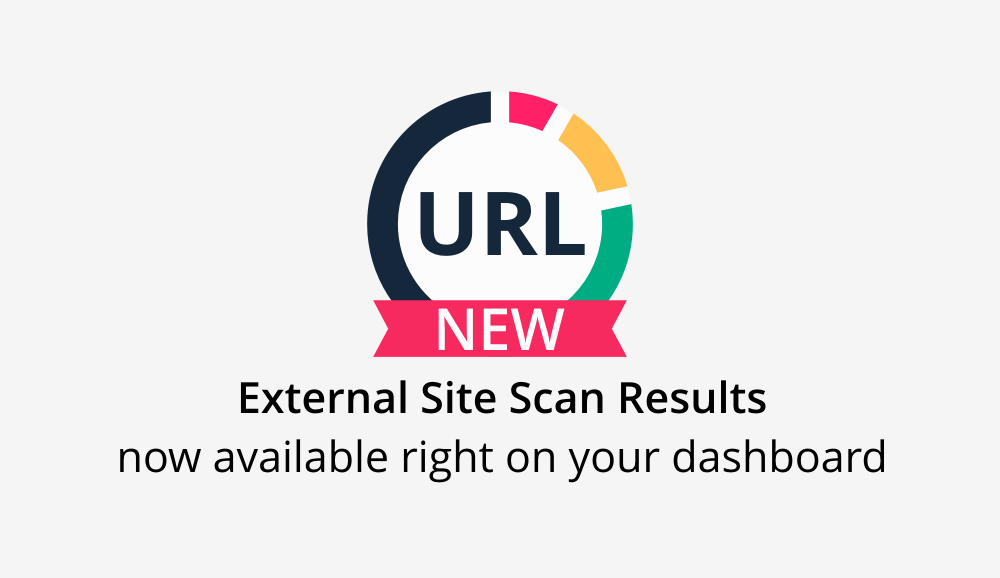 External Site Scan Results now available on viruside.com dashboard
For along time the Virusdie External Site Scan was available only as an API for larger software developers and security solution providers like VirusTotal / Google, Mail.Ru Group, etc. But now all our customers can check their sites externally and worry-free.
The external site scan service is perfectly builted-in virusdie.com dashboard and works completely automatically and autonomously. Of course, an external site check, which is performed without access to the source code of most files on the server, can not replace the Virusdie internal complete antivirus. However, at the same time, external scan data may be helpful if automatic interna antivirus tools can't find or fix the security problem.
What Virusdie External Site Scan can find?
1. Malicious and suspicious code on HTML-pages;
2. Suspicious and malicious JS files and CSS files;
3. Illegitimate redirects on other websites from your site;
4. Harmful iFrames on your website;
5. Drive-by-Downloads;
6. Phishing links on external compromised sites.
How external scan works. How to start it?
The external check is performed by default for all active sites on virusdie.com and covered by all plans. An external site check is also available for a 7-day free trial period. To perform the scan, Virusdie's External Site Scan crawlers bypass the selectively defined URLs set on your site (some web-pages). Analyze the page code, the connected files and the behavior. More that, the service may emulates the work with the site of the ordinary visitor by various devices and from different countries.

You do not need to run the site check yourself! When you add your site to the service first time, the External Site Scan will begin immediately. External check takes some time (from a few seconds to several minutes, in average). After that the results will be available (in case of detected security issues) on your virusdie.com dashboard. It shows as a hanging black flag with white exclamation point. The indicator is located next to the blacklist status. Just click on the flag with an exclamation point to find out more details about problems detected externally.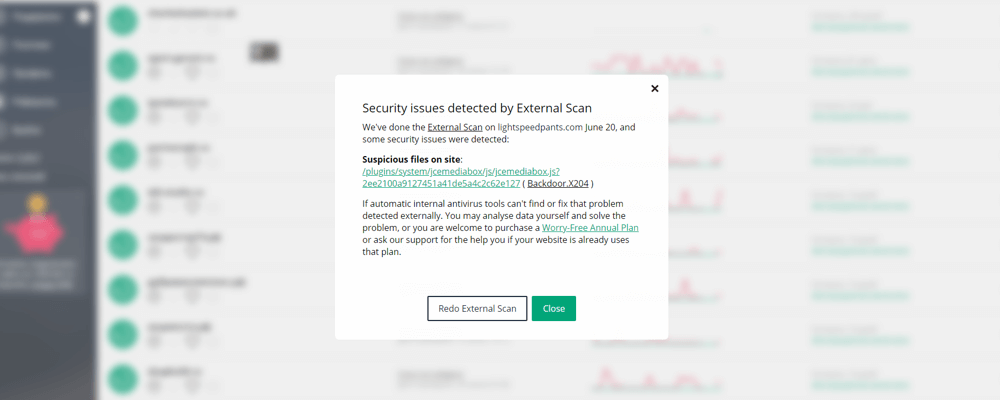 After the first external site check, all subsequent checks will be performed in the background automatically every 24 hours. If a problem is detected, a notification will be sent to your Email.

The externally find security issues indicator is also displayed (similar to a blacklist indicator) in Antivirus section of relevant website in your list on your dashboard.
What if the external scan identified threats?
If the automatic Virusdie antivirus can't find or fix problems detected by external site scan, you can analyze the data of the external check and take action yourself. Use built-in tools: Search, File Manager and the File Editor. Also, you can request expert help to analyze the results and remove malware from your site along the Worry-Free Annual Plan.