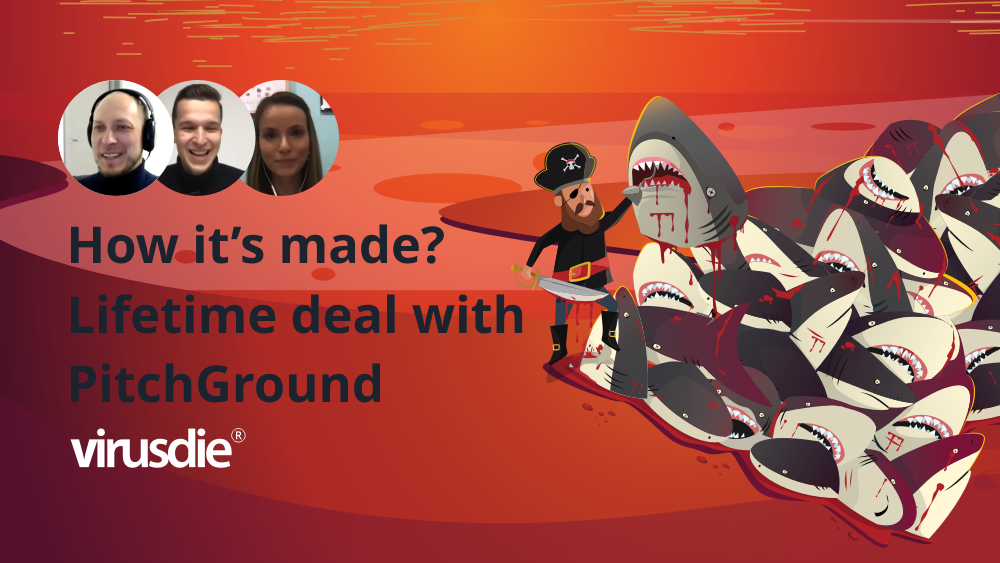 How it's made? | How it was to launch the Virusdie lifetime deal with PitchGround
Recently, with PitchGround, we launched an incredible Virusdie lifetime deal. Perhaps my review of working with these guys will be useful to those who want to bring their cloud-based software product to a new market. US market.
What is the problem and why are such platforms needed to run?
It seems that there is a big problem with the fact that outside the United States a rather large number of excellent software products are being created. And they are often very interesting and original, and very useful for people. And they are something new, because they are created by people from different countries with different cultures and ways of thinking. And very often they can technically (in terms of performance and technical background) be better and more productive. But people in the United States are not aware of their existence, and product founders cannot access the US market the way if it it is their home market; they can't show the product the rught way due to they don't get the culture code of the United States clearly. This looks as the problem.
What is PitchGround?
PitchGrundund is a small yet effective team who help you do your best to get your vision of the product to people in the US who might be interested. They help you create the primary level of confidence in your product in a new market. And of course make some cash as well, but this looks as a secondary and insignificant feature.
Is it expensive to launch?
Of course, good quality can't be cheap. In any case, you will have to make lifetime licenses for your product for greater primary popularity. So it will simply attract more attention in the beginning. Well, of course, you will need to honestly share the income from the sale of such licenses with the guys from PithGround. That, in a big way, is all the costs.
Is it difficult to launch a product with PithGround?
In general, of course, it's not difficult. But this only seems so now, when several months have already passed since the launch. When I recall the checklist that we had to complete; All these complex improvements of billing, alteration of the pricing grid, discuss agreement of the contract with Udit and Aaron, preparation of webinars and materials for them, updating a huge amount of information on the website … Yes, it was difficult 🙂 And this crazy rhythm of daily webinans with Yakub! This is unbelievable! But, I tell you the truth, it was worth it. And we got not only the result, but also the pleasure of the process itself.
What is the difference between PitchGround and other similar platforms?
You know, PitchGround are very focused guys. They make just few launches yearly, but each of them is carefully prepared and accompanied. It is very cool. And they only deal with SaaS. This is not just a platform where you placed your offer and this is all you can do. In general, you can regard PitchGround as the professional agents you hire. It feels that way.
What is the result?
With regard to our launch, it, in my opinion, was a success. We managed to show the product to people in the US; get good and instructive reviews, make a backlog with tasks for implementation, get to know guys and bloggers, gain primary trust in the US market, show our distinguishing features and how we can be useful to people.
Will we be back?
Of course, I would like to work with the guys from PitchGround again. But you can not start the distribution of lifetime licenses again and again – it should be an exclusive and limited one-time promotion. Therefore, with regard to lifetime licenses, there will no longer be such a proposal. Although other types of licenses, it is quite possible, over time, may appear again on PitchGround 🙂
Links:
1. All Virusdie and PitchGround webinars set.
2. Deal page on PitchGround.
CEO and Co-founder at Virusdie, Elijah.