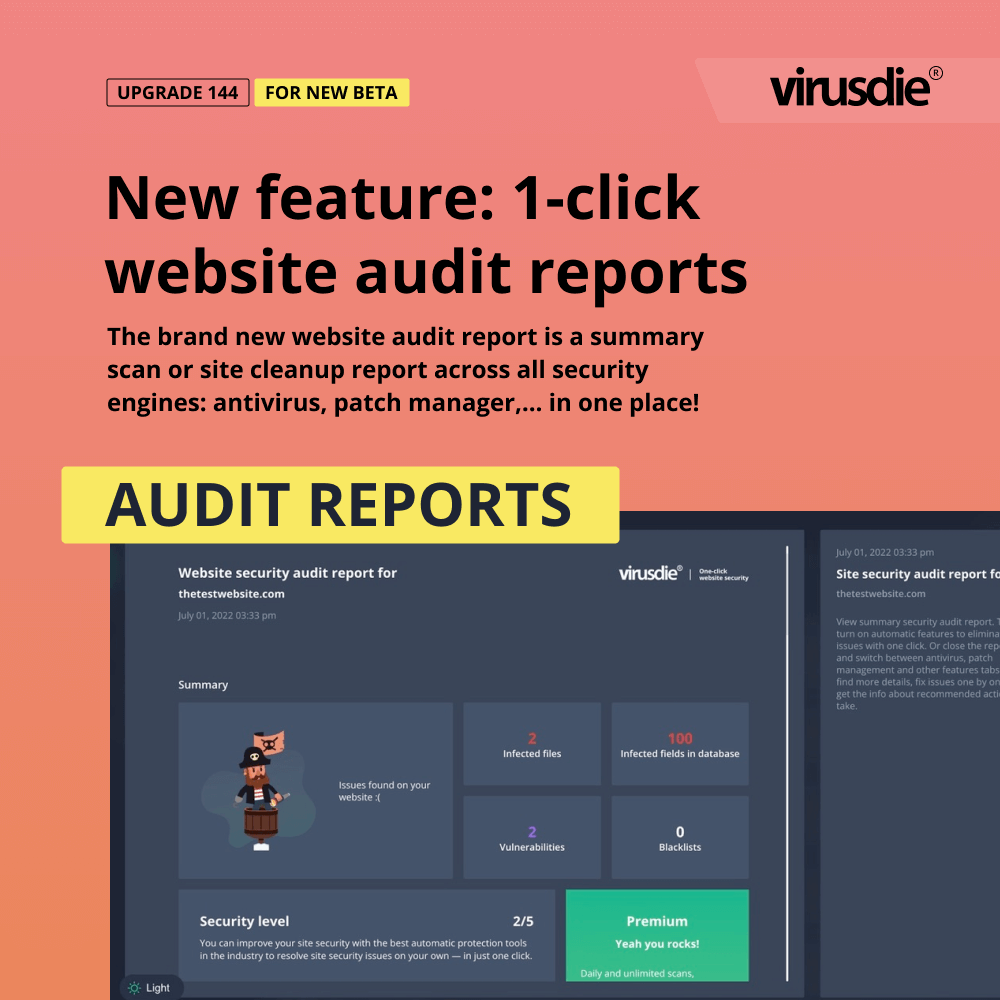 UPGRADE 144 | Introducing the brand new website security audit reports those helps you spend less time catching security scan / cleanup reports.
Today we introducing the new approach you deal with website scan and cleanup results with Virusdie. The new security audit report is a summary report across all security engines: file scan, database scan, vulnerability scan and blacklist monitoring – in one place! That saves your time you spend jumping between different tabs on user interface to catch the complete details. Now it is in one place. And available in one single click by the link: View website audit report, on any block of any website – right on your dashboard 🙂
New feature: Security audit report
– it available on your Virusdie dashboard by link: View website audit report. On any website block. Right there, where you view the scan results!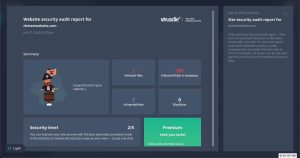 Site security audit report contains:
– the number of infected files, database fields and vulnerabilities on your website.
– the status if your website is blacklisted by one or several data providers.
– the new block of security level 1 – 5, where you may simply on/off automatic security features to increase your website security level – the level of protection!
– all the details by each security engine (website antivirus for files and database, vulnerability scanner, blacklist monitoring). With a one-click easy navigation to view the results by each very security engine.
– details about any threat found.
Upcoming features for security audit report
– share audit report by email with one click.
– download audit report as PDF.
– brand with your agency details and color audit report to your clients (if your an agency account holder).
– different report footer for different scenarios.
– email notification.
* all these available for new pre-beta Virusdie 2022 only! 🙂
Bug fixes
Website Antivirus – there is no hints what to do next if the scan report is blank. Some details needed and possible actions to take – Fixed.
Website Antivirus – there is no block highlight on hover when you navigate scan report, so you can't get where you are when one of reports from the list is open – Fixed.
Website Firewall – no ipv6 support for white lists and IP black lists – Fixed.
Website Antivirus – Database scan – dark theme database fields editor' background looks blue, but should be grey or dark – Fixed.
Try Virusdie 2022 pre-beta now
How to try Virusdie 2022 pre-beta? It is simple — just click on big yellow button "TRY BETA" on top of your Virusdie dashboard! 🙂
——
Join our private Facebook group to get help from other security experts, and share your own web security experiences and expertise. Group members receive exclusive news and offers. They can also communicate directly with the Virusdie team. Join us on Facebook.