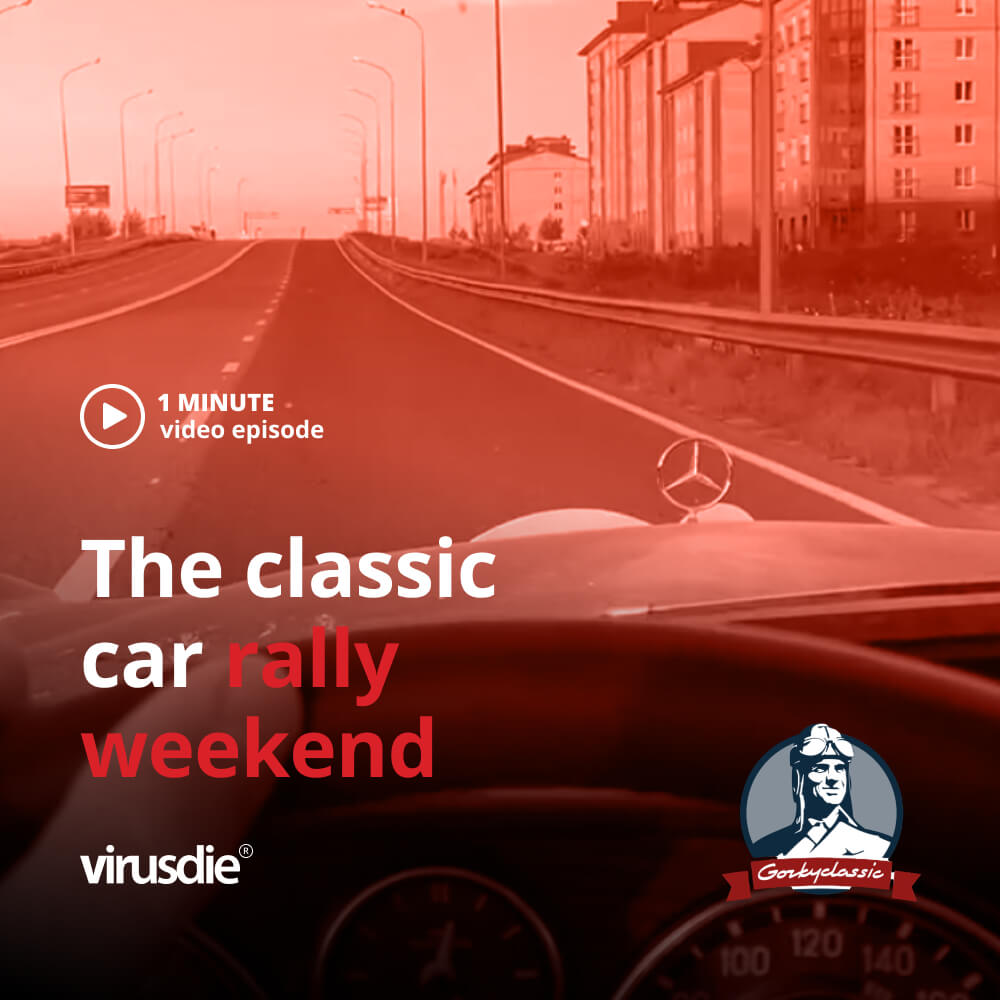 OCT 4, 2023 | The Classic Car Rally Weekend with Virusdie and the 1975 blue Mercedes-Benz 250 w114.
Hey brave pirates of Virusdie! This is the fourth video episode we made for you. To be closer to you day-by-day. And this is the 1st episode like Behind the Scenes – about things we do when we have some free time (actually, we almost never have a free time 🙂
This video episode about the Weekend we spent on Classic Car Rally – the rally for classic cars, when you need to follow the roadmap carefully. And this is not the same roadmap we know in terms of development, this is the real roadmap for real cars and teams 🙂
Here is the 4th episode
So, you already know, that was a weekend that Virusdie team spent on classic car rally cup (the TDS – Time Speed Distance rally). That is a cool time to meet with friends and community of those who inlove in classic cars (all cars manufactured before 1975).
Our team (the start number 30), on a Diplomat Blue colored Mercedes-Benz 250 (w114), manufactured in 1975, finished on 25th place out of 40. We got lot of penalty (like 1800+ points) cos we failed the 1st special stage and finished just on the 2nd one. Watch Classic Car Rally Episode on YouTube
Anyway, that was a cool time and the great event, prepared by Gorkyclassic club who finished in Rally Monte Carlo 2019 on 2 special prepared retro cars GAZ-21! About Monte Carlo 2019: https://www.youtube.com/watch?v=PTvZF9VuzSY
PS.
The next video episode is coming! 🙂
Website: https://virusdie.com
YouTube: https://www.facebook.com/groups/WebSecCommunityVirusdie
Twitter: https://twitter.com/VirusdieCloud
Instagram: https://www.instagram.com/virusdiecloud/
Ilia Malyshev,
Founder and CEO at Virusdie.
——
Join our private Facebook group to get help from other security experts, and share your own web security experiences and expertise. Group members receive exclusive news and offers. They can also communicate directly with the Virusdie team. Join us on Facebook.