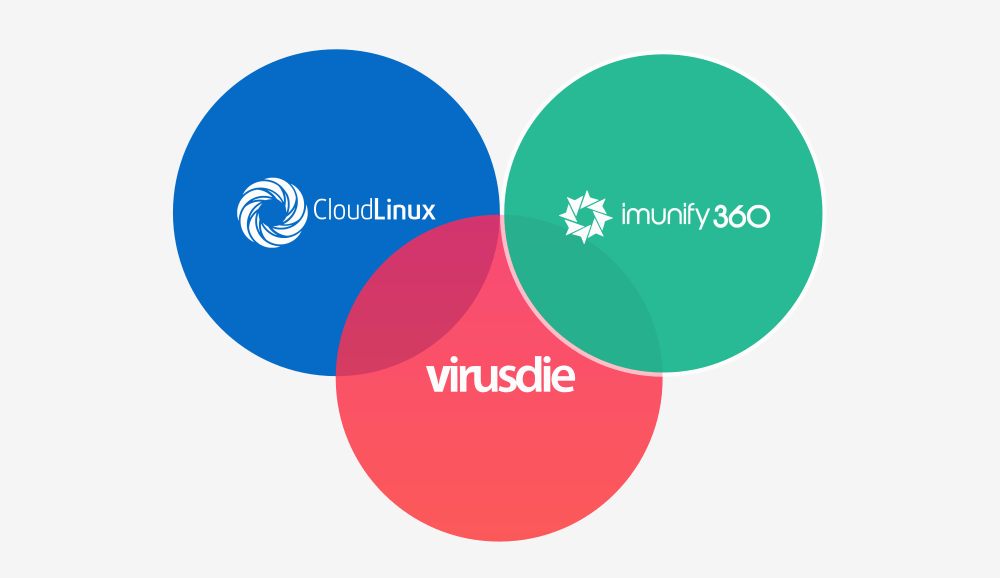 Cloudlinux and Virusdie announcing collaboration
CloudLinux, the leading developer of security and stability products for web hosting providers, has integrated Virusdie products for automatic malware scanning and removal within its new Imunify360 security product. This partnership will allow Virusdie to expand its hosting market reach and help CloudLinux improve web server malware detection and provide automatic malware removal to its customers, as well as other features in the future.
What is CloudLinux
CloudLinux is a security software developer and vendor company, developing top notch like CloudLinux OS, KernelCare and now Imunify360 for Linux-server industry. If partners with most of TOP hosting and service providers like GoDaddy, IBM, Imnotion, Endurance, Dell, etc. CloudLinux OS is using by over 12% of all active website all over the World. More about CloudLinux on CloudLinux.com
What is Imunify360
Imunify360 is a new multilayer security product for Linux-servers developed by CloudLinux. It contains Firewall, Malware Scan, Backups and other features to protect your server and remediate it if your need it. More about Imunify360 on Imunify360.com
A collaboration
The partnership lets both companies to increase the performance of their products as Imunify360 and Virusdie.Server in terms of malware detection and automatic malware removal accuracy. More that, the collaboration means the possibility to use Virusdie' technologies and products in Imunify360 to make and provide ultimate and complete website and server security service to end customers.
"With the main focus for the automatic malware detection and automatic malware removal, our goal is to make and provide the best UX, performance and easiest in use website and server security solutions to our end consumers and partners. I am sure that together we will design a wonderful security product."
Elijah Malyshev, CEO at Virusdie
"As the software vendor focused on security, we aim to deliver top notch performance for all our products. One of the most important features we needed to absolutely perfect in Imunify360, our new security solution for Linux Web servers, was malware detection and the ability to remove malware from servers automatically. The partnership with Virusdie has given us an opportunity to improve these features greatly. Using Virusdie will allow us to give our customers the best possible all-encompassing Web server security solution."
Igor Seletskiy, CEO at CloudLinux