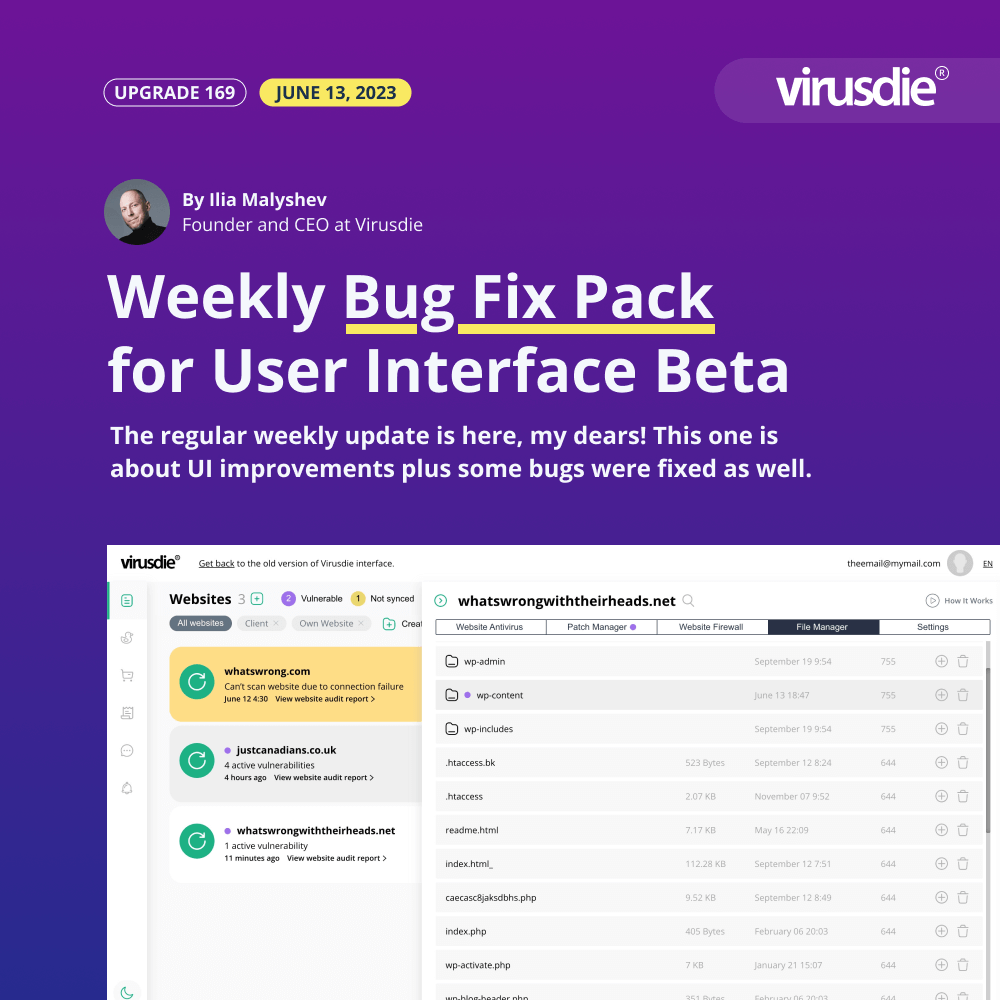 UPGRADE 169 | Weekly bug fix pack for Virusdie website User Interface and UX scenario.
Hey everyone!
This is the 169th weekly Virusdie update. Weekly updates have their one goal – to make Virusdie better week-by-week. So you can get more calm and feel cool using the service 🙂 This very update is about website patch management UX, file manager and user experience in a big way.
Bug fix pack for this week
– File editor and file manager | That was incorrect UI behaviour when you try to remove the file from file editor. That merged with a scan report as well. For example, if you try to remove the file from the scan report – nothing happened from the first glance. However, if you refresh the page – there'll no file content there, but files are on report. Now we remove files from last report if you remove files over the file editor or a file manager. – FIXED.
– Patch manager | Incorrect headers at the patch manager report history – FIXED;
– Dashboard UI | We forget the link WRONG on website block, if nothing found. That should lead to a hint what's next then – FIXED;
– Mobile UI view | The payment button slides below the most of mobile devices screens. So it is hard to click on it; – FIXED;
– Mobile UI view | The website removal (from list) button hides on mobile devices; – FIXED;
– Mobile UI view | The Virusdie' logo should be white when you run the dark mode, but the logo is black; – FIXED;
– Cleanup Report | There is no pointer to switch native way between current file and the backup view when you are at the cleanup report tab; – FIXED;
– Dashboard UI | Incorrect website status like THE ALL IS FINE WITH YOUR WEBSITE, instead of CLEANUP BUTTON, when there is no malware, but vulnerability found – FIXED;
I believe this update helps you save some time 🙂
Ilia Malyshev,
Founder and CEO at Virusdie.
—
Upcoming updates
– the new support system;
– weekly bugfix packs;
– UI improvements.
* all these available for new pre-beta Virusdie only! 🙂
Try Virusdie generation 5 pre-beta now
How to try Virusdie generation 5 pre-beta? It is simple — just click on big yellow button "TRY BETA" on top of your Virusdie dashboard! 🙂
——
Join our private Facebook group to get help from other security experts, and share your own web security experiences and expertise. Group members receive exclusive news and offers. They can also communicate directly with the Virusdie team. Join us on Facebook.