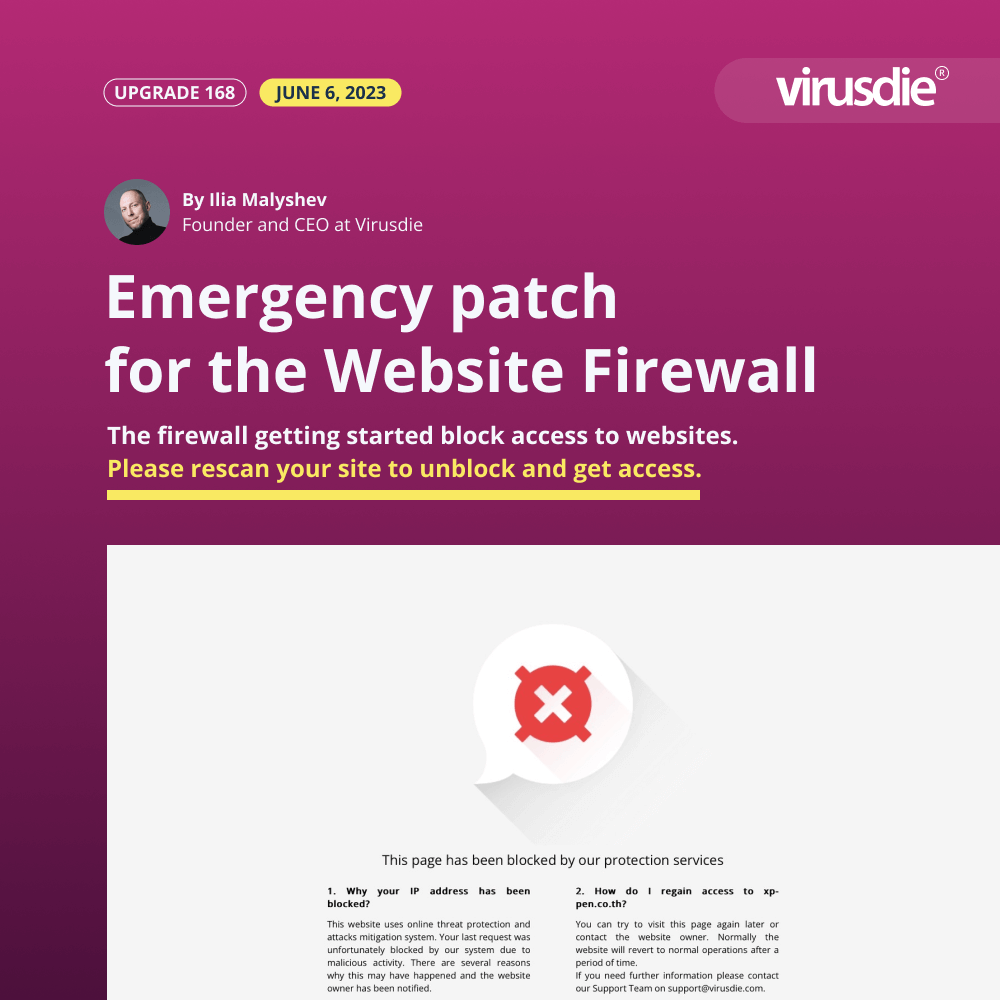 EMERGENCY UPGRADE 168 | Please, rescan your website to remove the firewall blocking page! / Verifique novamente seu site para remover a página de bloqueio do firewall!
Hello everyone! That was our fault – the incorrect recent Yesterday' update. So that, you may find (some of our customers can find that, not everyone) that you can't get access to your website admin panel or some pages. And you facing with standard Virusdie' firewall blocking page.
—
Olá pessoal! A culpa foi nossa – a atualização recente incorreta de ontem. Assim, você pode achar (alguns de nossos clientes podem achar isso, não todos) que não consegue acessar o painel de administração do seu site ou algumas páginas. E você está enfrentando a página de bloqueio de firewall padrão do Virusdie.

The bug been fixed. That was the bug with our virtual patch manager list of default rules.
To get access to your website, PLEASE RESCAN YOUR WEBSITE OR WAIT FOR THE NEXT SCHEDULED AUTOMATIC SCAN. So the list of patch manager defaul rules will be renewed connectly. Then you can turn on the firewall (if you turned that off).
All the things should work properly well then.
—
O bug foi corrigido. Esse era o bug com nossa lista de regras padrão do gerenciador de patches virtual.
Para obter acesso ao seu site, FAÇA NOVA VERIFICAÇÃO DO SEU WEBSITE OU AGUARDE A PRÓXIMA VERIFICAÇÃO AUTOMÁTICA AGENDADA. Portanto, a lista de regras padrão do gerenciador de patches será renovada de forma conectada. Então você pode ativar o firewall (se você o desligou).
Todas as coisas devem funcionar bem então.
S*it happens 🙁 / S*isso acontece 🙁
Ilia Malyshev,
Founder and CEO at Virusdie.
—
Upcoming updates
– the new support system;
– weekly bugfix packs;
– UI improvements.
* all these available for new pre-beta Virusdie only! 🙂
Try Virusdie generation 5 pre-beta now
How to try Virusdie generation 5 pre-beta? It is simple — just click on big yellow button "TRY BETA" on top of your Virusdie dashboard! 🙂
——
Join our private Facebook group to get help from other security experts, and share your own web security experiences and expertise. Group members receive exclusive news and offers. They can also communicate directly with the Virusdie team. Join us on Facebook.