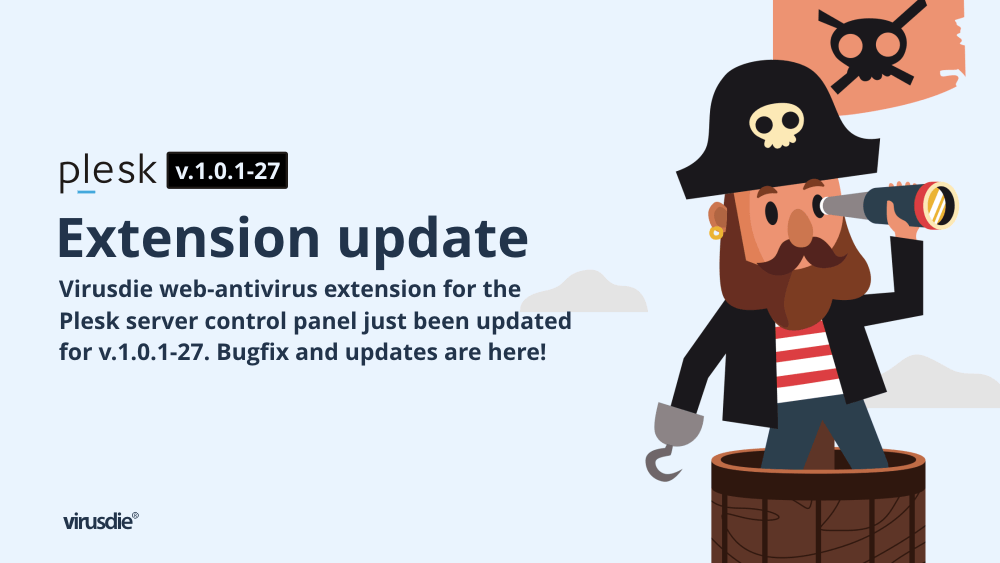 Virusdie extension for Plesk v.1.0.1-27 released | Bugfix pack
Yep, the first update and bug fix pack for Virusdie Plesk extension just been released 🙂 After the initial launch of the Virusdie extension for Plesk an extension run issue been found. That issue caused for many reasons from your web-browser settings right to firewall runs behind your web-server. So that was a real problem to start Virusdie extension for Plesk. The majority of all these kind of issues been fixed and covered by the new version v.1.0.1-27 already available on Plesk' marketplace. Just update your extension to the latest version and enjoy Virusdie as it should be!
v.1.0.1-27 BUGFIX LIST:
1. Can't start the extension (infinite preloader or alert).
– due to unallowed port on your server. Previously, Virusdie tried to use port 3333 for WebSocket. However, we faced with lot of cases that port been unavailable due to your server' firewall. Now Virusdie tries to connect by port from the stack 49152 – 65535 automatically and just if can't do that – you get an alert about that.
– due to invalid certificate. Now Virusdie gets valid Plesk' certificate from your server automatically and more that, track these certificate updates to keep certificate always up to date. If Virusdie can't use the certificate and can't fix that problem automatically – you get an alert with recommendations about how to add a certificate to white list.
– due to Mozilla Firefox. Now you get an alert with recommendations about how to add valid certificate to your web-browser if you'are with Firefox. 'cos Virusdie can't fix that problem automatically if you are with Mozilla Firefox so, you need to spend a couple of minutes to allow certificate and chain manually.
– due to Amazon web services (AWS). When you use AWS and you get an alert from Virusdie extension for Plesk, due to Virusdie can't connect to some Port on your server, you need to add that Port on the list of excluded ports. You need to add that port NOT in your VPS settings, but ON YOUR AWS DASHBOARD.
2. Can't update the extension automatically.
– now you can update Virusdie to the patest version or Premium version in one click automatically. The bug been fixed and now Virusdie stops the binary core on your server on its own automatically to allow Plesk' markeptplace installer download and install updated extension with no issues.
IMPORTANT! If you can't update the extension automatically please remove the extension from your server and then download and install the updated version. This issues with auto-update covered by new v.1.0.1-27.
Get the latest version of Virusdie extension for Plesk: Jump to Plesk marketplace
Join our private Facebook group to get help from other security experts, and share your own web security experiences and expertise. Group members receive exclusive news and offers. They can also communicate directly with the Virusdie team. Join us on Facebook.