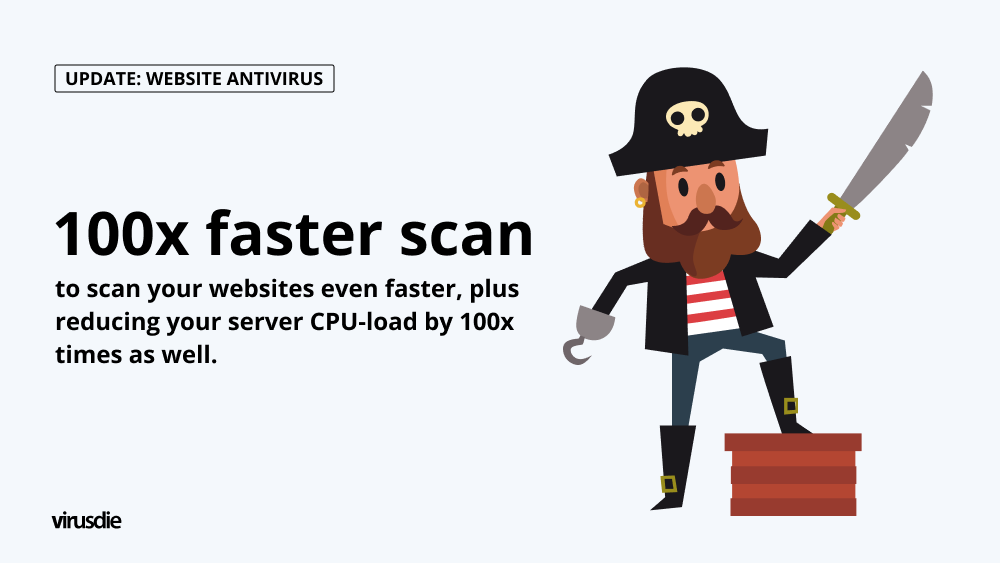 Update | 100x faster scan plus 100x times lower your server CPU-load
At last, here is the day of light in terms of Virusdie website antivirus speed and performance! The day yo've been awaiting for long time. Today we introducing the Virusdie Fast Scan engine. That let you scan your websites 100x times faster, with 100x less load of your server CPU! That means, that now you can keep you cool if your server is not so fast, your websites are large (2GB and more), or you're a shared hosting provider and worries about your server load due to multiple websites protecting by Virusdie. That new fast scan engine keeps your servers alive during the scan even you scan all your sites on one server at the same time! And of course, that is so cool that the scan process now takes 100x less time than previously, with the same highest quality of malware detection and highest accuracy rates!
So what are benefits in short?
– Do not worry antivirus scan slows down your server or even kill it during the scan. Even you scan 1000+ sites at the same time on one server.
– Take 100x less time for antivirus scan.
– You do not need to update anything to use Fast Scan – that already works on your websites.
How it works?
The Fast Scan engine uses a standard approach – it compare your website time snapshots Virusdie now makes before each scan. And then, scan just new files and modified files since last scan. That let us keep the same quality of the scan and the same time – do not slow down your servers. That just means that have to robustly scan just a small share of all your website files each time!
What about first scan?
Virusdie fast scan engine is a smart thing 🙂 It scan your website entirely with a standard scan and make a website snapshot, when you add website on your dashboard at first time. Then, Virusdie use the fast scan engine for future scans. And if fast scan engine can't find the previous scan snapshot for your website – it runs a complete entire scan again. So you're always sure Virusdie scan all your website.
This is BETA
The new Fast Scan works now as BETA version. We're going to add more stability for that and implement new cool features those let you use Fast Scan benefits in a 100% way!
Learn more about website antivirus on Helpdesk.
—
Join our private Facebook group to get help from other security experts, and share your own web security experiences and expertise. Group members receive exclusive news and offers. They can also communicate directly with the Virusdie team. Join us on Facebook.