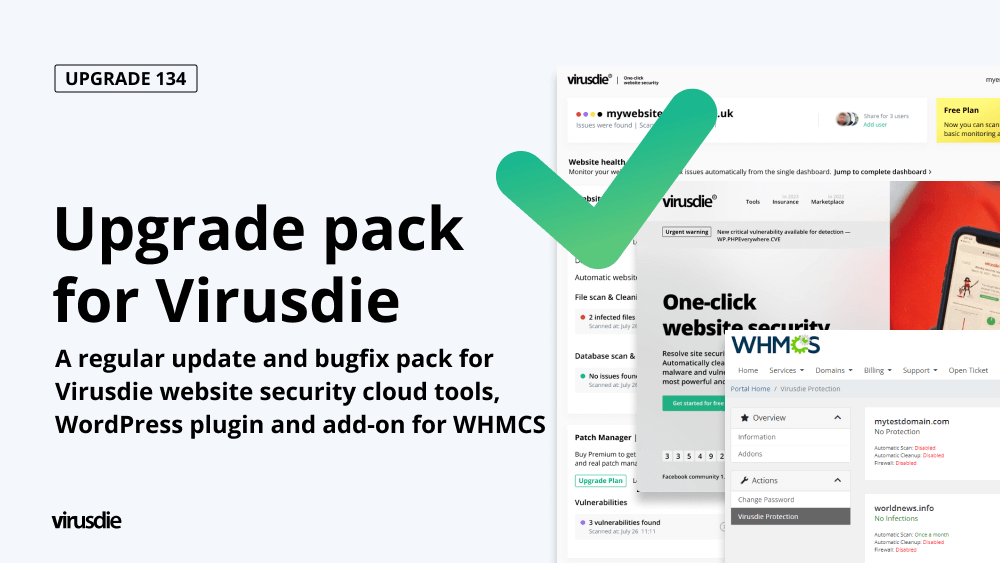 UPGRADE 134 | A regular update and bugfix pack for Virusdie website security cloud tools, WordPress plugin and add-on for WHMCS
Hey hey, brave pirates for Virusdie! Here is the new pack of upgraded features and fixed bugs to deliver more value to you with Virusdie stability and convenience! Upgrades for website firewall, security tools landing page, WordPress plugin and add-on for WHMCS. Bugs fixed for blacklist monitoring alerts and landing page!
Website firewall
Website firewall is the system that helps you protect your website against online attacks in real time. That works for all popular CMSs like WordPress, Drupal, Joomla, etc. More about Website firewall.
UPGRADES
– Invert country blocking feature. This means that now you can save your time with country blocking setup! Just choose countries you want to allow requests from and deny all others except chosen. With a simple checkbox. Right on your website firewall country blocking tab.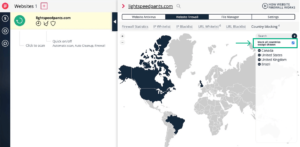 BUGFIX
– Firewall statistics of blocked IPs looks incorrect like 1234 requests from 0 IP were blocked – FIXED.
Patch manager (real and virtual website hardening)
Update vulnerable plug-ins and other site components in seconds, minimizing the risk of future problems. The magic of vulnerability detection built in with website antivirus engine on a separate tab on your Virusdie dashboard! To protect your websites even against vulnerabilities Virusdie can't patch automatically by real patch management, Virusdie uses website hardening (Virtual patch management) engine as well! Virusdie virtual patching runs Virusdie website firewall to mitigate attacks by blocking specific requests (online attacks) on vulnerabilities those are still on your website. More about patch management.
UPGRADES
– Now your can force Virusdie send alerts about NEW vulnerabilities found on your site – just once! With additional toggle on website settings tab. That means you reduce the volume of annoying emails from Virusdie about same vulnerabilities are still on your website 🙂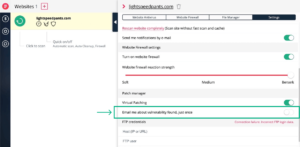 Blacklist monitoring alerts
Virusdie check your website's blacklisted status every time it scan your website. When you see a skull icon on your Website Antivirus panel (or the status "Blacklisted" in the list of your websites) it means that your website is Blacklisted. View more informations about your website's Blacklisted status by clicking a skull icon. More about blacklist monitoring.
BUGFIX
– Virusdie sends alerts about your website blacklisted twice on your email – FIXED.
– Your end clients can't get blacklist monitoring alerts by email even you share reports with them – FIXED.
WordPress plugin
Virusdie WordPress plugin is the one-click website security solution for your WordPress website. That really saves your time if you have just one website that runs WordPress! That is much more convenient to use plugin instead of Virusdie cloud security tools without plugin. More about Virusdie WordPress plugin.
BUGFIX
Sometimes you can't run Virusdie WordPress plugin due to email authorisation failure. That is 'cos your site can't interact with Virusdie' API due some reasons in some cases. That is why this issue been investigated and some features been added to solve that issue.
– cURL support – ADDED.
– Extra page with the instructions when there're no required PHP settings in the system detected – ADDED.
Add-on for WHMCS
The Virusdie add-on for WHMCS deploys to your shared hosting platform automatically in seconds. It integrates with WHMCS billing and connects to all of your customers' sites using cPanel, Plesk, ISPconfig and DirectAdmin. With Virusdie add-on for WHMCS you can start earning money by offering website security to all of your shared hosting customers like the big hosting providers, but effortlessly — with just one click! More about Virusdie add-on for WHMCS.
UPGRADES
– WHMCS V8.4 support – ADDED.
BUGFIX
– Problems with accessing the add-on module from the admin area in case of certain WHMCS configurations – FIXED.
Virusdie landing pages
UPGRADES
– New slide for cloud security tools page with reviews – ADDED.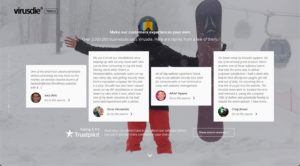 BUGFIX
– News alert block text not along middle line (for mobiles) – FIXED.
——
Join our private Facebook group to get help from other security experts, and share your own web security experiences and expertise. Group members receive exclusive news and offers. They can also communicate directly with the Virusdie team. Join us on Facebook.