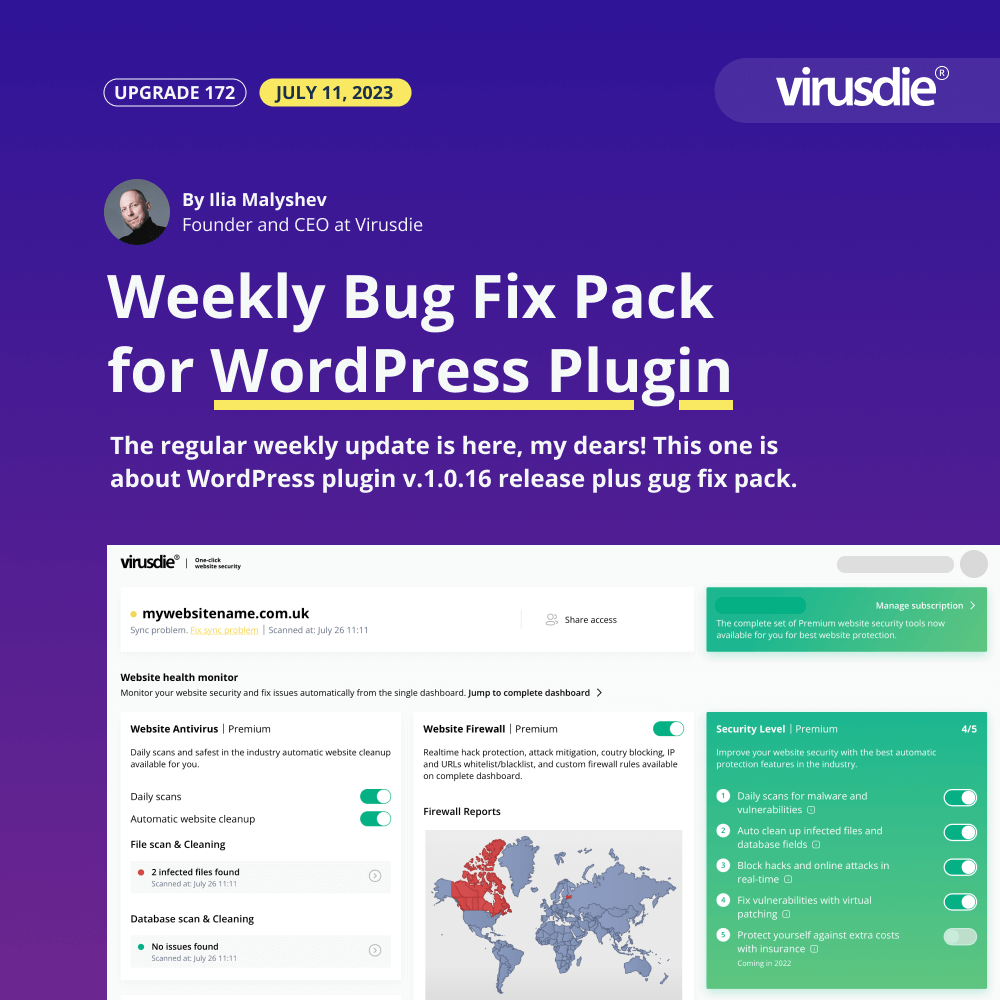 JULY 11, 2023 | Upgrade 172: Virusdie WordPress plugin v. 1.0.16 release plus weekly bug fix pack for Virusdie Tools
Hey hey, pirates of Virusdie. Here is the weekly update for Virusdie service. This one update is for Virusdie WordPress plugin plus some bug fixes for Virusdie Tools as well.
Virusdie WordPress plugin v.1.0.16 release
Did you know Virusdie have the WordPress plugin? 🙂 Yep! This plugin is the native way to use Virusdie if you run just one website and this very site runs WordPress. (Don't forget that Virusdie support almost any website content management system like Drupal, Joomla, DLE, … and even site without any CMS. And mot just websites based on WordPress). And the same time, Virusdie provide plugin just for WordPress.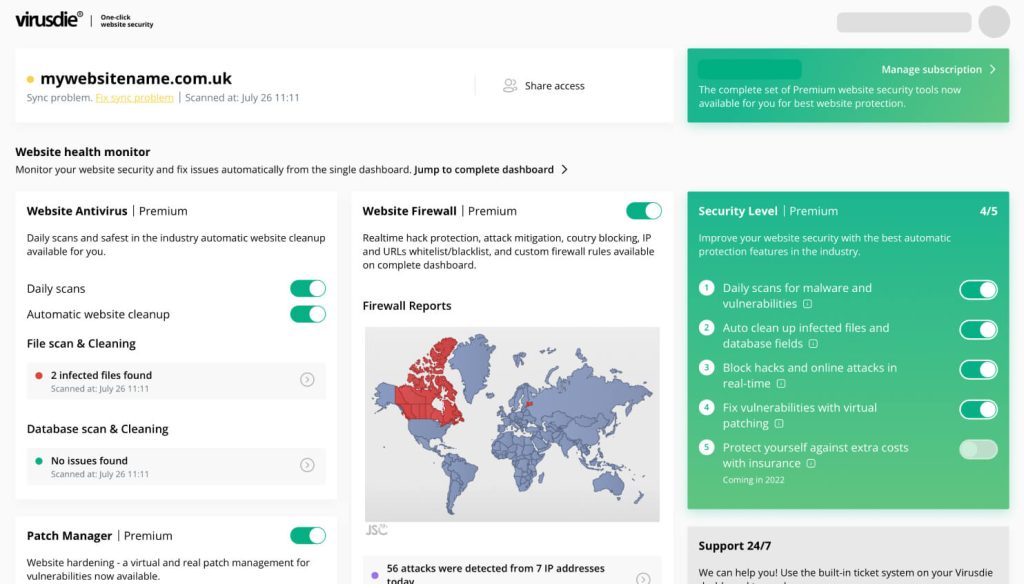 So with Virusdie WordPress plugin you can manage your website security with Virusdie over the plugin right at your WordPress dashboard! You can get the plugin for WordPress on official website. Download Virusdie WordPress plugin
Ok, what's new there?
– inactive links that routes to your Virusdie main dashboard on Virusdie.com – FIXED;
– incorrect paths to external files and libraries (css, scripts, images) that leads to plugin crash or UI crash as well – FIXED;
– the compatibility with old PHP versions since PHP 5.2 – RECOVERED.
– other tiny changes and improvements.
General bug fix pac and update pack for this week
– User Interface crash | The bug that some time leads to user interface crash when you open the Settings tab on your Virusdie dashboard – FIXED;
– Website List load delayed view | When you open the website list tab with many websites, some time it takes time to load all the data. So you viewed the blank dashboard then. Now the preloader added so you have no doubts about that is a user interface crash or that is just your list of websites loading 🙂 – IMPROVED;
– Password recovery double validation | That was a bug when we ask you enter your new password 2 times to be sure they are equal. However, that was a bug and we didn't compare new passwords to each other. So that was a point you could set the new password with a typo – FIXED;
What now?
Download Virusdie WordPress plugin
I believe this update helps you save some time 🙂
Ilia Malyshev,
Founder and CEO at Virusdie.
—
Upcoming updates
– the new support system (next week);
– Multisite (5, 10, 20 sites and PRO plan tier) pivot roadmap release (this week);
– weekly bugfix packs;
– UI improvements;
– PRO plan tier features updates and improvements.
* all these available for new pre-beta Virusdie only! 🙂
Try Virusdie generation 5 pre-beta now
How to try Virusdie generation 5 pre-beta? It is simple — just click on big yellow button "TRY BETA" on top of your Virusdie dashboard! 🙂
——
Join our private Facebook group to get help from other security experts, and share your own web security experiences and expertise. Group members receive exclusive news and offers. They can also communicate directly with the Virusdie team. Join us on Facebook.