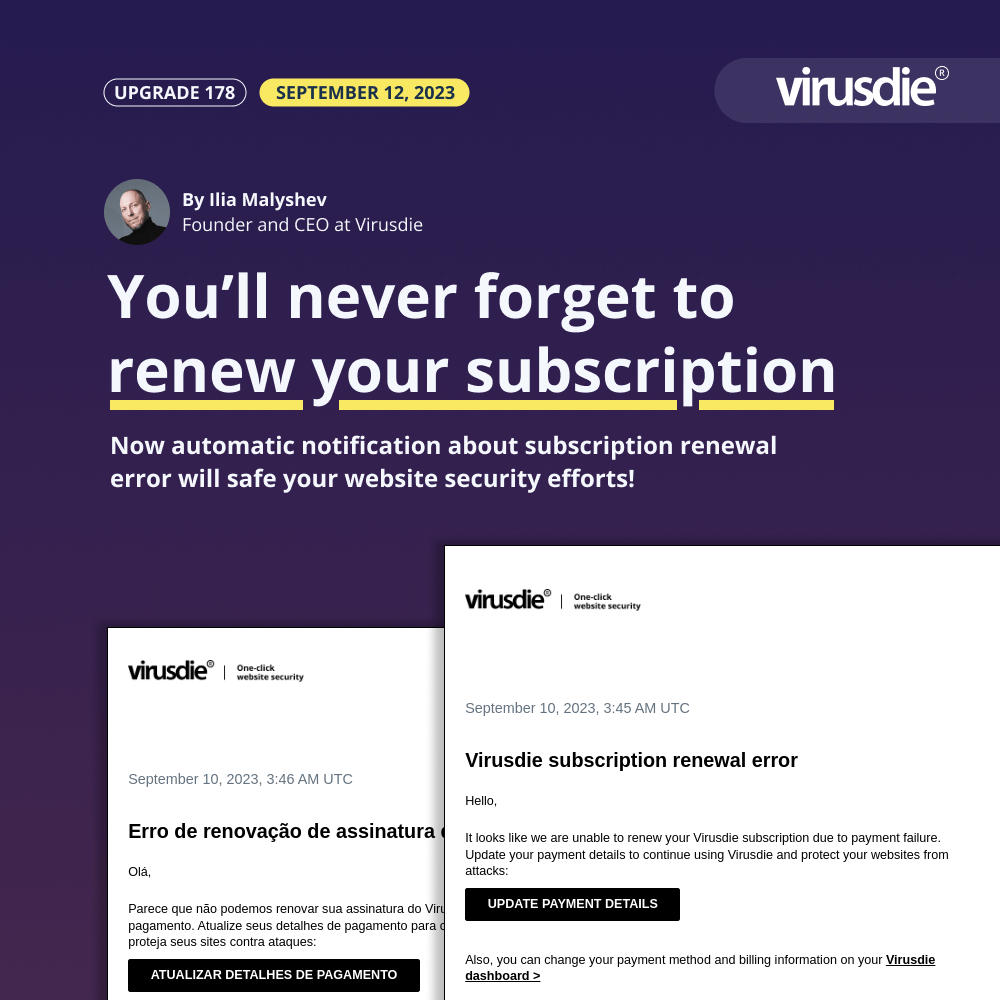 SEP 12, 2023 | Upgrade 178: You'll never forget to renew your subscription anymore, with brand new automatic notifications
Hey hey, brave Virusdie customers! This week we announcing the minor update with the new feature, that helps you save your website security efforts and results, due to unforeseen subscription renewal error. We announcing the automatic email notifications for past due subscriptions due to renewal error (insufficient funds or payment method error).
Automatic notifications for past due subscriptions
All Virusdie customers will get automatic notifications by email, if there is any trouble with subscription renewal. How it works? The day the subscription renewal we try to charge funds for the next period and if we can't we'll automatically send you notification about that. Previously, that was the task for our payment gateway, but we found our customers didn't get their emails about subscription renewal error for about 65% of all cases. That is not too cool, right? So we took this feature burden off our payment gateway (Paddle) and now send you our own notifications about subscription renewal error.
That helps you renew your payment details by the link from the letter you get, and renew you subscription the simplest way we can provide for you.
That saves your subscription against downgrade to a Free plan tier so you'll save your website security results and all efforts you've been done for that for the period of using Virusdie.
I believe this update helps you keep your calm 🙂
Ilia Malyshev,
Founder and CEO at Virusdie.
—
Upcoming updates
– The new stable scanners plus the Virusdie core engine to scale the project faster and release new features;
– The new optimised process (internal);
– The new automated marketing system (internal);
——
Join our private Facebook group to get help from other security experts, and share your own web security experiences and expertise. Group members receive exclusive news and offers. They can also communicate directly with the Virusdie team. Join us on Facebook.