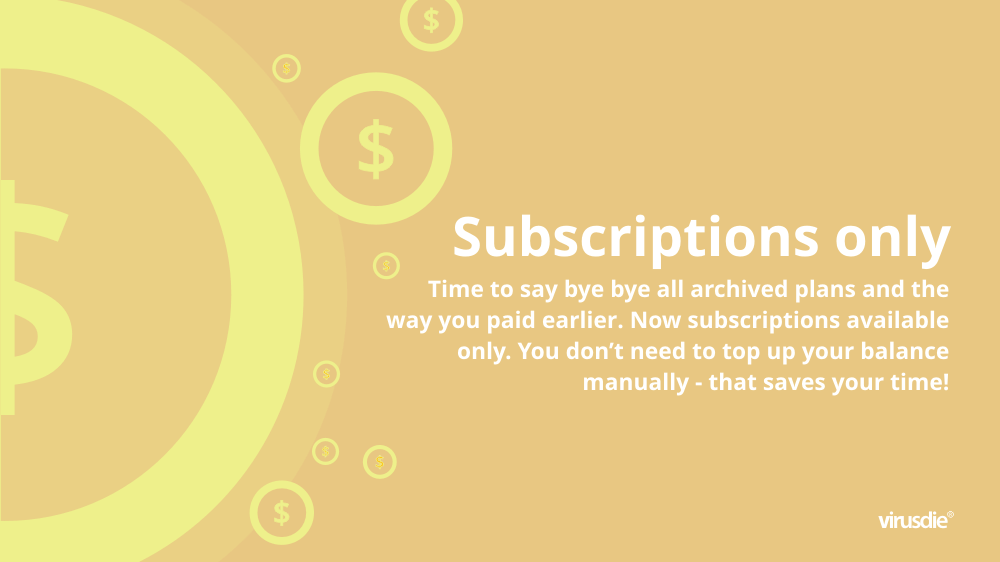 Weekly Update | Time to say goodbye to old archived plans.
This is it. No more old archived plans. And now subscription billing model available only. That saves your time and help us keep focus on further improvements. You already know that Virusdie old plans were archived since November 2019.
The same time we migrated to a new platform with new background and some new features. Still old user interface only. And we have been supporting old archived plans from old platform all these 10 months since the day we migrated. A month ago Virusdie billing been modified to save your time – now you can link your bank card or a PayPal for recurring payments. So you do not need to top up your balance manually each month or frees a larger amount on your balance to be sure you'll keep your Premium plan in a month.
And today we declare that we completely remove the option to top up your balance – 'cos you do not need it anymore (now you have subscriptions). And, unfortunately, due that, we can't support archived plans anymore. This means that all our clients who are on old archived Premium plan can't top up their balance and can't keep their old Premium plan after they becomes $0. They need to purchase a subscription along relevant pricing grid. We believe that is the mostly fair step for new clients, for old clients (who are on old archived plan as well, 'cos they got lot of months with Virusdie at really huge discount). And that is a great step for us, 'cos we can spend all our efforts and passion on a new platform and do not support old platform completely anymore. So, relax if you already have a subscription or get your one if you're on old archived plan!
BUGFIX LIST:
1. Billing
– Can't link your bank card or a PayPal if you're on old archived Premium plan – FIXED.
– The low balance alert email asking for top up your balance instead of get subscription – FIXED.
2. Blacklist monitoring
– Can't open the modal hint in some cases from the Dashboard – FIXED.
Join our private Facebook group to get help from other security experts, and share your own web security experiences and expertise. Group members receive exclusive news and offers. They can also communicate directly with the Virusdie team. Join us on Facebook.